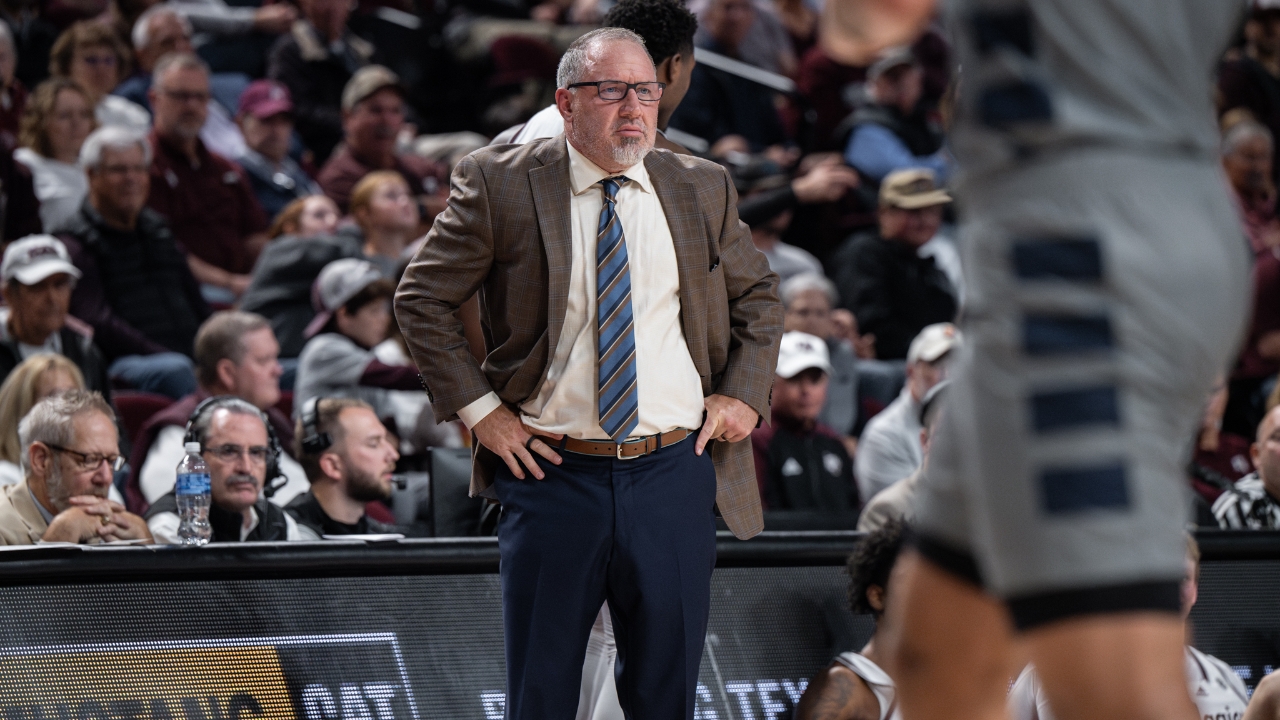 Photo by Jamie Maury, TexAgs
Texas A&M Basketball
Buzz Williams & Co. seek more road success at ESPN Events Invitational
---
Texas A&M basketball is cruising with a perfect 4-0 record to begin the 2023-24 season. Buzz Williams joined TexAgs Radio to preview the ESPN Events Invitational over Thanksgiving weekend and a rematch of last year's first-round NCAA Tournament game vs. Penn State.
---

Key notes from Buzz Williams interview
I think they have been great. I am partial to our guys. To play two road games out of four and only have two home games in November? That's a lot. I don't think we played great in some ways, but we played well enough and had the maturity about us to win. It says a lot about the group of our guys.

Wade Taylor IV is hard to take off the floor. He will shoot just fine. Whether he is shooting really well or really poor, he is still the engine that runs our team, and he impacts the game statistically and with his spirit. He will be played differently. He is the first guy mentioned on a scouting report. That's new to him. His ability to work through all of that and do other things besides just score, that's a sign of a really good player who is also mature.

This is the best three games in a row that Henry Coleman III has had. He is playing with a competitiveness that requires a lot of maturity. He has always played hard. He is a fast-twitch brain person and player. He has reached another level. He does not participate with the opponent, fans or officials. He is locked in emptionally to being his best. You could argue without what he has done in these last games, we may not have won any of them. He has had such a presence on the rim. You add Andersson Garcia to that, and he is doing some things nationally that are really good. Solomon Washington, too. Wildens Leveque is continuing to help us more and more.

Henry and I get along great. I've known him for a long time. We bumped heads this offseason because we are similar in many ways. The last time that happened, I asked him to change. This was long before the season started.

Henry played just as hard yesterday in practice as he did at Ohio State. He is locked in. He is where his feet are. That is permeating throughout the program. It's been a lot of fun. He is a lot of fun to be around because he's impacting the program.

We haven't been very good in November tournaments at Texas A&M. There is a portion of that you say, "Let's do whatever we have to do to win that game." After you win that game, do your best to figure out how to win the next one. You will have three games in four days. You will play four games in six days. All four are on the road.

Cliff note version: The coach of Penn State is new, Mike Rhoades. He came from VCU. He is a really good coach. This is his third Division I job. The Penn State roster and style of play is different. They want to play fast. They brand it as "havoc." They double the ball, trying to force you into a high turnover rate or taking bad shots. They are averaging 27 3-pointers a game. They play with tempo and pace. We have had some practice with that. Defensively, we haven't played a team like this.

Manny Obaseki is a special human being and a good player. Manny does a lot of things well. He has versatility offensively and defensively that helps us.

Manny played one more game than he could have played in order to get a medical hardship last year. I think no matter how good of a player you are, when you miss that many reps in games and practice, it's hard. It takes time to get back where you were and have traction on where you're going. He has handled that with incredible maturity. He is aware of how to help the team.

Dexter Dennis is a pro. He came here to play his fifth year. Jace Carter is coming in his third year. Dennis was guarding the best player every night. Jace, I think, is a star. He has embraced every minute of everything we do. I like players who want to be here. Jace wants to be here. Jace and Hayden Hefner's growth through the first weeks of the season, I like where those guys are going.

Kenny Chesney was texting me this morning. His producer of "No Shoes Radio" told me it was really good. I thought maybe he was just saying that to be nice. When they edited it, Kenny texted me and said it was great. I appreciated the opportunity to do it. It was fun.
Never miss the latest news from TexAgs!
Join our free email list