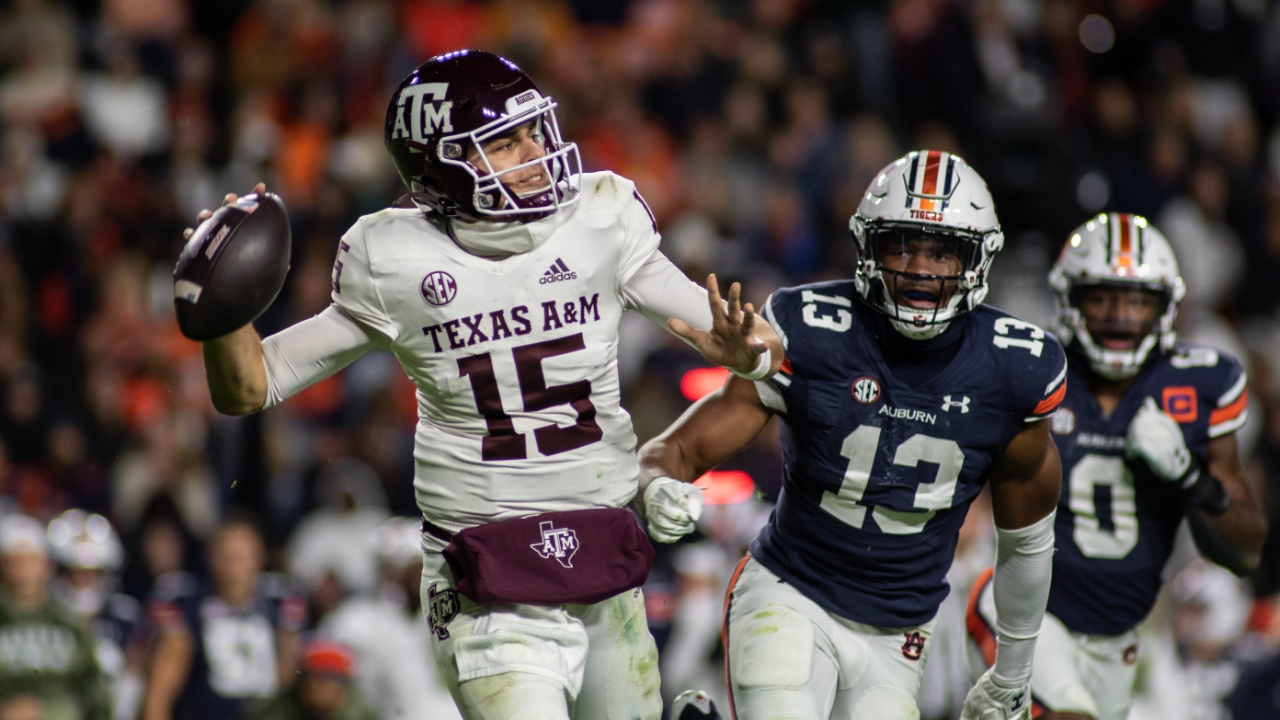 Photo by Jamie Maury, TexAgs
Texas A&M Football
Auburn play-by-play voice Andy Burcham breaks down Aggies-Tigers
---
On Tuesday's edition of TexAgs Radio, Auburn football play-by-play announcer Andy Burcham joined the show to talk about the Tigers' season and the upcoming matchup between Texas A&M and Auburn this Saturday at Kyle Field.
---

Key notes from Andy Burcham interview
My background is Samford Hall at Sunrise on the Auburn campus.

It has started since the day Hugh Freeze was named the head coach in November. The last four games of last season, which was a struggle as a whole. When Cadillac Williams was the interim head coach, Auburn started a move back. Auburn wasn't a great team, but what Williams did in those four games was fun. Freeze retained Williams as an associate head coach and did a great job putting a staff together and recruiting. He has transformed this roster via the transfer portal and instantly went to work on the 2024 and 2025 classes.

Freeze spoke yesterday about Auburn's next three opponents, Texas A&M, Georgia and LSU, and how well they've done in building recruiting classes. Auburn wants to get to that point, and Freeze understands the importance of that. The recruiting he has done has given Auburn a good sense of optimism for the future combined with the team's 3-0 start, although we know the schedule improves dramatically beginning on Saturday in College Station.

Auburn has been better with its offensive line this year, and there are a lot of new faces. Auburn lost Kam Stutts last week, who was probably their most consistent lineman. They also lost Izavion Miller, and whether those two guys will play this week is a question mark. If you look at A&M's defensive line and the players missing, that gives Auburn some reason for pause.

Look at what A&M has done offensively with Conner Weigman and that deep group of wide receivers. That's where Auburn would like to get, and you're seeing that in Auburn's emphasis on recruiting. It's the offensive line first and wide receivers second.

The Cal game was an oddity for Auburn as far as the quarterback position, and neither played well at Cal. Auburn used the two-headed attack more than it would have liked to at Cal. Payton Thorne was effective in an important series at Cal, and last week, they didn't alternate quarterbacks against Samford. Robby Ashford is the best running quarterback that Auburn has, and he finished the game with a touchdown pass late. Thorne passed effectively against Samford but also had 123 yards rushing, which is the most in his career. I don't see him being a 100-yard rusher moving forward for Auburn, but that gives them some options at quarterback. I do think Ashford is still primarily a runner when he comes in, but he does have the ability to pass.

This three-game stretch as well as any other three games in the SEC are important for Auburn, and these first three are incredibly tough. I believe that this A&M game is incredibly talented. Even in the Miami game, you can see instances of how they can pass the ball. Weigman has been good in all three games. Next week, we have the defending champions coming in. As of late, Auburn has dominated that series. After that, Auburn goes to LSU. These first three games are three very, very tough games to start SEC play with incredibly talented rosters in tough places to go traditionally. Auburn will likely be an underdog in all three of these games.
Never miss the latest news from TexAgs!
Join our free email list