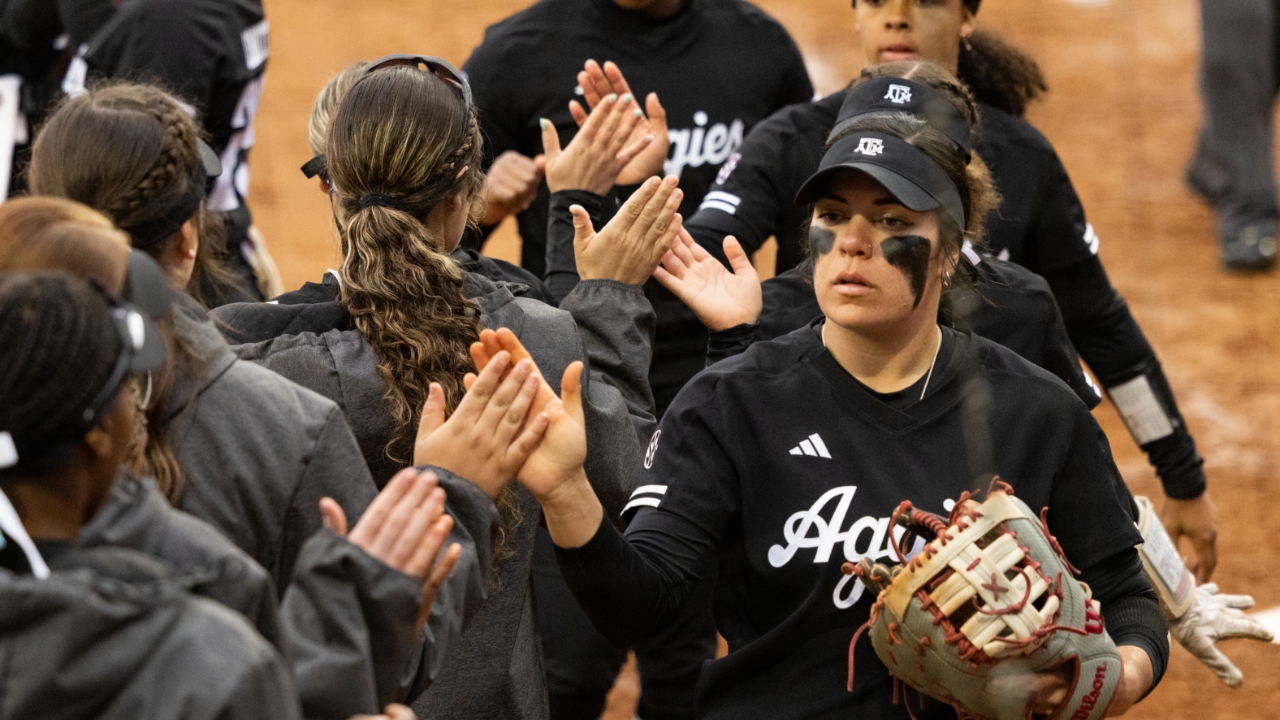 Photo by Chris Swann, TexAgs
Texas A&M Softball
No. 21 Aggies fall as No. 17 Bulldogs rally back in final inning, 6-5
---
No. 21 Texas A&M softball is now 0-2 on the weekend at Davis Diamond as the Aggies fell to the 17th-ranked Georgia Bulldogs, 6-5, on Saturday.
"That one hurts, honestly," coach Trisha Ford said. "I thought we had good fight tonight."
The second at-bat of the game for the Bulldogs was a homer to left-center by senior infielder Sara Mosley.
The Aggies soon responded with a triple to left field by sophomore infielder Koko Wooley, and she came across on Julia Cottrill's sacrifice fly on the very next at-bat.
In the top of the third, Georgia had back-to-back home runs from Jaiden Fields and Lyndi Rae Davis.
But in the following half inning, Junior infielder Trinity Cannon's scoreboard-hitting, two-run home run once again equalized the game for A&M.
Senior left-handed pitcher Madison Preston relieved Shaylee Ackerman in the circle with two outs in the fourth, and Georgia was unable to capitalize on an opportunity to take the lead in the fourth following an overturned double play that would have ended the inning.
"I was happy that we kind of responded and didn't allow a run to score," Ford said.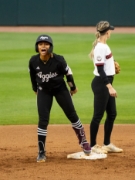 Chris Swann, TexAgs
Preston squeezed out of a bases-loaded jam in the top of the fifth, getting freshman Jaydyn Goodwin to pop up to Cannon.
In the sixth, Mosley got her second home run of the night and pushed the Bulldogs ahead 4-3 as she sent the ball out to left field.
Still, the Aggies responded in the bottom half.
Senior outfielder Morgan Smith doubled to right and scored on junior Rylen Wiggins' double to right-center to tie the ballgame once more.
Grace Uribe then stepped up to the plate to pinch hit for sophomore outfielder Allie Enright. She was hit by the pitch and slammed her bat to the ground before taking her base.
Amari Harper singled through the left side, allowing Wiggins to give the Maroon & White a 5-4 lead.
However, that edge was short-lived.
With bases loaded against sophomore left-handed pitcher Emiley Kennedy in the seventh inning, a Goodwin single through the left side plated two Bulldogs. The Aggies were left unable to punch back as the Bulldogs took the second game of the weekend and the series.
"We didn't have fight to the very, very end," Ford said.
The Aggies return to Davis on Sunday at 1 p.m. CT to try to prevent being swept.
"It's a pride game," Ford said. "We just got to keep fighting."
Never miss the latest news from TexAgs!
Join our free email list