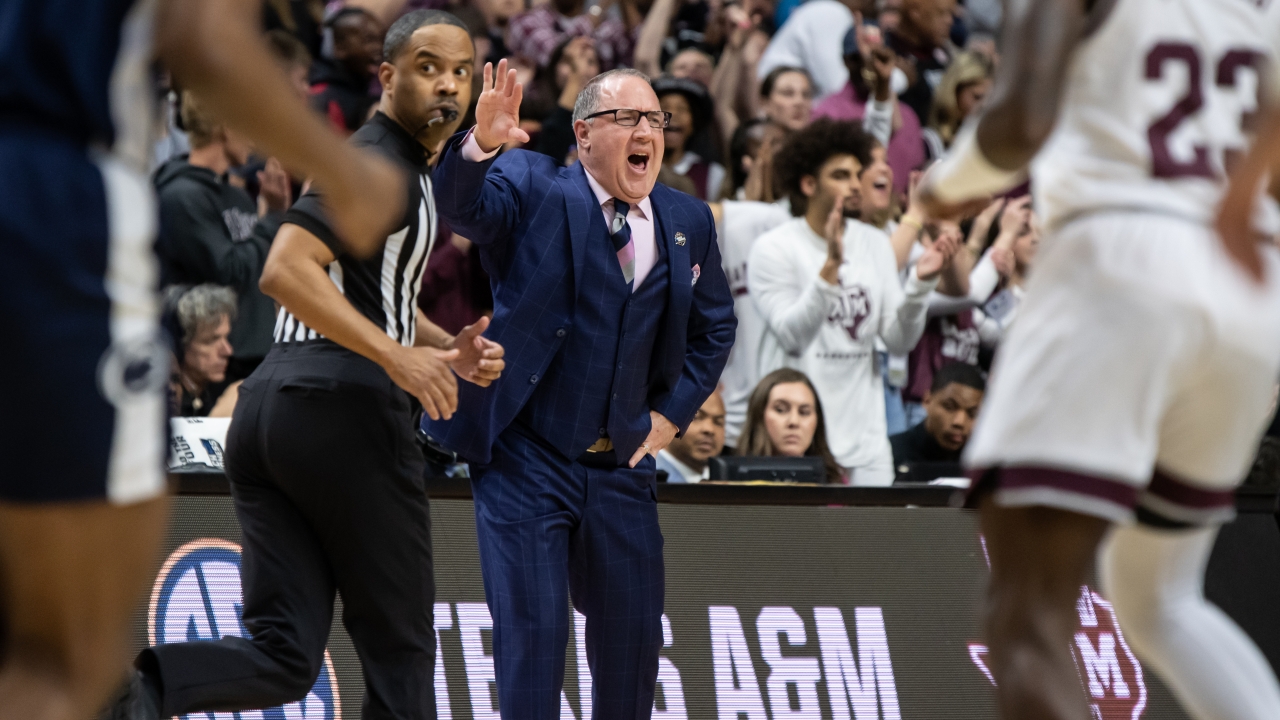 Photo by Jamie Maury, TexAgs
Texas A&M Basketball
With time, Aggies should remember 2022-23 season with admiration
---
DES MOINES, Iowa — In response to times of tribulation, the optimistic often expect, one day, to look back on traumatic circumstances and laugh.
No one figures to look back on Texas A&M's 76-59 NCAA Tournament loss to Penn State on Thursday and laugh.
Just like the last-second shot vs. LSU in 2006, the missed layup vs. Memphis in 2007, the uncalled foul vs. UCLA in 2008 or similar blowout losses to Oklahoma in 2016 and Michigan in 2018, there surely will be no amusement in reflection on Penn State.
But there are great memories of the 2022-23 season in its totality. Stories of the Aggies' rebound from a disappointing 6-5 start will be celebrated and retold.
Indeed, some were told in the locker room just minutes after the Aggies were eliminated.
"I just told the group, I'm really bad at beginnings, and I'm even worse at endings," coach Buzz Williams said in a postgame press conference. "I probably should grow up and be a little more mature and plan that better. I just don't like to preplan what am I going to say if it goes bad.
"I want to keep playing. As yucky as this game was, I think we will look back at what's transpired over the last 75 days with great memories. I think that it speaks to who these guys are.
"As you know, 6-5, Dec. 20th, 120th in the NET, two Quad IV losses. What has transpired since then has been so good, and I think as time goes, we will look back at all of that."
"I want to keep playing. As yucky as this game was, I think we will look back at what's transpired over the last 75 days with great memories. I think that it speaks to who these guys are."
Not with laughter, but with admiration.
Indeed, these guys fell to 6-5 after a devastating home court loss to Wofford on Dec. 20. But the Aggies posted seven straight victories. They went on to go 15-3 and finish second in the Southeastern Conference standings.
They beat Alabama, Tennessee, Arkansas (twice), Auburn (twice) and Missouri (twice) along the way.
Incidentally, all those teams won their opening games in the NCAA Tournament.
That might be cause for even more frustration. Williams was obviously frustrated after the loss.
"It's just emotional to get to this stage, play in the championship game (of the SEC Tournament) for the second year, hurry up and come to Des Moines, play a very unique offense," Williams said. "They played incredibly well. We played incredibly poor, and as frustrating as that is, I get it. I understand it's results-oriented, but what transpired to get here has been really good, and I'm incredibly humbled and thankful."
Williams is probably equally encouraged for the future of A&M basketball.
Other than grad transfer Dexter Dennis, every player on the A&M roster can return next season.
All-SEC guard Wade Taylor IV is an emerging star… that is, if he hasn't already emerged.
Tyrece Radford, should he choose to return, will provide valuable experience, toughness and the ability to score.
With Radford and forwards Henry Coleman III and Julius Marble II, A&M figures to field one of the more experienced starting lineups in the country.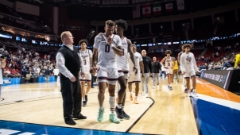 Jamie Maury, TexAgs
There will be a need to replace Dennis' defensive prowess. Junior-to-be Manny Obaseki will seem a perfect fit for that role.
Freshman Solomon Washington, who has flashed enormous potential on both ends of the court, figures to have an expanded role.
Also, expect Williams, as he's done with Radford, Coleman, Marble and backup Andersson Garcia, to bolster the roster via the transfer portal.
Should all the Aggies return — which is always a question in today's college athletics — and Williams add a couple of complimentary pieces (a consistent perimeter shooter, for instance) look for A&M to open next season ranked among the nation's Top 25.
Expect them to get off to a stronger start and avoid ugly losses — like Wofford — that will haunt them on Selection Sunday.
They will be strong contenders to win the SEC. They will be in discussion to be among the higher seeds in March Madness. They will be projected to make long runs in the NCAA Tournament.
The sting of disappointment will gradually evolve into the anticipation of possibility.
Though there will be no laughter in looking back at this year's NCAA Tournament, there figures to be much joy in looking ahead to next year's.
Never miss the latest news from TexAgs!
Join our free email list