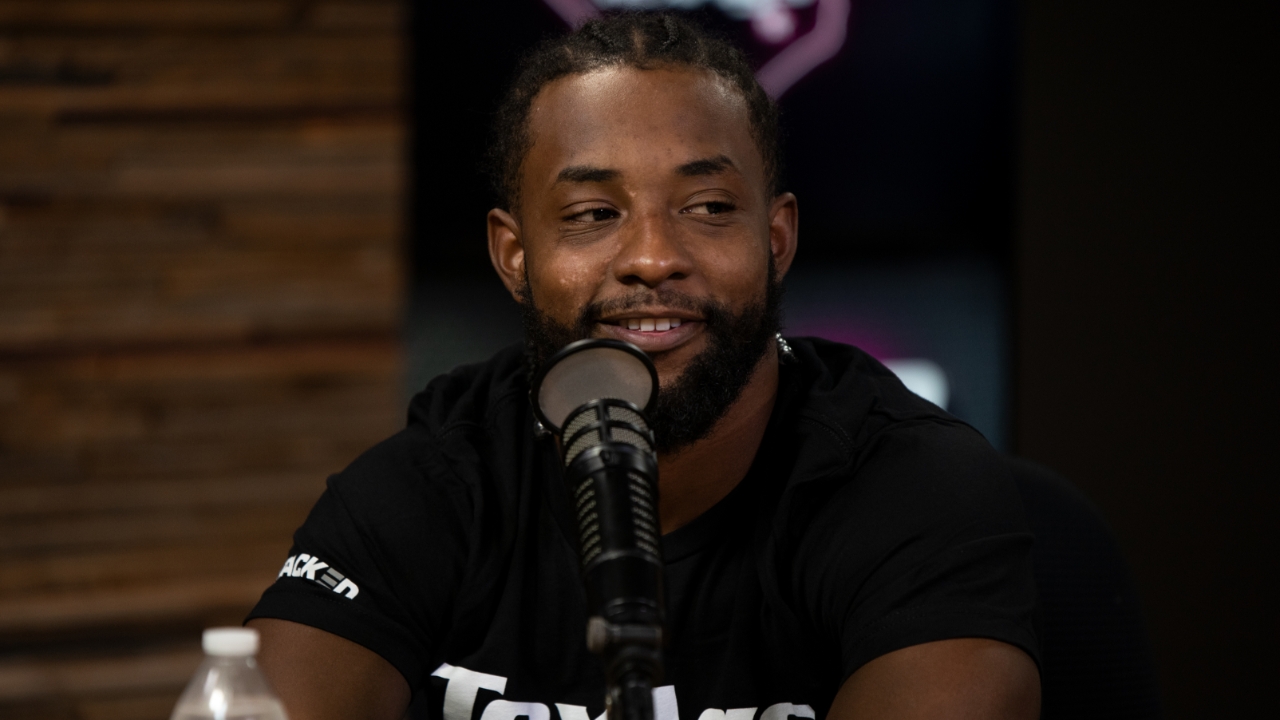 Photo by Dalton Hughes, TexAgs
Texas A&M Football
Wideout Ainias Smith goes in-depth on decision to return to Aggieland
---
After an injury cost him most of 2022, wide receiver Ainias Smith made the decision to return to A&M for another year of college football. In an exclusive one-on-one courtesy of Pintail Hunting Club, Smith shared what went into his decision-making process and much more.
---

Key notes from Ainias Smith interview
My brother is playing for the Vipers in the XFL right now. They just touched down in Vegas and are getting ready to playing their first game. He's having a good time. My brother is still a big influence on me. We've been pushing each other from our little league days, track, playing baseball and all sorts of stuff. To have him in my life to push me, encourage me and lead me in a direction that he didn't go is such a blessing. It helps me chase my dreams because he's a leader. We have a special relationship.

I won't lie. It was a tough, long, thought-out process. It started when I got hurt, and all the questions rolled in with what I'd be able to do at the end of the season. After the season, I had my second surgery right before break. I was like, "What am I going to do?" I focused on myself and put my phone down. My family was there for me every step of the way. When I came back to the city, my brother was pushing me to be my greatest. To have him there to train with was helpful. My pops is my trainer, and he got me right. There was a lot of self-reflecting. There were a lot of prayers — a lot of thoughts. People tried to tell me what I should and shouldn't do. At the end of the day, I kept praying and listening to myself and what my body was saying. A lot of things played a factor in coming back. It came down to my timeline. I was hitting good numbers when I was training, but it wasn't the numbers I wanted them to be. I knew the scouts would be looking for my best ability. With the timeline, I'd still be training right now, but I wasn't feeling comfortable with how I'd be lining up. I was having to prepare for something that was such a big deal in the NFL Combine, and you only have one opportunity. I wanted to put my best foot forward. I knew I had a family to come back home to. I knew my family would support me no matter what. When I decided to come back, I was still shaky because I always wanted to go to the NFL, but it will still be there. I'm going to let God do His thing and go to work.

When I first talked to Bobby Petrino on the phone, I could tell he's a cool dude, but he's anxious to go to work. That's what I like about him. He has the tenacity to be great and wants people to be great around him. The way he will run his offense and the tempo we're going to go at, it's going to be great for everybody.

I had a little time to play 7-on-7 with Conner Weigman back in high school. He was a jet. I knew we had to get him to A&M. It'll be good to get an opportunity to play with him, and I'm going to take advantage of it.

It is crazy. It feels so long ago since I've played football in real pads, running real routes and against somebody. At first, it didn't even feel comfortable putting cleats on because it has been so long. I'm excited to get back. I'm ready to get greasy.

I'm definitely good to play, but I'm not great. If I did end up taking a road to the league, I would be in the Senior Bowl right now, and I feel like I'd be eating. I feel like I'm like that. The way that things are set up right now, I'm putting it in motion for me to get back right and be at 100 percent.

I hope I get to do a little bit of everything next year in our offense. I even want to play a little defensive back just to show that I still got it. That's something for the coaches, though.

It's going up. Being able to move is huge. I remember just wanting to walk. I was on crutches, a scooter and a wheelchair. Now that I can run, it's a blessing to just wake up every day and get better. That's something I strive to do, and the injury has reshaped my mindset and everything I do as I go about life. You just have to stay prepared and be ready at all times.

I like Philadelphia in the Super Bowl. A lot of people have the Chiefs. Patrick Mahomes is becoming the Tom Brady of this generation, and it's tough to bet against them. At the same time, Jalen Hurts and DeVonta Smith... The connection they had at Alabama is even better now. With the assets they have with Darius Slay in the secondary and all those boys, they're for real. Mahomes is a different breed. I still have Philly winning it all. Even if you look at the stats of when Hurts wasn't playing, they only lost two games. When he does play, he's on. When he's on, there is no stopping those boys.

To be honest, I have no Rihanna songs that come to mind. You said "Umbrella." That was cool back in the day. I don't know any of those other ones. We need to play "Run This Town" coming out of the tunnel at Kyle Field. I promise you that would be awesome. The halftime last year was cool. I feel like Rihanna will have a legendary performance.
Never miss the latest news from TexAgs!
Join our free email list
PRESENTED BY