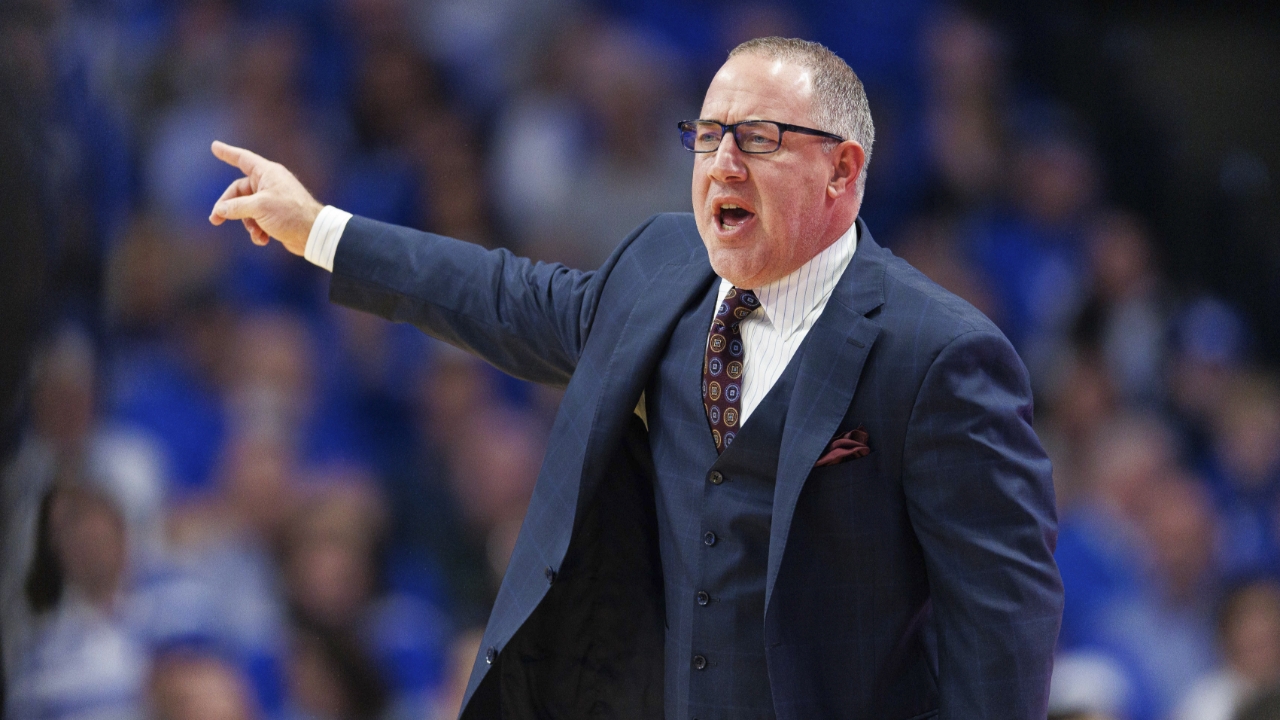 Photo by Jordan Prather-USA TODAY Sports
Texas A&M Basketball
Williams shares what hurt A&M in a physical road game at Kentucky
---
Texas A&M was handed its first conference loss of the season, unable to claw its way to a win on the road in Lexington. Aggies' coach Buzz Williams joined TexAgs Radio to look back on the meeting with Kentucky and preview A&M's upcoming tilt at Auburn.
---

Key notes from Buzz Williams interview
The biggest issue is that they shot 18 more balls than we did. Some of that is tied to rebounding. Some of that is tied to our turnover rate. We only had four offensive rebounds. They had 18. We had 16 turnovers. It's hard to win on the road against anybody when they shoot 18 more balls.

I think our fight was tremendous. That level of fight is almost a prerequisite to winning on the road, especially in that environment and against a team that talented. I'm glad we are not talking about our fight or effort. Once you have that level of effort, the line and margin that you have also requires you to play with an ultra-high level of discipline. Some of our turnovers were undisciplined.

We got to the rim 44 percent of our possessions, and we shot 65 percent at the rim, which is tremendous. The problem is we didn't get enough of those. We didn't get enough because we didn't get enough offensive rebounds. Going into that game, we were the top offensive rebounding team in the league and the second defensive rebounding team in the league. Now were second in both categories. When a team shoots 18 more balls, that makes it hard.

That's the first time in however many games that Oscar Tshiebwe didn't have a double-double. Yes, we made the decision that we weren't going to let #34 beat us. When you do that, you're giving up something else. You have to make a decision when you're playing the leading rebounder in the lead, etc., etc. For the most part, we did that well.

We have to have more shots than the opponent. It's how we're built. That's how we run. After three weeks, our offense is ranked second, and our defense is ranked third. Our offense is good because we get opportunities on the glass, and we also get fouled. When you turn it over 23 percent of the time, we don't get an opportunity to get an offensive rebound or get fouled. We are dependent on those things. Yes, we want to shoot a high percentage, but when we miss, we have done a good job of getting it back. When you don't do either of those things, it's bad math for your team.

It's a delicate line. We talked a little bit about it this morning as a staff. The physicality of the games is very similar to a football game. On Saturday and on Wednesday vs. Florida, the game was decided in the middle of the floor and the pounding that goes on it there. Solomon Washington is out for however long with a concussion. Julius Marble II missed some time on Saturday. You have to manage physicality in the right way.

This week will be the first time we play Wednesday and Saturday before it flows into a Tuesday night game next week. How do we handle our guys' bodies? When you play Wednesday and Saturday, you're usually off Sunday. When you play Tuesday instead of Wednesday, it requires 10 straight days of work. Playing this hard takes a lot out of your emotional gas tank too. There is a lot upcoming over the next 10 days.

After losing to Wofford, which is a really bad loss, if you look at what we've done since Christmas Day and through the first third of SEC play, would you take 5-1 with two road victories? Absolutely.

Auburn has been ranked however many weeks. The last time they lost at home was to us in year one. So many games during the COVID-19 season, regardless of team, had so many guys not playing and without fans in the arena. The last time that things were normal and Auburn had lost at home was against us. What we experienced on Saturday is going to be the same thing we experience on Wednesday. I'm thankful that we're 5-1 in conference, and we've had great growth. We're going to get the same test again on Wednesday.
Never miss the latest news from TexAgs!
Join our free email list