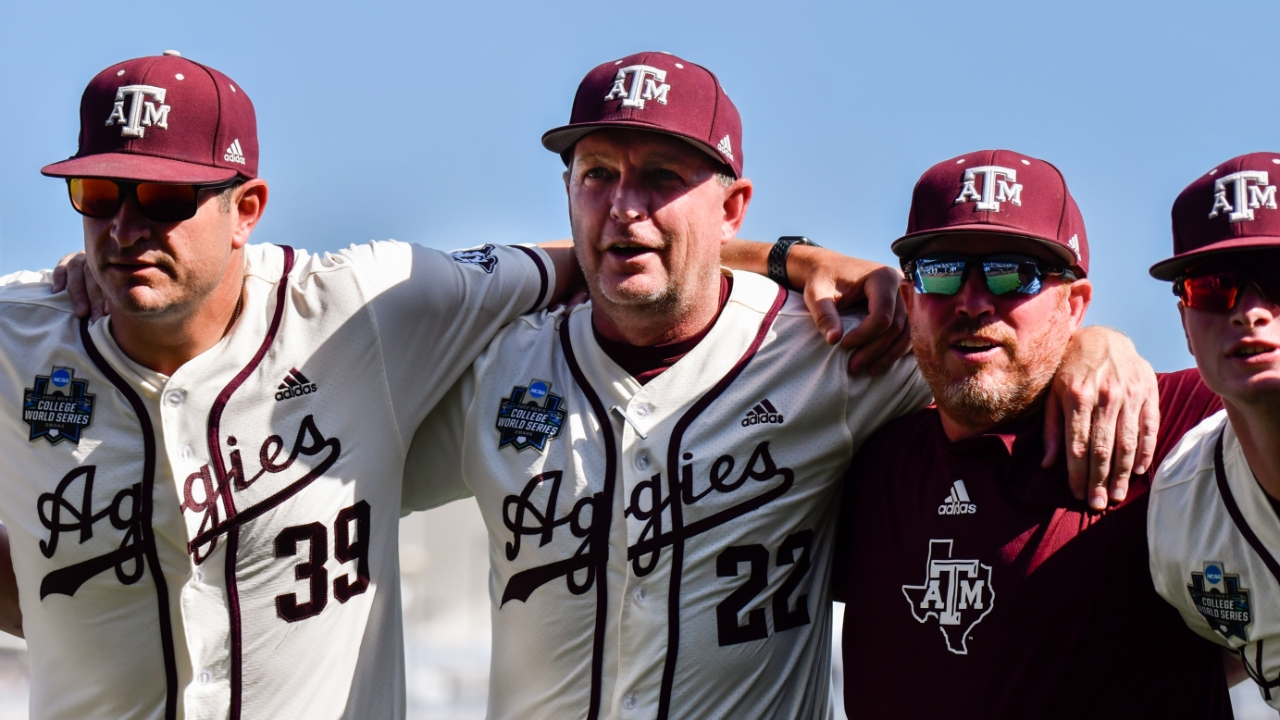 Photo by Jamie Maury, TexAgs
Texas A&M Baseball
28 Days 'Til Aggie Baseball: D1's Kendall Rogers joins TexAgs Radio
---
Texas A&M baseball is back in four weeks, and Kendall Rogers of D1Baseball had a lot to say about Jim Schlossnagle & Co. ahead of their highly-anticipated 2023 campaign. During Friday's edition of TexAgs Radio, Rogers discussed the Aggies and their conference competition.
---

Key notes from Kendall Rogers interview
It's perfect college baseball weather out there today. A little rainy. A little cold. We're less than a month away from college baseball season, and I'm sure people in College Station are excited. There is a pathway to a national championship in that sport this year.

The SEC West and the SEC are loaded. People talk about how good it is in football, but it is way better in baseball. You try and find teams that you don't think are very good. Teams like Missouri and Kentucky have talent. Mississippi State won a national championship two years ago. Auburn has been to Omaha for two out of three years. Those are teams in the 9-13 range in that league. It's nerve-wracking for coaches that you can be this good and have it not matter in this league.

The biggest thing for A&M is that they have to be ready to roll every time out. If you look at them last year, there were times when they played with fire a little bit, especially late in games from a pitching standpoint. Look at the Louisiana-Lafeyette game. They got big hits in the middle of the game. Same thing with some of the Louisville games. This year, I bet Jim Schlossnagle has them ready to go early in games. Teams are going to be gunning for them and wanting to beat their brains in.

When you look at A&M from a pitching standpoint, this will be a much better unit. Nate Yeskie did an outstanding job considering what he had last year. Nathan Dettmer is the X-factor. There were times when he was good last year, and there were times when he wasn't. He wasn't consistent. This year, I think he will be a guy that's 93-97 with his fastball, and his secondary stuff will get better.

Chris Cortez threw some important innings for the Ags last year and has a big arm. He's still making strides. Beyond that, they have Purdue transfer Troy Wansing, and he's a lefty that can get up to 93-94. Keep an eye on Justin Lamkin. He's a new arm that could make a big impact.

I expect a lot from Jace Laviollete, and the good thing for him is that he's in a lineup where he doesn't need to hit .350. They don't need him to be an All-American immediately. If he can progress to that, great. Having the experience and talent around him is going to progress his maturation process. He is the way you draw up a prospect. Michael Earley has done a nice job tweaking his swing. I don't want to put too lofty expectations on a guy, but that's the best-looking freshman I've seen after fall ball in a long time.

Troy Claunch was such a key component defensively. Talk about the job he did as a leader and offense, but his defense was incredible. If you're expecting JD Gregson to hit .300 with nine home runs, you're going to be really disappointed. He's going to play good defense, and he has a strong arm. I'd like him to be more accurate. If Gregson can hit .260 and play excellent defense, you'll take that. Keep an eye on Max Kaufer. He's a freshman that is graduating high school early. He's a physical player that has tools. We'll see how he transitions. Catching will be more defensive-oriented this year, for sure.

Jay Johnson called me after they got eliminated from a regional last year and told me he was doing anything he could possibly do to get LSU to Omaha. He has practiced what he has pitched. He has attacked the transfer portal. He has put his money where his mouth is from a NIL standpoint. They're going to be really good, and LSU fans are going to expect them to win their seventh national title. It's still not easy to be that team that has so many superstars when every opponent wants to beat you up. If things go poorly in week one of SEC play, how do they interact and react in the clubhouse? It will be interesting to see.

Tennessee is really scary because they learned a lot of valuable lessons this year. They made themselves the college baseball villains. They were the team everybody wanted to beat. It's cool to show emotions, but against Notre Dame, they didn't handle it all that well. Losing some players might actually help them. They have the best pitcher in college baseball. They have a pair of ultra-powerful players. It always seems to be the team after the team that gets it done, and that could be the case with Tennessee this year.
Never miss the latest news from TexAgs!
Join our free email list