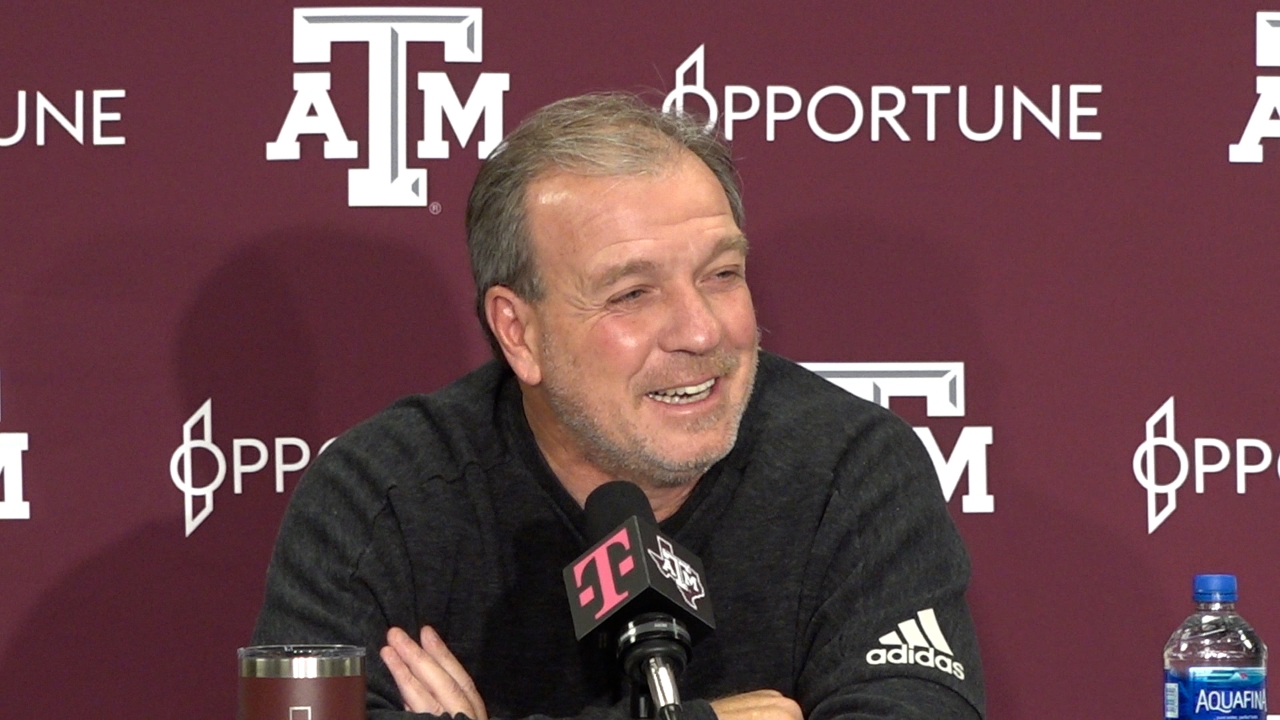 Jimbo Fisher
Layden Robinson
Albert Regis
Texas A&M Football
Press Conference: Fisher, Aggies preparing for season finale vs. LSU
---
Texas A&M's final regular-season contest of a difficult 2022 campaign will see the Aggies host the LSU Tigers on Saturday night at Kyle Field. Ahead of the contest, Jimbo Fisher, Layden Robinson and Albert Regis addressed the media as the Ags prepare for the Bayou Bengals.
---
The following are live, paraphrased notes from Jimbo Fisher's Monday afternoon media availability:
Happy for our team. Won the game. Felt good for them. Always want to play better. Tough circumstances as far as conditions. Defensively, did a nice job. Held them in check everywhere. In the kicking game, didn't hit some field goals. The kickoffs were solid. You have to catch every ball as a punt returner. Offensively, moved the ball but had three turnovers. Had some opportunities for points there. At times, threw the ball well. The guys made some catches and plays. As we went, the offensive line had a few mistakes. We had some issues at tight end. That was Donovan Green's first game back. Now we get back and go play a great LSU team.

Not letting circumstances dictate who you are. It would be a great message for the players to get a win going into the off-season.

We are hopeful Evan Stewart and Devon Achane will return.

Harold Perkins is an athlete. He is a very good player and one of the ones that got away.

Getting guys that played football and have experience, there's not a lot of that anymore.

I'm worried about the issues and things we have to do to get back on top. We have to evaluate to get back on top.

It's ironic because the nose tackle plays such a big body. If you can be a run-stopper and then be able to pass rush with it, it is rare. We have some guys that should grow into that. An interior explosion to create negative plays are the guys now making all the money.

The emotions you keep out of it. You are not where you want to be. It's part of life. It's no different. It makes you evaluate. You cannot let circumstances define who you are.

That is part of growing up. Doing something so many times in a row. You learn that you are here until the job is done. You have to train your body and mind to grind through. It's not an easy thing. They are learning that every week.

You will always look back. Sometimes there is nothing you can do, but sometimes there is. I don't want to comment on what you could do differently because I am game-planning for LSU.

They do have QB runs, but a lot of it is in the passing game. We have to have edges set to leverage the coverage and be disciplined. You have to have balance. They are physical inside. You cannot get one-dimensional.

With Brian Kelly, they have gotten more comfortable with their schemes. The quarterback has made big plays with his feet. They gain confidence from big plays.

I knew Mike Elko would be a great head coach at Duke.

We have to get through this game, then we will evaluate staff changes.

You are a place where it matters. Last week, if I could have gone inside, I may have. Our fans are as good as anyone in this country.

Anytime you get more time on the field, you get experience. Conner Weigman loves ball, and he learns from things.
Never miss the latest news from TexAgs!
Join our free email list