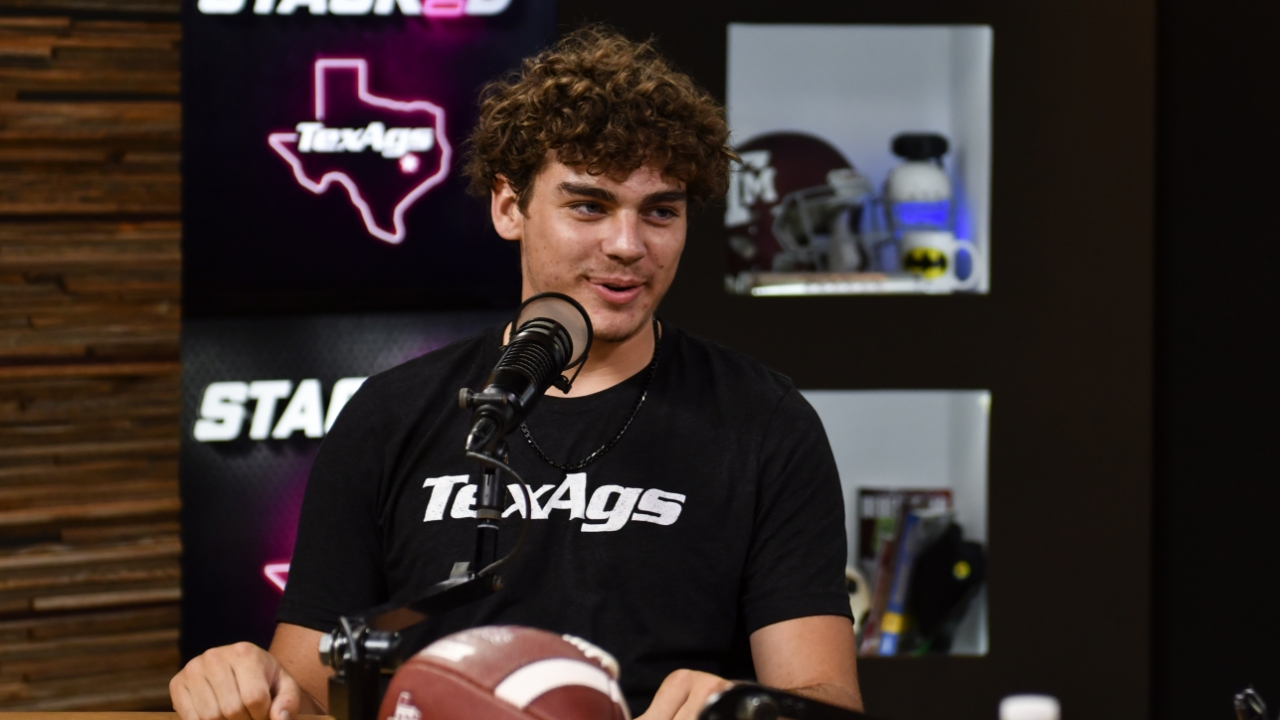 Photo by Jamie Maury, TexAgs
Texas A&M Football
Back from illness, Conner Weigman preparing for first road start vs. Auburn
---
Brought to you by Pintail Hunting Club, Texas A&M quarterback Conner Weigman sat down with Billy Liucci for an exclusive conversation on his first career start against the Rebels, recovering from the flu and preparing to take on the Auburn Tigers.
---

Key notes from Conner Weigman interview
I like to hunt and fish. That's all I do in my free time.

I'm feeling good. I'm getting my legs back underneath me. They were a little heavy for the last couple of days, but I feel good. I feel like I've gotten my wind back now.

I started feeling sick last Tuesday at like 2 a.m. That's when it all went downhill. It was hard not being at practice or in meetings. I try to be positive when I'm around the guys, and it really sucked to not be around my teammates. Everything is good now, though.

Being able to disperse the ball to a number of different people was something I think I did well vs. Ole Miss. I think seven or eight different guys had catches in that game. We were working quickly on getting the ball out of our hands and working down the field. I just want to win. I could throw four picks, but if we win, I'd be happy. That's all I want. I just want to win.

I envisioned going down there on the final drive and getting us into field goal range to get us into overtime to see what we could have done there.

The games are long. You have to take it one play at a time. You can't look too far back or too far forward. You can't get caught up in too many of the other things that are happening during the game. It's still football, though. It's still the game I've been playing since I was five, so not too much has changed.

You have to feel how the game is going. You have to stay within the offense, but if you see a one-on-one matchup that you like, you have to go to it. You have to hit it.

I have so much respect for Haynes King. He is banged up, and he's going out there for his teammates and the whole program to get the job done. You can tell that he is in some pain. To keep going back out there, I have so much respect for that guy. He has helped me ever since I got on campus, and he doesn't have to do all that. He has given us so much. That's my guy.

I could have had the same success had I gotten a few reps earlier. I'm more comfortable with everything and don't have to think so much. Getting more reps in practice has helped so much.

One-on-one, we're throwing the ball to #1. Evan Stewart is getting the ball.

Donovan Green and Stewart are huge. They are savvy football players, as is Max Wright. They know where to be in what spots to attack the zone. It's huge to be on the same page as them to get them the ball.

Noah Thomas is a mirror image of Mike Evans, in my opinion. They have the same play style. Just like with Stewart, if there is a one-on-one with #9, you have to give him the ball. You have to give him a chance because he's going to make a play for you.

It's hard for defenses with Devon Achane and our receivers because they have to cover the whole field. You could run, run, run, and then you could pull out the play-action and have them beat. It's a huge advantage having #6 back there with you. I'm more impressed with his pass-blocking. He'll step up in a hole and take on a linebacker.

Moose Muhammad has been doing this in practice. He is getting more consistent and getting faster in routes. It's showing up in games, and he has been huge for us down this stretch.

It's important to me to have a personal relationship with my offensive line outside of football. I feel like if you have that relationship, they will play harder for you. I tell them all the time that I'm going to war for them. I feel like I have a good relationship with them. It does go both ways.

Jimbo Fisher didn't say a whole lot to me in preparing to start vs. Ole Miss. He let me do my thing in preparing for the week. He told me to have fun and remember that it's still football. It's a kid's game, and it's something I had been dreaming about my whole life. He told me to just enjoy the moment.

Taking that big hit and then throwing a touchdown was fun. It was pretty cool. The hit wasn't fun in the moment, but looking back at the order of events, it was pretty cool. I'm trying to win for my teammates, my coaches and all the fans that show up each and every day.

This is a brotherhood. You don't want to let down the person next to you, and you're going to bust your butt until you find a way. We have to keep pushing until we do find a way to win.

This stretch is huge. We could use these next three games as a stepping stone into next year. We have to come out swinging this weekend for a road game in a hostile environment and get it done. It's going to be fun. Seeing how Kyle is, I'm ready for this (experience on the road). It should be exciting.

I feel like we have to be committed to our goals. We can't go off the path of what we said we were planning on doing. No matter how hard it gets, you have to keep going and take it one day at a time. We can't look too far ahead or too far back. We have to keep pushing.

I talk to Evan Stewart a lot about it. We see what is going on. We see that we could do something special. We have to go into this offseason ready to work, and we have to put our minds to it in order to do something special.

I don't think there is anything like Aggieland. I don't think you could find anything like that (a full stadium despite struggles) anywhere else in the country. It was cool to witness the support they have for us. Through thick and thin, no matter what, they are going to show up and be loud for us. I can't say thank y'all enough. I really appreciate that. It was really cool to see that.
Never miss the latest news from TexAgs!
Join our free email list
PRESENTED BY