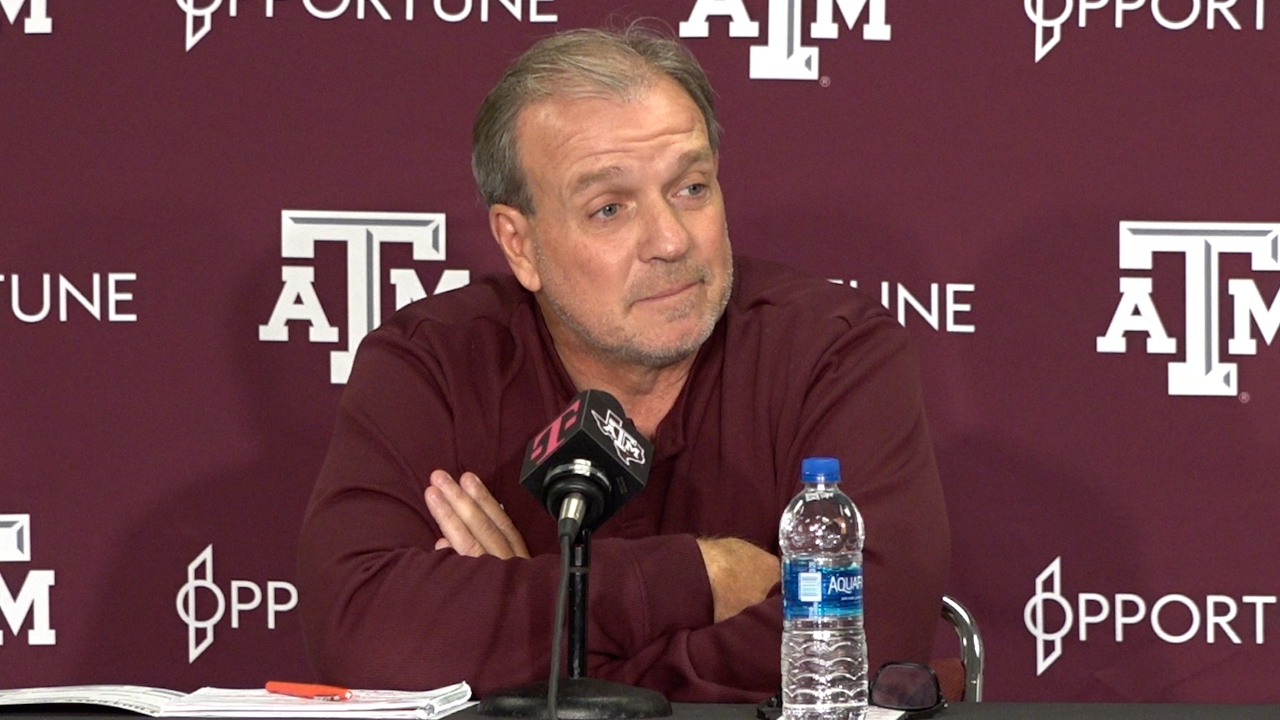 Jimbo Fisher
Fadil Diggs
Max Wright
Antonio Johnson
Texas A&M Football
Press Conference: Ags prepare for trip to Tuscaloosa to face No. 1 Tide
---
Texas A&M travels to Tuscaloosa this weekend to face top-ranked Alabama in primetime at Denny-Bryant Stadium. On Monday, Jimbo Fisher, Fadil Diggs, Max Wright and Antonio Johnson spoke to the media ahead of the contest.
---
The following are live, paraphrased notes from Jimbo Fisher's Monday afternoon media availability:
After evaluating the film, they played a good football game. We didn't capitalize in all three phases. We need to relax and make plays. There were big momentum swings. The guys are playing hard. They have to relax. We had opportunities and get better. We need to reinforce the things they are doing well. We have a great opportunity this weekend. Nick Saban is a tremendous coach. We have to move on. You can't let one become two.

When you are young, sometimes you try too hard. They have to relax and play.

Very athletic, strong arms. Jalen Milroe always did great at camp. He's an outstanding athlete. Eli Stowers committed to us first. Milroe can throw it a mile. We recruited him.

No update on Max Johnson. Day-to-day. We have Haynes King and Conner Weigman are ready to go.

Nick Saban and I are in good shape. We have moved on.

We have to give them confidence and knowledge. Those guys are playing their tails off.

I've taken something from everybody I've coached under. Whether it's organizational stuff or knowledge of the game. All the coaches I coached under were highly successful. Les Miles, Bobby Bowden and Nick Saban all won a national championship. Nick Saban is a tremendous coach. Maybe one of the best ever. He's a very good football coach.

We have put Devon Achane in the slot. He has the ability to do.

Conner Weigman stays in our reps. He takes reps with the 2's when we practice. He sits next to me on the plane. He understands what we're doing. He's going to be one heck of a player.

Practicing with habits so you have the confidence to play. You practice until you can't do it wrong. That's not confidence. If we happen to get those picks or not fumble, your whole persona changes.

We ran the football very well. We were averaging almost nine yards in the first three series. We had a couple of little screw-ups. They did progress. We're getting better in pass protection.

We had opportunities. We get those two interceptions, and now what is the perception of it? They got a couple of runs. We got it to fit it in the gaps. We blitzed a little.

Execution is coming because I see it in practice. I know the ability and the work habits are there. We have to put it in motion. I 100% believe in our players. I 100% believe D.J. Durkin and his defensive scheme.

In today's time, that is the biggest issue in college sports. With social media, those kids get criticized. It's a major problem. It matters. It does hurt them. We tell them to ignore it and stay off of social media.

Jaylon Jones is doing fine. He's day-to-day. It doesn't help when you lose one of your best players, but that's football.

Haynes King had a great first drive. I thought his pick was a pretty good throw. His decision-making was good. He led us on two touchdown drives.

You're not going to keep them off social media. If they want to have a joyous time, then get off social media.

The best player will play. If he has a good week of practice, it could be Conner Weigman.

Haynes King is very active in the meetings. He handled the situation very well.

What do you want me to do? Call Nick Saban and tell him who the quarterback will be?
Never miss the latest news from TexAgs!
Join our free email list