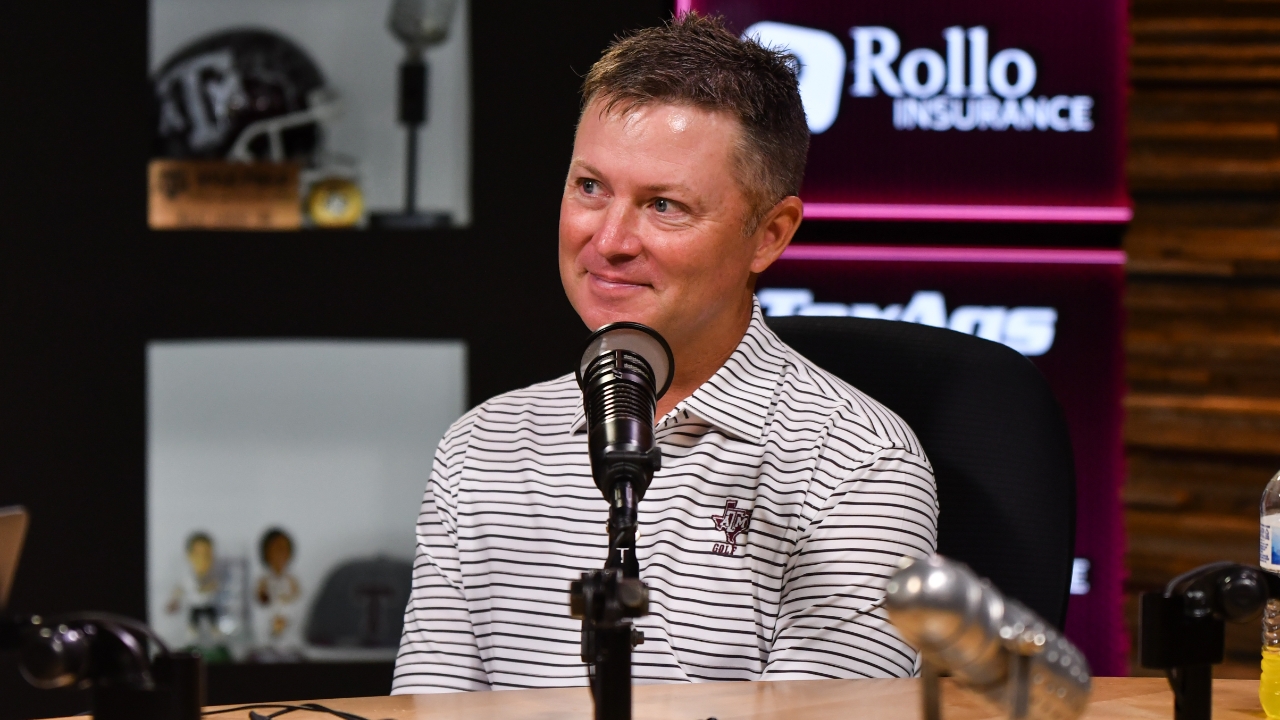 Photo by Jamie Maury, TexAgs
Texas A&M Women's Golf
Gerrod Chadwell joins TexAgs Radio ahead of women's golf's fall slate
---
Texas A&M women's golf returns to action on Friday as the Aggies travel to Pebble Beach to compete in the Carmel Cup. As he begins his second season in Aggieland, head coach Gerrod Chadwell joined Tuesday's edition of TexAgs Radio to discuss his 2022-23 squad and more.
---

Key notes from Gerrod Chadwell interview
It was a quick off-season. With women's golf, there is no recruiting calendar, so we can go 340 days a year. We did that. We want to build off the momentum we had at the finish of last season. The 2024 class is going to be key. One of our assistants just got back from Scotland this weekend, and we're relentless in recruiting.

We leave at 6 a.m. in the morning to fly out of Austin and fly to San Jose. If it didn't say "Pebble Beach" next to the tournament, we'd have no business playing this early. I know our team will be ready to go on the first tee on Friday.

The Carmel Cup has typically been the men's event, but for the last couple of years, it will be a women's event. It's invite-only, so we're fortunate to be there. There will be some quality teams there, and every team will be ranked in the top 25. After this weekend, we'll turn around for our home event, the "Mo"morial, Sept. 20-21.

As soon as the young ladies show up, there are some minor problems with getting them settled into school, working out, practice and everything that goes on with being a college student. I asked Jim Schlossnagle recently if he'd like to play games that impacted his chances to go to Omaha one week into school, and he said no way. Our culture is why I don't really worry about it, though. We did look a little rusty, and Traditions is hard in order to prepare us. We have a good core that's pulling everybody else along. Culture will always win out.

We had a short meeting to start the season. Almost everybody is returning and knows what to expect, but we start over again. It creates awareness. A&M hasn't been in the position we were at the end of last year in a very long time. We took somebody's seat at the table, so that put a target on our back. It helped us recruit, and we have a better schedule this year.

It was nice to see that Texas A&M's national brand in revenue sports and Olympic sports also carries over to golf. Everyone knows what the ATM on your hat stands for. In recruiting, we want to stretch coast to coast. We have to keep chopping wood, and if we keep doing that consistently over the years, how could you not want to come to Texas A&M?

This summer was the first time since COVID that we could go to Europe to recruit. With what we've done with Blanca Fernández García-Poggio and Adela Cernousek, young ladies over there know about Texas A&M too.

I haven't named a captain before. Truth be told, Hailee Cooper should have been an Aggie four years ago. She embodies everything you want in a teammate. When I brought it up, it was pretty unanimous that she'd be the team captain. Everybody kind of goes to her and sticks to her. She always has a smile on her face and works hard. She'll be around the program for a long time.

Zoe Slaughter had some tough classes coming from Houston to A&M that she had to knock out. She had a great run in the Western and had a good round at the U.S. Amateur. She's unbelievable athletically, and we're grinding with her putting right now, which will make her elite.

It was no surprise that Sam Bennett won the U.S. Amateur. It just validates everything we see from him day in and day out. That's an elite club to be part of. To be from Madisonville, Texas, and be in that club, it's so cool. Brian Kortan said "blue collar," and that's what that building is over at Traditions. I'm excited to watch Kortan's team too. We've created a family environment out there. Our success helps them, and their success helps us. Our kids mingle and practice together. The sky is the limit for Texas A&M golf. The men will have a national championship run this year, and we'll get there.

You want to build off your success and be seen. With our staff, the energy we bring connects with parents and kids. The more we can get out there as ambassadors for this program and this university, the better.
Never miss the latest news from TexAgs!
Join our free email list