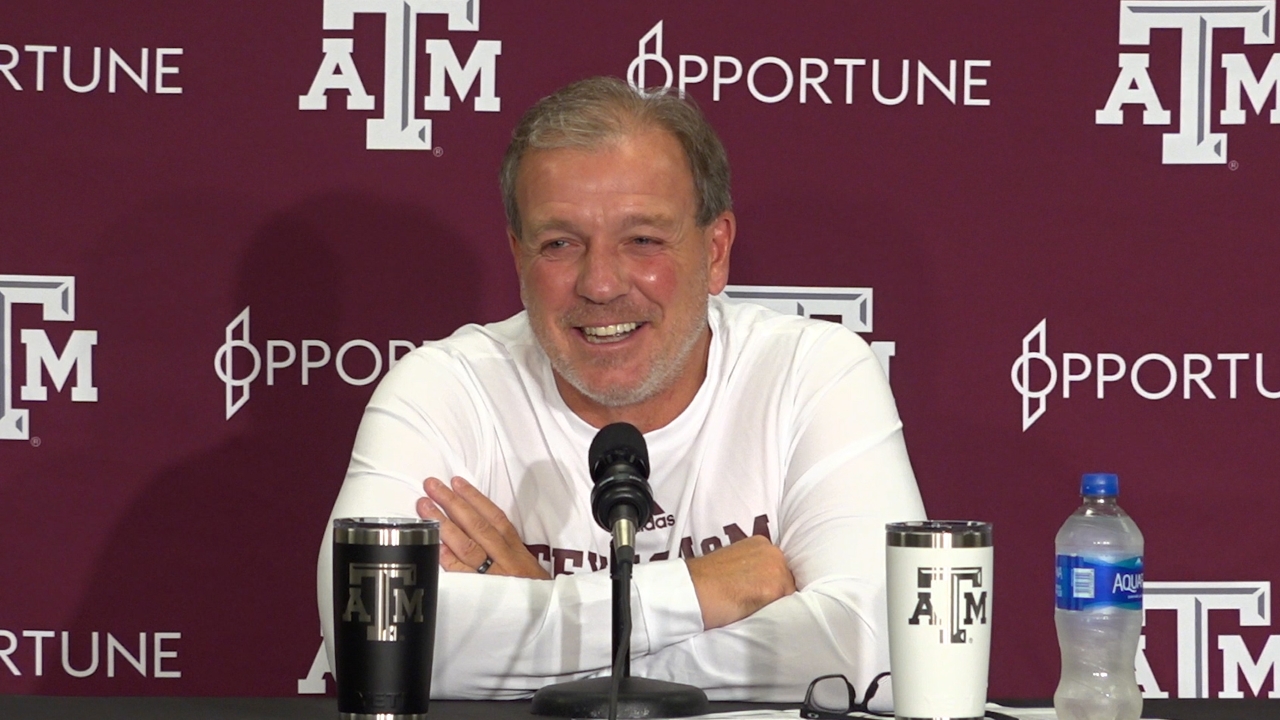 Jimbo Fisher
Ainias Smith
Antonio Johnson
Texas A&M Football
Press Conference: Fisher, Aggies return to practice as Fall Camp begins
---
Fall camp officially opens on Wednesday afternoon as Texas A&M begins preparation for the highly-anticipated 2022 football season. Before their first August practice, Jimbo Fisher, Ainias Smith and Antonio Johnson addressed the media.
---
The following are live, paraphrased notes from Jimbo Fisher's Wednesday afternoon media availability:
Great to be with y'all. Watching a group of young men grow and camaraderie and caring for each other. It's fun to be a part of and the relationship with players. Learn to fight for a goal. Just like real life. We have three outstanding quarterbacks. I love watching guys compete. It's a great group of human beings. Competition eliminates complacency. Very pleased with the summer. Healthy for the most part.

There are some really talented guys. Haven't seen the new guys yet. We're in a good position, and we will see how it comes together.

Demani Richardson's leadership has jumped out and Antonio Johnson too. You have to have that in the secondary because people move so many guys around. I love Antonio.

I love where we're at. We're very talented and very young. Hopefully, we can have a good season. I love where we're at. It takes time to build things.

You have to worry about the guys around you. You can't worry about the results. Don't look at the scoreboard. Go play. The scoreboard will say what you want. Make your value as much as you can and control what you can control.

Who's going to win the national championship? You don't know, but you know what they will look like. The quarterbacks have to be able to unite people collectively. Whoever the quarterback is, they will have the same characteristics.

I love practice. That's where guys develop. Practice is a sacred ground where you grow and develop as a human being where you don't have to worry about being judged. The excitement to get on the field and do that? I love that.

Ainias Smith has told the truth and moved on. You can't worry about that. Chris Russell will be at practice today.

Who gives our team the best chance to win? My responsibility is to play the best no matter what the player's age is. I learned that from about 35 years of coaching.

Second-year guys sometimes put too much pressure on themselves. They understand the concepts better and what it takes to be successful. That's part of growing. The pressure on these kids, it's cause of social media and press. Those kids have to eliminate those things and sometimes that's hard.

I wanted to have QB1 named yesterday.

Gabriel Brownlow-Dindy is doing good in rehab. Marquis Groves-Killebrew is getting close. Bobby Taylor will be out for a while. Hezekiah Jones and Donell Harris medically retired.

Trey Zuhn has been outstanding. He would've played last year if he would not have been hurt. I'm excited about him.

I don't think Devon Achane's underrated. The guy averaged seven yards a carry. There's nothing that he can't do. Look at his production. I don't look at all that preseason stuff. He's a good pass-blocker.

Jordan Spasojevic-Moko had a good spring. I'm not as concerned about who is starting. Just go play good football and will get you on the field. Each quarterback will be with the ones, twos and threes.
Never miss the latest news from TexAgs!
Join our free email list