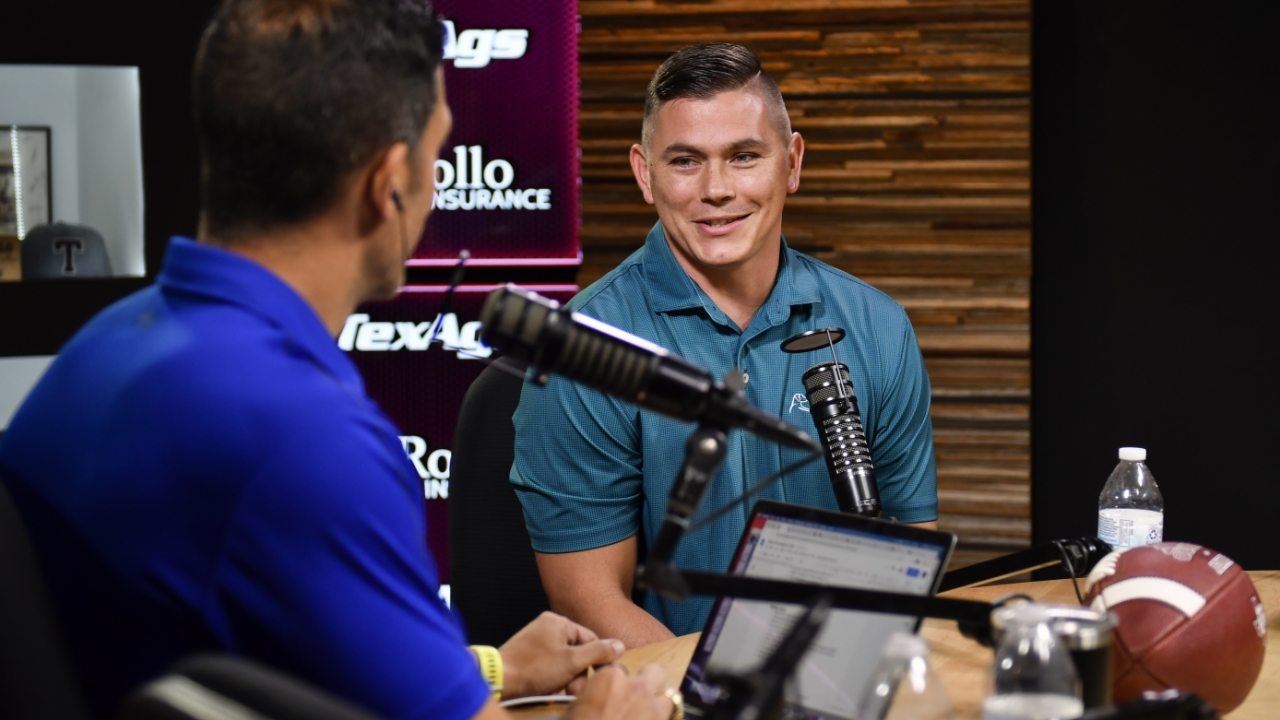 Photo by Jamie Maury, TexAgs
Texas A&M Football
Former A&M RB/DB Brandon Leone on the start of fall camp in Aggieland
---
During Tuesday morning's edition of TexAgs Radio, former Texas A&M running back and defensive back Brandon Leone joined David Nuño in the studio to talk all things Aggie football ahead of the start of fall camp, which begins on Wednesday.
---

Key notes from Brandon Leone interview
When you finish playing ball and going through the grind, it's hard to recreate that experience. If you go to the gym consistently, you create competition. The body doesn't respond the same in your late 30s as it does in your early 20s.

Reporting day is a big day, especially for the freshmen earning the opportunity to play. You're nervous and fired up. You go to the locker room and get equipment. I'm sure compliance meetings are insane with NIL. These guys are already working together in the summer, but it's another step.

The NCAA changed it so scholarship athletes could report early during the summer and take classes. I was sleeping on couches until we reported, and now these guys are already enrolled. Reporting day is what you're here for. It is the start of a new season.

The way that Jimbo Fisher and staff are recruiting, the pressure is on the veterans. You know you have these five-star kids behind you. They are thinking, "If I don't get my mind right and dial in, I'm screwed." Reporting day probably has more nerves than usual cause you're thinking, "Holy crap, who is this freshman?"

Anything you want in life is on the other side of your comfort zone. From the time these kids are in seventh and eighth grade, they've been hyped up. Then they come here, compete and sometimes don't get that starting job. You have to realize there are people who are just as talented and older. You have to face adversity. Learn the system. Coaches' jobs are ten times harder now than they were ten years ago.

I'm absolutely not nervous at all about recruiting. They were lagging a bit, but Jimbo has proven himself. I'm not worried about it. The pool party and Terry Price's barbecue, then you get them here for a football game. Block out the chatter. The Anthony Hill‍ commit was huge. Linebackers, linebackers. Give 'em to me.

I think it's harder now to figure out the starting quarterback. Normally, you know the guy. You're going to have some players that lean one way. Next year, we won't have any more conversations. It's going to #15, Conner Weigman.

Someone will be handed the keys to a very talented ship, whether it's Haynes King, Max Johnson or Weigman. It's going to come down to quarterback play. They have to stretch the field. We missed that breakaway speed outside of Devon Achane, but it's there now. I love Jimbo because we're so multi-dimensional. We can throw so many formations at you. Until the defense thinks we're going to throw deep shots, defenses can read it.

Walter Nolen could be disruptive right away. You have to think he was rated higher than Myles Garrett. He's going to come in here and contribute. He may not make the same amount of plays, but he will clobber up the middle. He'll be a big-time contributor.

Worst in the SEC West? I don't think it's Mississippi State. They have talent. I think it may be Auburn. That's crazy to think because they have talent. I think it will be top-heavy with Alabama and Texas A&M.

Miami is going to be a hard football game. It takes time to gel. We are talented enough of a football team to overcome the mistakes. We have to execute week in and week out. It's going to be loud, rowdy and hot.

The Power 5 is changing so much. I would say have every power five champion and three at large and take an 8-team playoff. It's hard to quantify.
Never miss the latest news from TexAgs!
Join our free email list