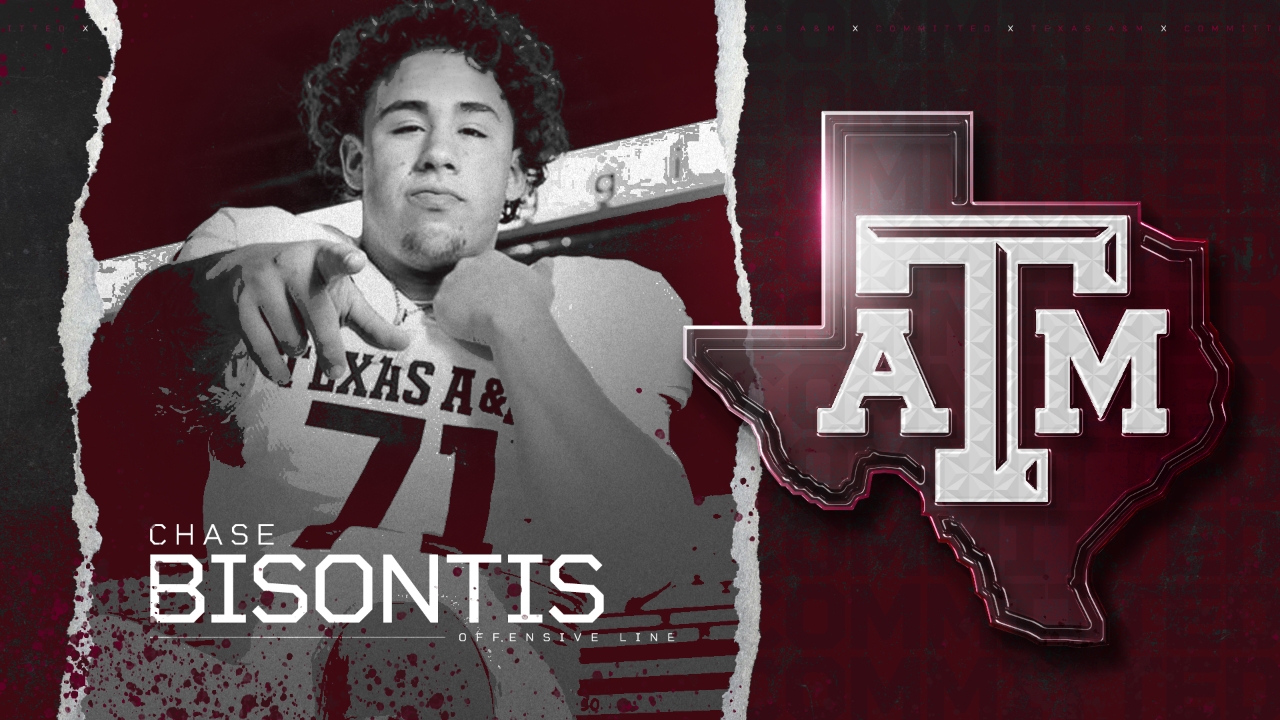 Texas A&M Football Recruiting
2023 Ramsey (NJ) Don Bosco Prep OL Chase Bisontis commits to Texas A&M
---
Jimbo Fisher and Texas A&M have made winning in the trenches a top priority so the big boys up front are always a must-get on the recruiting front. On Sunday, the Aggies added a huge piece to the 2023 recruiting puzzle when Ramsey (NJ) Don Bosco Prep OL Chase Bisontis‍ announced his college choice.
At 6-foot-5, 290-pounds, Bisontis has established himself as one of the nation's top offensive linemen. He mixes a strong blend of toughness and athleticism in the trenches, and it quickly made him a top priority for Texas A&M and others.
Bisontis' size and skill set allow him to play several positions up and down the line, and coach Steve Addazio did not mince words when presenting his plans for Bisontis at Texas A&M.
"I love coach Addazio's approach on it," Bisontis said following his visit. "I can't say too much about playing time, but he sees me as a guard. But what I really loved that he mentioned is he's going to coach me at all five positions because that's what makes you a higher draft pick for the NFL, so hopefully, I can get there one day. So I love that. I see myself as a true guard, but now that he said he's going to coach me at all five. It makes me feel real comfortable."
Bisontis chose the Aggies over fellow finalists LSU, Georgia, Michigan State and Rutgers, and after visiting Texas A&M for the first time in June, he knew several aspects of the Aggie program had his attention.
"No. 1 the SEC. The SEC is arguably the best conference, so playing in that would make me a lot better," Bisontis said. "Having the great recruiting class last year, practice is going to make me a lot better. Then hopefully, I feel like Texas A&M can compete for a national championship, so that would be awesome if I could too."
With his commitment, Bisontis becomes the sixth member of Texas A&M's 2023 recruiting class, and he joins Colton Thomasson‍ on the offensive front. Addazio led Texas A&M's recruiting efforts for Bisontis.
We'll have more for our premium subscribers shortly.
---
More coverage
Never miss the latest news from TexAgs!
Join our free email list