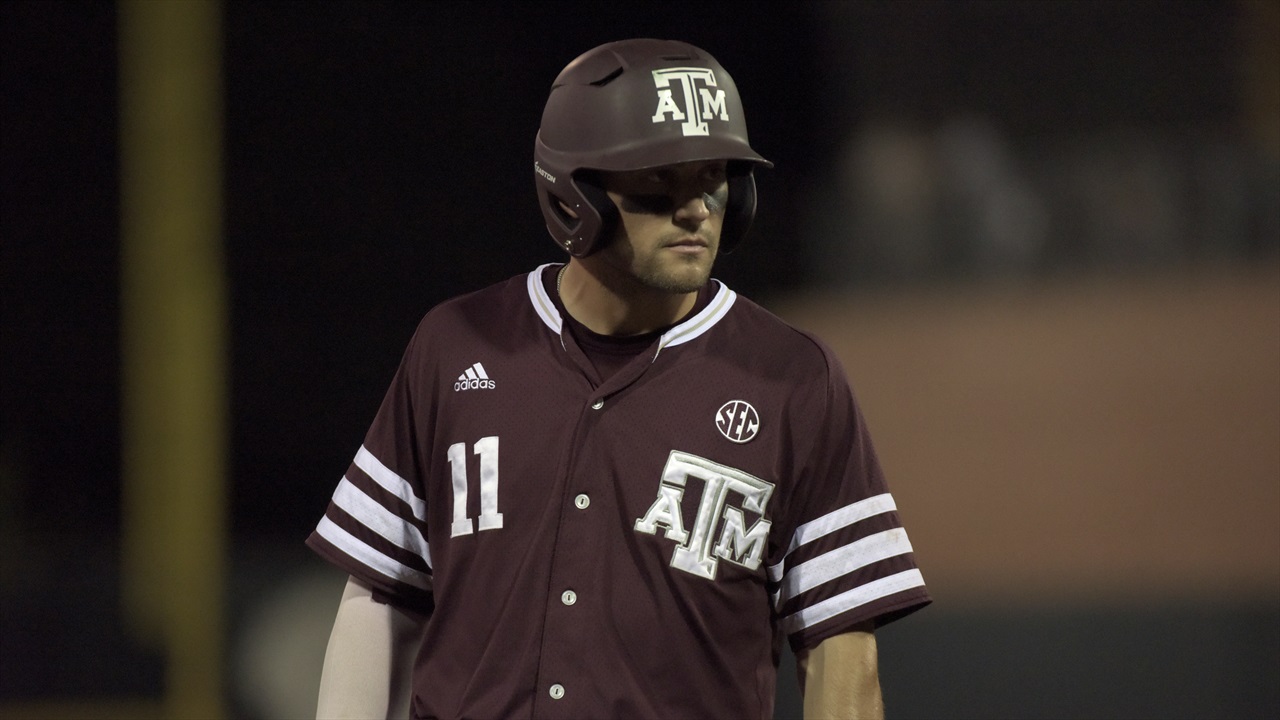 Photo by Alex Parker, TexAgs
Texas A&M Baseball
J.B. Moss shares excitement ahead of A&M's CWS appearance
---
On Wednesday's edition of TexAgs Radio, former Texas A&M outfielder J.B. Moss expresses his excitement about A&M's trip to Omaha for the College World Series and head coach Jim Schlossnagle's first-year accomplishments.
---

Key notes from J.B. Moss interview:
Our Aggies are headed to Omaha. I'm so excited for them. What more could we ask for?

As a former player, I was so proud of the team. I have high expectations for baseball and all the athletic programs at A&M. A top eight program is where we belong and year one has been remarkable. Looking back in history books, it's hard to find any program in any sports team that finishes inside the top eight with a first-year head coach. I couldn't be more excited about the future and trajectory of A&M baseball. It's a great time for Aggie sports.

Early in the season, you saw a team that was a step slow and still unsure about themselves. They were trying to mesh and that takes time. It's important to be patient with young kids. Look at A&M basketball; it took time. When the head coach is consistent with the message, believes in their kids, and the work that they put in, great things happen.

They are passionate about the 12th Man, the fanbase, Texas A&M, and head coach Jim Schlossnagle. From what I hear, Schlossnagle and the staff are hard on them but that creates a level of respect because all they are trying to do is get the best out of them. It's hard not to believe in Schlossnagle when you look at his track record at TCU. It's the perfect balance of hard work, belief and togetherness.

I'm not old enough to know the entire history of A&M baseball and I don't know it well since 2010. Tyler Naquin, Boomer White and Jack Moss are A&M's top three hitters in that time. Moss is a true professional. His mental approach to hitting is so advanced I can't even explain it. He's cool, calm, collected and knows what he's doing in any situation. I could not be more impressed with him.

Moss' consistency, to do that day after day, that's when you know you have a true hitter. Impressive is an understatement.

It's been fun to watch. To quote head men's basketball coach Buzz Williams, "Confidence comes from your work and your belief in yourself and your belief in your teammates … that only stands out with hard work."

There is no one on the team that takes more intentional swings than Moss. The kid deserves to have all the confidence in the world because he proves it every day.

Dylan Rock is the key to A&M's success in Omaha. I love his confidence and he brings the energy and the juice. Omaha is a big ballpark and the quantity of guys that we have that can run the ball out of the park there lessens because of the big yard. Rock is certainly not one of those guys to count out. He had an okay weekend in the super regionals, so my money is on Rock in Omaha.
Never miss the latest news from TexAgs!
Join our free email list