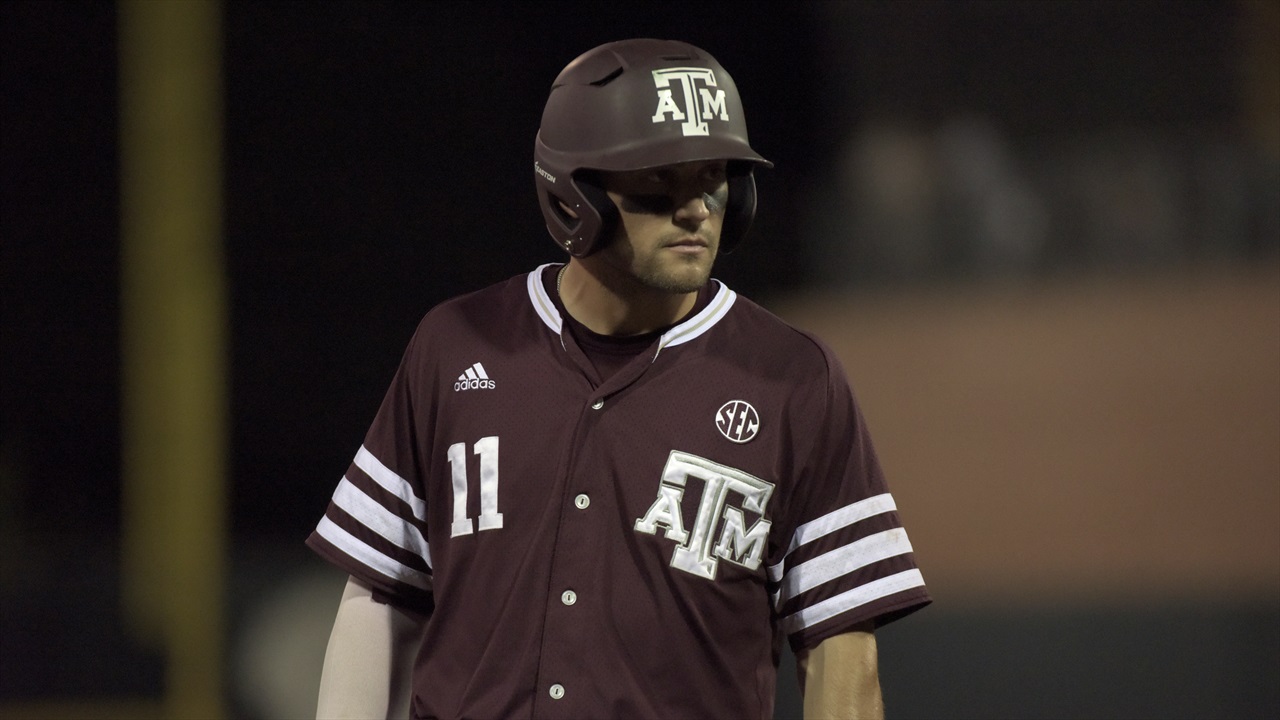 Photo by Alex Parker, TexAgs
Texas A&M Baseball
J.B. Moss discusses the making of an SEC Tournament title run
---
During Wednesday morning's edition of TexAgs Radio, former Texas A&M outfielder J.B. Moss joined to share his thoughts on Jim Schlossnagle's 2022 Aggies as they begin their run in Hoover on Wednesday afternoon. Moss also reflected on A&M's 2016 SEC Tournament title.
---

Key notes from J.B. Moss interview
That 2016 SEC Tournament was great, and we came from the loser's bracket. It was a great day against Florida, and I had a good day as well. My stat line got lost in the shuffle because Nick Banks went deep twice that day. It just was a great day for Aggie baseball. The camaraderie of the team was special. We had a lot of talent, and besides that, we got along so great together. We all had the same goal in mind.

Knowing Jim Schlossnagle, it's hard for their competitive spirit not to take over. You have a chance to play for a championship, so it's hard for that spirit not to go all out. I would err on the side of getting Nathan Dettmer healthy because he's key to A&M's postseason success. I do feel like we have a regional host spot locked up.

You count on the offense every single day, and they put up double digits almost every single game. I don't know if you can count on that every single day in tournament play because you're going to see the other team's top two pitchers. We need a true No. 2 starter.

Hoover is a blast. It can be an entire week of baseball, and with school being out, it's very close to feeling like professional baseball. It's a great venue with great fans in Hoover.

Funny story, but myself and Boomer White took our golf clubs to Hoover. We'd play some rounds during the day before night games or even after our day games. Other guys would go to the field to watch other games, and some guys would go to the mall or hang out elsewhere. You find ways to kill time.

I don't know if we dealt with any weather delays in Hoover during the 2016 SEC Tournament. I want to say in 2017, LSU-Arkansas played into the wee hours of the morning. There are always crazy start times it seems like.

It's hard to explain. I listen to this show daily, and in texting with Schlossnagle and hearing him on this show, it's like he's waiting for the week where it doesn't work. This team keeps extending that waiting. It has been an amazing job by Schlossnalge and his staff, but every time I shoot him a note of congratulations, he always makes it about his players. I couldn't be more proud of him and his players and what they've accomplished.

If you go 0-for-4 and you're a selfish guy that's only looking for your next opportunity, your level of care isn't as high as these guys have put on display. They've bought in and care about each other, which has helped get Aggie baseball to where it needs to be. The type of people you have in the building matters because at this level, everybody can throw hard or hit a home run. It's the intangibles that make a team special.

This team has been absolutely incredible. I don't know if I would have believed that they would host a regional. It speaks to those intangibles. There are plenty of teams on paper that are more talented than A&M. That's not really what matters, and it comes down to the things that you cannot see.

Jack Moss is 100 percent a professional hitter. I was texting Boomer White a couple of months ago, and I asked who was the better pure hitter, Boomer or Jack? He said Jack. That blew me away. Boomer was the best hitter I ever knew, and it was the ultimate compliment for him to say that Jack is even better than he is. I've never seen a kid that's more comfortable with two strikes and using the whole field at his age. You have to do that against this level of pitching in the SEC. If you can't use the entire field, you're not going to be successful in this league, and that's why this league does such a great job of preparing you for professional baseball.

Dylan Rock is a complete player. I don't remember the amount of power and number of home runs from an Aggie, and I guess I always forget about Will Frizzell. We had Hunter Melton back in my time who hit for that kind of power. Rock is also so impressive in his stacked interviews. We don't just have impressive players, but they're impressive human beings too.

The best sign for regional and super-regional play is for them to put Dettmer on the self this week and go on a run. That would prove that they have the arms. I believe that it starts and ends on the mound. I'd like to see them go deep because that means multiple guys will have emerged.

I'll be in Aggieland next weekend for regional play. Shoutout to Dermdoc. I'll be kicking it with him, and I'm looking forward to seeing Blue Bell Park and the regional.
Never miss the latest news from TexAgs!
Join our free email list