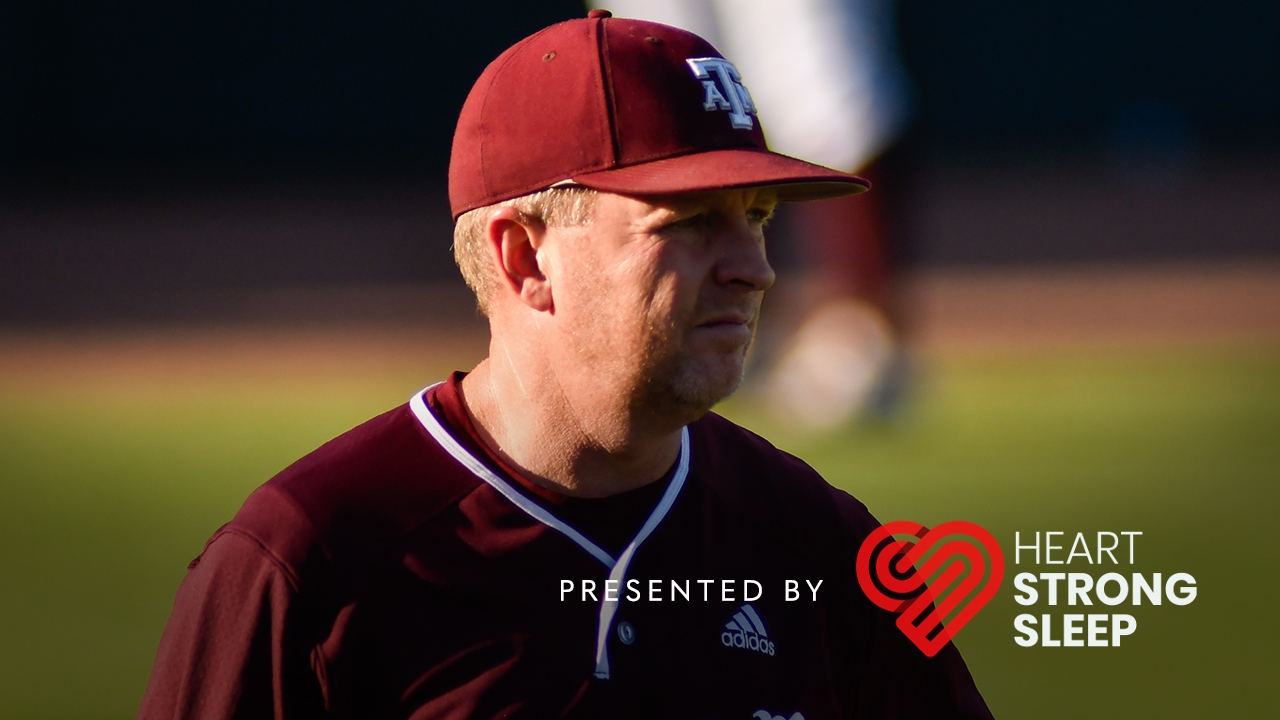 Texas A&M Baseball
Aggie baseball coach Jim Schlossnagle on how the West was won
---
Texas A&M head baseball coach Jim Schlossnagle joined Monday's edition of TexAgs Radio to offer his perspective on how the Maroon & White won the SEC West and the plan for his ballclub moving forward into the postseason.
---

Key notes from Jim Schlossnagle interview
As a staff, we had Saturday night in Oxford to have dinner and celebrate winning the SEC West. We got on the bus yesterday morning to head to Birmingham to move on to the next thing. We took some time to enjoy it, but all that does is put us in a position to do more things.

We're trying everything with Nathan Dettmer to settle his blister down. According to our trainer, it is firming up pretty good. He's not supposed to be walking around in anything other than flip-flops. It's on the ball of his right foot. It's getting better. Every day that we can back Dettmer up, we will try.

Dettmer's blister is not that big of a deal, but it is something that we have to deal with. If we had a pitching staff that could back him up even more, then we would. I think you're always on the bubble of something, and within reason, we're going to play to win this conference tournament. The ultimate goal is the be in Omaha. Given our situation, Dettmer has to be at 100 percent to give us a chance to keep playing in the NCAA Tournament.

I've had situations like that before, but I've never seen one person like Dylan Rock perform in an environment like that. It was a unique situation, and he handled it pretty well. It was pretty fun to watch.

Look at what Michael Earley has been able to do. Every single player on our team is better than they were last year. As a whole, our offense plays for each other. The system we run helps everybody, and Michael is at the lead. Even a guy like Kole Kaler is a better pure offensive player just by getting on base. Earley has done an unbelievable job. He's a superstar in this business. We'll do everything we can to keep him here, and hopefully, the rules will change so we can keep him as an Aggie for a long time. I hope Michael is here for a long time.

Pitching is down across college baseball, and it's definitely down in the SEC. Only Tennessee has an ERA under 4.00. Offensive explosions start on Friday nights. You want to remain competitive and force other teams to bring in their best arms. Even if we're losing, getting those arms in the game takes them away for the third game or forces them to pitch for the second time. We've also had that happen against us, but guys like Joseph Menefee, Jacob Palisch and Will Johnston have done a nice job of pitching well when teams have already seen them.

Johnston is throwing more strikes and gaining more confidence. We tried to start him in midweek games. He's 90-94 with two good breaking balls. It's just gaining confidence and trusting his stuff. You don't know what makes them tick. Menefee is throwing more strikes and throwing his breaking ball. His walks are still too high, but I think those have gone down over the last month.

Micah Dallas just needs to find it. It's nothing mechanical and nothing with his pitches. The only thing has been command. He has to pitch in the bottom of the strike zone. Then it's about his aggressiveness and confidence. I was looking for opportunities to get him in games this weekend, but I also knew that after we pitched Ryan Prager on Saturday that Dallas would likely be the starting pitcher in the first game of the conference tournament.

How many runs did we spot our starting pitching? 11 or 12 in the first two innings of the three games. Prager did a little bit better than Wyatt Tucker, but they've got to be better and give us more length. Those guys were OK. That ballpark at Ole Miss is a bandbox. You're constantly pitching on the edge. They did well but need to be better, and so does Dettmer. I keep saying we can't keep going like this, but at this point, I guess we can.

Situational hitting is part of every batting practice we take. It's more of a mindset than anything else. Don't panic. Have a good at-bat and realize the pressure is on somebody else. Knock on wood and hope this continues.

With the weather, we have not heard a plan. It seems like practice today is getting rained out, so people are scrambling to find a batting cage and a place to play catch. We have not heard anything about the structure of the tournament, but the beauty of being one of the top-four seeds is that we can sit around and wait a little bit.

I thought Jimbo Fisher had to do the same thing I would have done. You have to stand up for your program and yourself. To be frank with you, I thought the repercussions from the conference were three months too late after Lane Kiffin said something. He should have been reprimanded too. I'll tell you what, the Ole Miss Rebels fans let us hear about it all weekend right over the top of our dugout. The role of being the villain in college athletes played into our experience at Swayze Field, that's for sure.
Never miss the latest news from TexAgs!
Join our free email list
PRESENTED BY