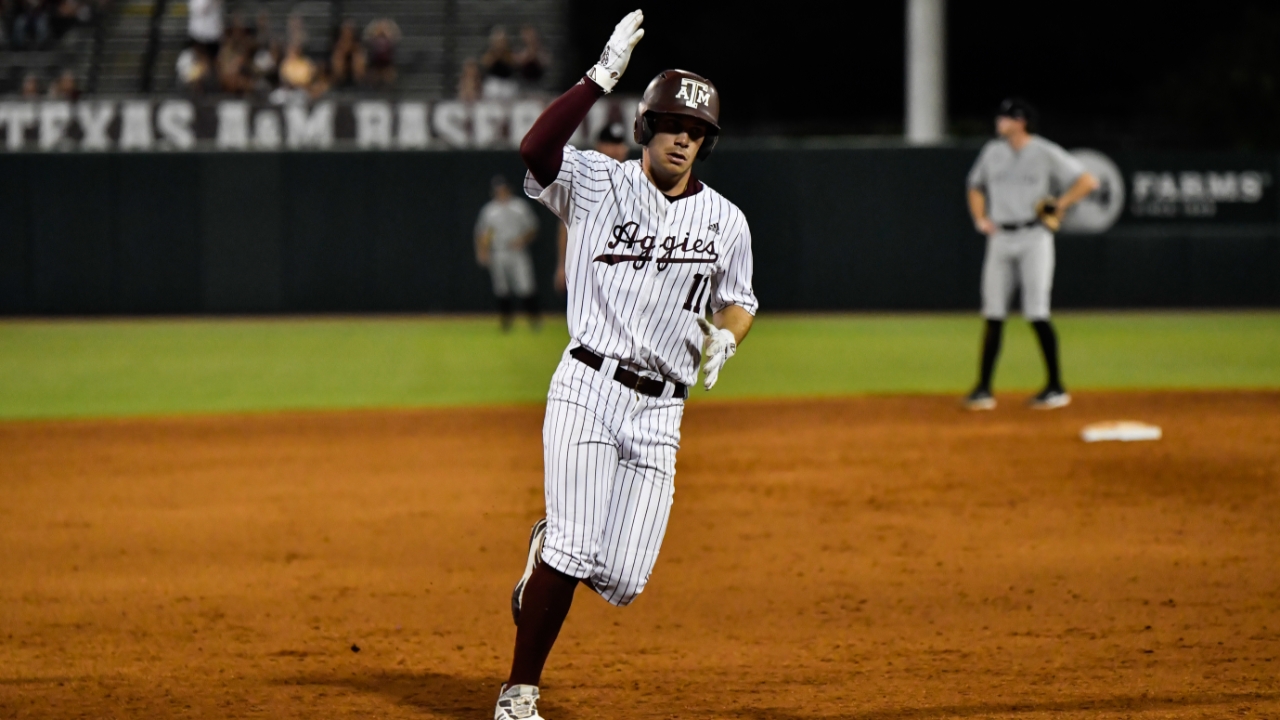 Jim Schlossnagle
Austin Bost
Joseph Menefee
Texas A&M Baseball
Derby Day: Ags homer five times in thrashing of South Carolina, 16-4
---
Game #44: No. 13 Texas A&M 16, South Carolina 4
Records: Texas A&M (29-15, 13-9), South Carolina (23-21, 9-13)
WP: Joseph Menefee (3-2)
LP: Brett Thomas (0-1)
Box Score
---
Texas A&M's usual Sunday dominance came early.
A Friday night slugfest headlined by Jordan Thompson's eighth-inning grand slam and matching a season-high five home runs powered No. 13 Texas A&M past South Carolina, 16-4, to mark the team's sixth consecutive series-opening win.
"I mean, if we come out and bang on Friday night, it just sets up the rest of the series for us to go out there and know that we can compete with any pitcher they have."
Holding a 4-2 advantage, Austin Bost jumpstarted the bombardment of homers in the fifth inning and later smashed a two-out bomb in the seventh. In between, Ryan Targac and Jack Moss launched rockets of their own with Thompson's slam capping the score.
It was the Aggies' second grand slam of the season, joining Dylan Rock's first at Texas on March 29.
"It sets up the rest of the series," Bost said. "I mean, if we come out and bang on Friday night, it just sets up the rest of the series for us to go out there and know that we can compete with any pitcher they have.
"It helps with the rest of the series, for sure."
Offensively, Bost and Moss both finished 2-for-5 with two RBIs, each. Targac was 2-for-4 with three RBIs, and Minnich completed a perfect 3-for-3 showing with a double and an RBI.
Yet, not all of the offensive prowess was a product of timely hitting.
The Aggies were the beneficiaries of 21 free bases through a healthy combination of walks, hit batters, stolen bases and wild pitches.
"Again, there are different ways to have a good team offense," Texas A&M head coach Jim Schlossnagle said. "We scored two runs the other night in the first couple of innings without the benefit of a hit. That's a sign of a good offense. They walked us a couple of times, stole five bases in the first two or three innings and we scored two runs.
"We know we can score runs when we get hits and extra-base hits. A good offense is able to score in a variety of ways."
Rock was at the forefront of this charge, tying Blake Kopetsky's program record with five walks, including a bases-loaded free pass in the fourth inning.
"He's a complete hitter," Schlossnagle said of Rock. "He takes what you give him. He's not going to overswing. He's not going to get outside of himself. He's not going to get outside the strike zone, and when he's healthy — he's a little banged up right now — but when he's healthy, he can steal bases.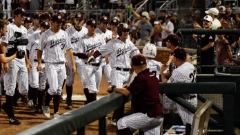 Jamie Maury, TexAgs
"If they want to put him on, that obviously sets the table for Moss and Bost, who's in a good place right now."
Trevor Werner endured a fastball on the shoulder with the bases-loaded before Thompson brought the Aggies' six-run eighth to an electric finish.
Starting pitcher Nathan Dettmer navigated through early traffic with three consecutive singles to begin the game.
Despite boasting a 2.36 ERA through seven conference starts, the reigning SEC co-Pitcher of the Week allowed three runs, two of which were unearned, on seven hits as he turned in his shortest outing since the LSU series (4.2 IP).
"I thought that Dettmer obviously didn't have his best stuff at all," Schlossnagle said. "He was laboring from the beginning, but it's always good when you can win when your Friday night guy doesn't do that well."
Joseph Menefee (3.1 IP) carried the bulk of the remaining load and picked up his third win after striking out five batters. Jack Hamilton whiffed two batters in the final inning to conclude the night.
The emphatic win could serve as a launchpad for the rest of the weekend as the Aggies look to further solidify their future in the postseason with another all-important series win.
"We'll take it," Schlossnagle said. "Obviously, offensively, we got to the backend of their bullpen and scored some runs, but it's a setup. That's what I think tonight is. It's a total set up, so we got to be really ready to play tomorrow because we're going to face a really good pitcher that's been pitching really well and has some attitude, and we're going to have to match him."
The Aggies and Gamecocks will continue their three-game set on Saturday afternoon with Micah Dallas set to battle against Noah Hall.
First pitch is scheduled for 2:02 p.m. CT.
Never miss the latest news from TexAgs!
Join our free email list