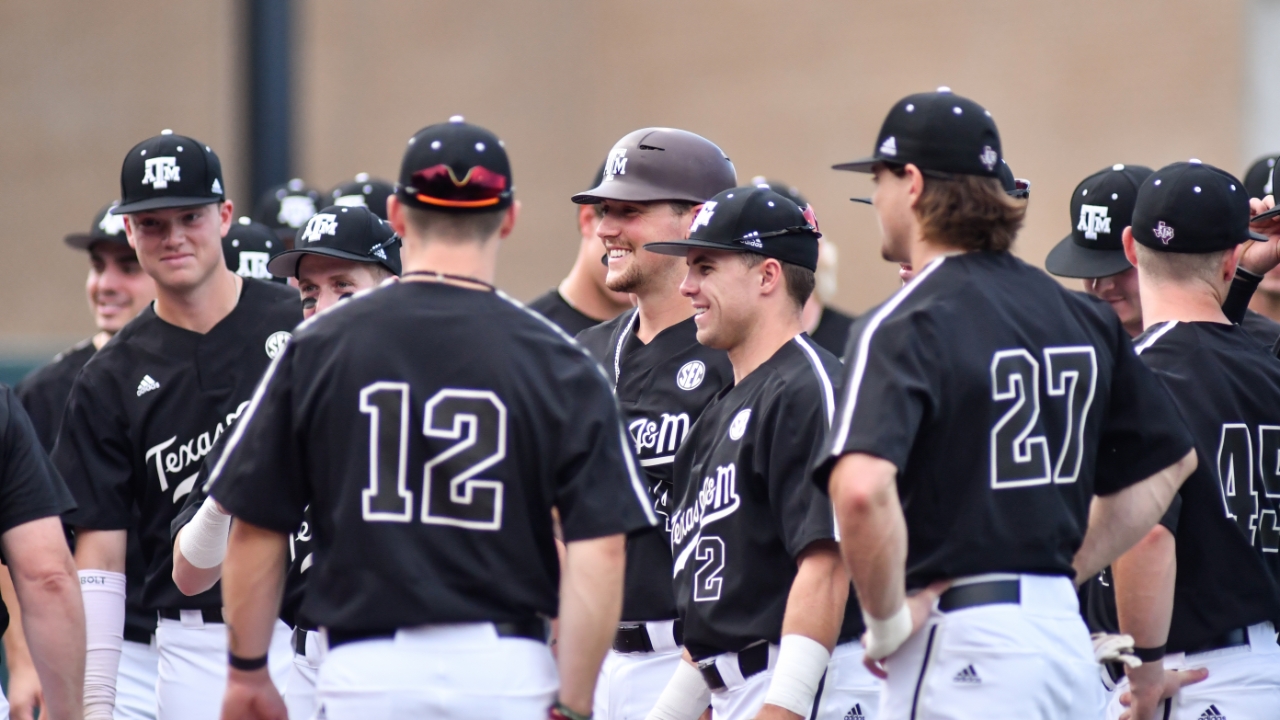 Photo by Brooke Homfeld, TexAgs
Texas A&M Baseball
Around college baseball with Kendall Rogers of D1Baseball.com
---
Kendall Rogers, the co-managing editor of D1Baseball.com, joined Wednesday's edition of TexAgs Radio to talk all things college baseball from around the Southeastern Conference, country and more.
---

Key notes from Kendall Rogers interview
Just put out a new batch of projections; I can't wait to see some fans complain about them. I don't think you'll hear much from Texas A&M fans. The Aggies are the seventh national seed in our projections. One of the reasons we are so high on the Aggies being a national seed is because of their close to the regular season. South Carolina, Mississippi State and then close with Ole Miss. I'm sure coach Schlossnagle will tell you that any team could beat you, but I like how the schedule sets up for them.

The way the Aggies are playing baseball is what's surprising to me and why I think they are a good team, more so necessarily than specific wins. Last night was the perfect example; they struggled early, then buckled down and came back in the later innings and got it done. They need to get Micah Dallas locked in down the stretch and pitching better. That's a key. At this point of the season, the goal for this team is to be a top-eight seed. The goal should be to make it to Omaha. It's crazy how far they've come.

My money is on Micah Dallas getting back on track soon. There is too much history with him in my mind. If there is anyone that can get it out of him, it's Nate Yeskie. When you look at this A&M team, there similar to Arizona last year. You don't need dominant pitching performances night in and night out. This offense protects the pitching staff. I'll be honest, the resurgence of Joseph Menefee is a huge part of the turnaround in my mind.

I thought Ryan Prager was solid early on; the stuff looked good. Getting him back on track is huge for a regional weekend. You'll need a third or even a fourth solid starter ready to go. Nathan Dettmer has to be pretty high up there in terms of starting pitchers across the SEC. A few guys are ahead of him, but he's in some pretty lofty company. Frankly, the way he's pitching right now, he looks like a first-rounder next year.

I go back to the Texas game earlier this year. Dylan Rock brought that chip on his shoulder and swagger to the ballpark. That might be one of the turning points of this season for this team. He has so much experience, he's confident, and you see that every single day.

Austin Bost might be the most improved player on this team coming off of last season. Big props to Michael Earley for that. But also look at Ryan Targac. Two absolute bombs against a pitching staff like Vanderbilt in one game; that's impressive.
Never miss the latest news from TexAgs!
Join our free email list