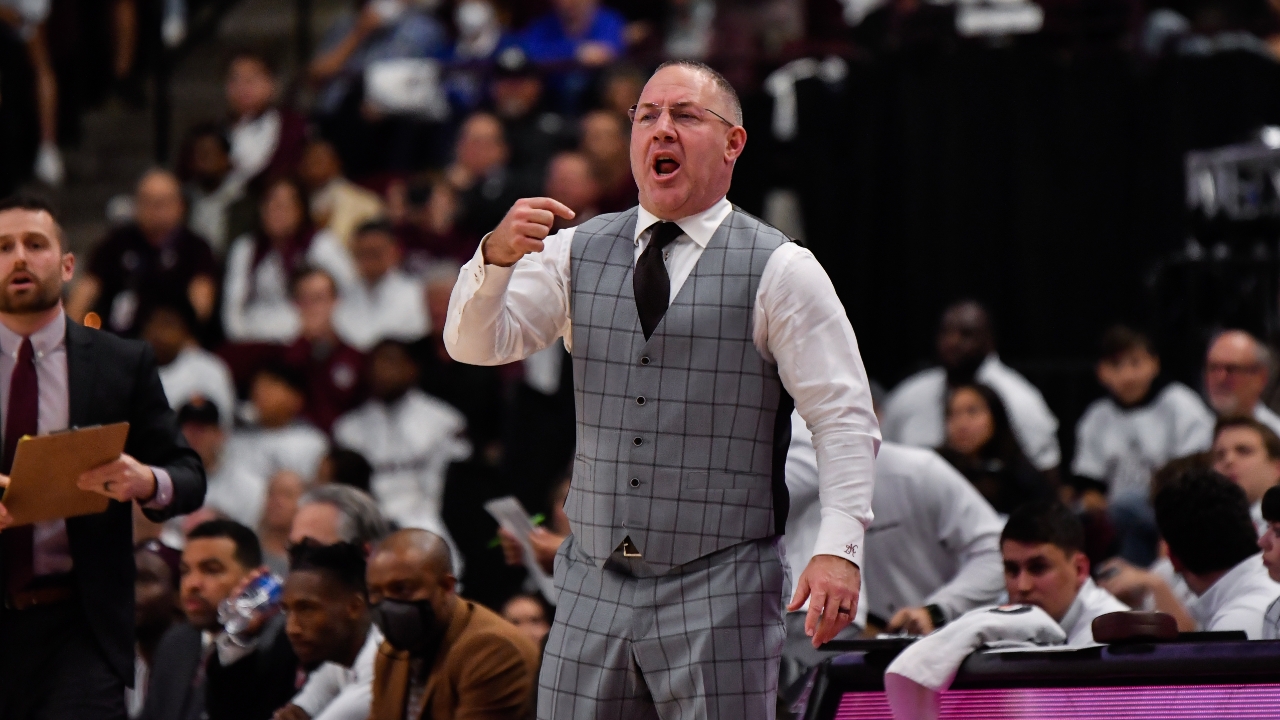 Photo by Jamie Maury, TexAgs
Texas A&M Basketball
A fast start may prove to be A&M's answer to ending two-game slump
---
A fast start may key a quick end to a brief slump.

Texas A&M (15-4, 4-2) travels to face No. 19 LSU (15-4, 3-4) on Wednesday at 8 p.m. aiming to halt a two-game Southeastern Conference basketball skid.
A favorable outcome may depend on how the Aggies play from the outset.
A&M often has had issues on the road this season, but their biggest problem in recent games was just getting started.
They did not score in almost the first nine minutes at Missouri before rallying for a 67-64 victory on Jan. 15.
Then, last Saturday, the Aggies fell behind 20-4 in a 76-73 overtime loss at Arkansas.
"Our guys are aware of it," Texas A&M head coach Buzz Williams said. "Is it the plays? Maybe. Is it the players? Maybe. Do we need to make changes? Possibly. Having said that, I do think there's been a lot of games that hasn't been the case."
Perhaps the Aggies need to look inside more often to 6-foot-8 forward Henry Coleman III, who scored just six points and took only five shots in the loss to Arkansas. He had averaged 18 points in the previous five games.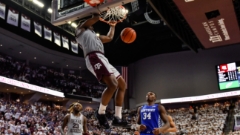 Jamie Maury, TexAgs
Williams said that's not necessarily the case.
"We don't run a play for Henry. He's not really that sort of player," Williams said. "His presence is his size, is his speed, is his athleticism. He's a high-level communicator. He brings great energy on a daily basis.
"His game is predicated off what our offense is and the pressure he puts on the rim whether he shoots it or whether someone else shoots it. His improvement from the free-throw line. His rate and his percentage has been a part of what has propelled him over the last three-and-a-half, four weeks.
"As the game shortens. As the week's unfolded. You're scouted, too. A little bit of it has to be given credit to Arkansas."
The Aggies also have to shoot better from behind the arc. Though second in the SEC in 3-point percentage, the Aggies have hit just 18.7 percent (9-of-48) in their two SEC losses.
Further, A&M must protect the basketball better. The Aggies committed 19 turnovers in the loss to Arkansas. That's especially worrisome as LSU leads the SEC in steals per game and is eighth in the nation in scoring defense, allowing just 58.1 points per game.
However, LSU is in the midst of its own skid. The Tigers have suffered consecutive losses to Arkansas, Alabama and Tennessee.
Forward Tari Eason leads LSU in scoring with a 16.0 average. Forward Darius Days averages 13.1.
Behind that tandem, LSU ranks third in the SEC in rebounding. Keeping them off the boards will be vital, too.
But Days is doubtful with a sprained ankle. The Tigers may also be without point guard Xavier Pinson, who is also reportedly doubtful with a sprained ankle.
Still, Williams said the Aggies have several goals to accomplish to post their first win in Baton Rouge since 2017.
"We can't fuel their transition," Williams said. "You can't take selfish shots, and you can't have live-ball turnovers.
"And can we keep them off the glass? We need to see if we can get extra possessions on the offensive glass, but on the flip side, we can't give them extra shots on the glass."
Getting off to a fast start will help, too.
Never miss the latest news from TexAgs!
Join our free email list