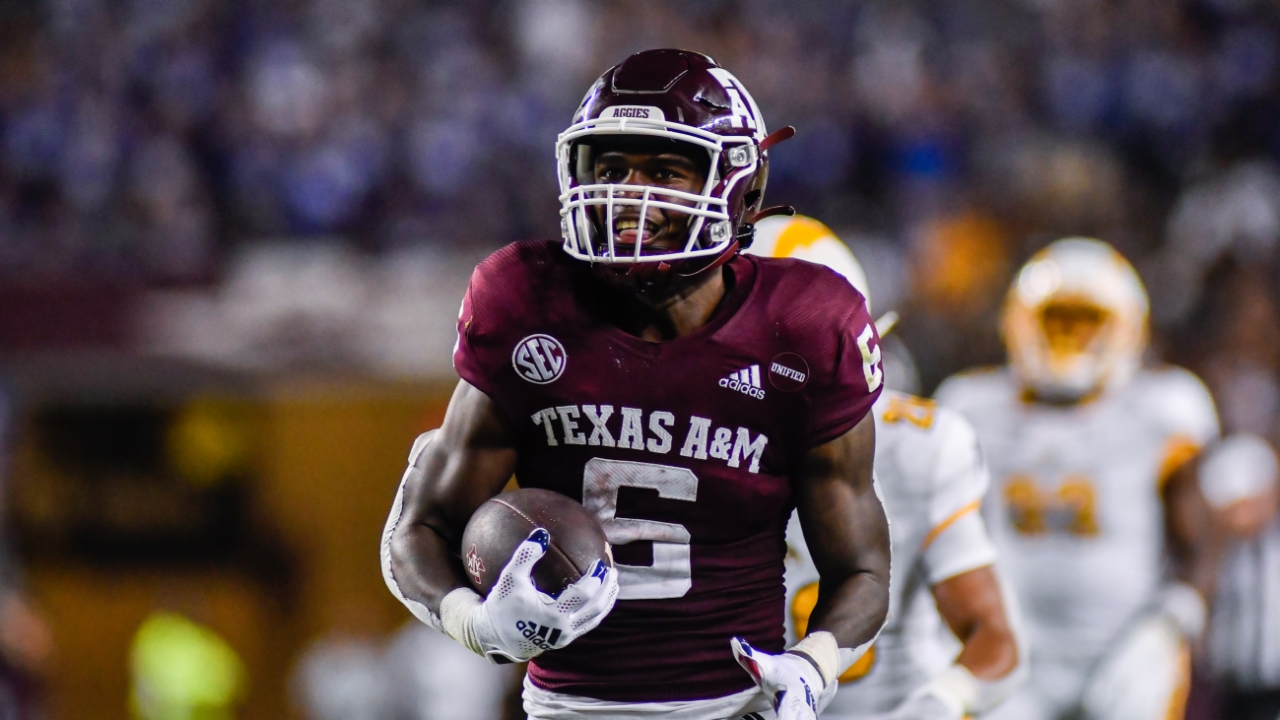 Photo by Jamie Maury, TexAgs
Texas A&M Football
Up or Down: Where each Texas A&M position group should trend in 2022
---
There is a theory that nothing ever stays the same.
A car can idle only so long until it runs out of gas. Someone can tread water but will eventually either sink or get back in the boat. The hottest trends inevitably run out of style.
Of course, the same goes for football teams. They get better or they get worse. They don't stay the same.
They move up and down like arrows on a stock chart. Texas A&M's arrow had been on the incline until a rash of injuries, including one that claimed starting quarterback Haynes King in Week Two vs. Colorado.
Most analysts would agree the Aggies are still on an upward trend. That optimism is based on the return of several players, including King, from the 8-4 team of 2021. It's also based on the continued inflow of talent from the nation's top-ranked recruiting class.
Indeed, believe the Aggies will continue climbing upward toward a championship run in 2023 when those players from the celebrated recruiting class are experienced and making major impacts.
But why wait? The Aggies beat Alabama last season with a backup quarterback, two freshmen starting on the offensive line and another backup starting at guard.
Despite those issues — and injuries at receiver and cornerback — the Aggies were in position to win or tie in the fourth quarter in each of their losses.
A&M is closer to championship level than many might realize. The Aggies can be legitimate contenders in 2022.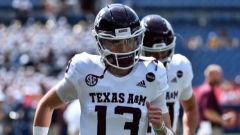 Jamie Maury, TexAgs
That is if they continue moving upward.
With that in mind, here's a position-by-position look at where the Aggies appear to be trending upward and downward.
QUARTERBACK (Up): Yes, the departed Zach Calzada starred in a victory over Alabama, but he was very average in other games. Subtracting the Alabama game, he completed 54.8 percent of his attempts for 1,900 yards with 14 touchdowns and eight interceptions. More productivity can be expected from a healthy Haynes King. That is if King beats out LSU transfer Max Johnson, who passed for 2,814 yards and 27 touchdowns last season. Freshman Conner Weigman might not be ready in 2022 but very well could be the most talented of them all.
RUNNING BACK (Up): Blasphemy, right? Departed Isaiah Spiller is off to the NFL, will be a high draft choice and a productive player for years. How can you justify losing him and getting better?
Admittedly, that's a difficult sale. Yet, I'm sold on Devon Achane as a Heisman Trophy contender. Achane rushed for 910 yards on just 130 attempts for a 7-yard per carry average. He also had 11 runs that covered 20 yards or more. Missouri's Tyler Baddie was the only SEC back with more (13), but he also more than doubled Achane's carries (268). More carries from Achane equates to more big plays. When Achane needs a rest, the Aggies can turn to Amari Daniels, LJ Johnson and/or incoming freshman Le'Veon Moss.
RECEIVERS (Up): Ainias Smith's decision to forgo the NFL draft ensures the receiving corps will be better. He has been a consistently productive threat. Demond Demas projects to be improved in his second year as a starter. Caleb Chapman just needs to stay healthy. Chapman has averaged 15 yards per catch the last two seasons but has missed more games (13) than he has played (9). Junior Chase Lane has been a productive starter. Jalen Preston showed he can be a play-maker with two touchdowns against LSU. Moose Muhammad also demonstrated his ability to make big plays. Add highly-touted incoming freshmen Evan Stewart and Chris Marshall. Look for the Aggies receivers to make a significant step up.
TIGHT END (Down): Jalen Wydermyer did not have an excellent 2021 campaign. Still, he caught 40 passes for 515 yards and four TDs. In three seasons, he caught 118 passes for 1,468 yards and 16 scores. That's not easy to replace, even with Baylor Cupp and Blake Smith healthy and heralded freshmen Jake Johnson and Donovan Green coming in.
OFFENSIVE LINE (Up): The loss of All-American guard Kenyon Green is huge. No doubt. Yet, A&M projects to be better at the four other positions up front. Center Bryce Foster and tackle Reuben Fatheree II were very good as true freshmen starters and should be better as sophomores. Guard Layden Robinson will be better as a second-year full-time starter, especially if healthy. Departed tackle Jahmir Johnson was serviceable, and Trey Zuhn could be an upgrade there.
Can the loss of Green be softened? Remember, Akinola Ogunbiyi began last season as the starter at left guard. Also, Blake Trainor started at guard in the victory over Alabama. Maybe Kam Dewberry — Green's high school protege — can start as a freshman. There is a lot of material to work with for the new offensive line coach… whoever that is.
McKinnley Jackson, Isaiah Raikes, Adarious Jones and incoming five-star prospect Walter Nolen will ensure A&M is formidable inside.
DEFENSIVE LINE (Down): You can't lose DeMarvin Leal, Jayden Peevy, Micheal Clemons and Tyree Johnson and expect to be better.
However, the drop-off likely won't be as dramatic as some might think, especially on the interior. McKinnley Jackson, Isaiah Raikes, Adarious Jones and incoming five-star prospect Walter Nolen will ensure A&M is formidable inside. On the edges? There is a long list of prospects from recent recruiting classes. Shemar Turner can play outside. Tunmise Adeleye, Fadil Diggs, Donnell Harris, Jahzion Harris and incoming freshmen Gabriel Brownlow-Dindy and Malick Sylla provide plenty of options.
LINEBACKERS (Down): This is a coin flip and could be way off. Edgerrin Cooper showed flashes of brilliance as a first-time starter in 2021. Look for him to make major strides in 2020. Still, replacing departed two-year starter Aaron Hansford won't be easy. Andre White could fill that role. There's no shortage of others that could step in, too. That list may include heralded committed freshman Harold Perkins. However, there will be some apprehension until somebody steps up to consistently perform at Hansford's level.
SECONDARY (Up): There may not be a stronger, deeper position group. All-SEC nickel Antonio Johnson and three-year starting safety Demani Richardson head a list of four returning starters. Tyreek Chappell played well as a true freshman cornerback thrust into the starting lineup. He should be better as a sophomore. The biggest question is how will departed safety Leon O'Neal be replaced. Does Johnson move to safety? Does Jaylon Jones, a two-year starter at corner, shift to safety? If so, does Myles Jones, back from a foot injury, move back into the starting lineup at corner? Or does Deuce Harmon start there? Or incoming five-star prospect Denver Harris? The Aggies have no shortage of options and no shortage of talent.
Never miss the latest news from TexAgs!
Join our free email list
PRESENTED BY