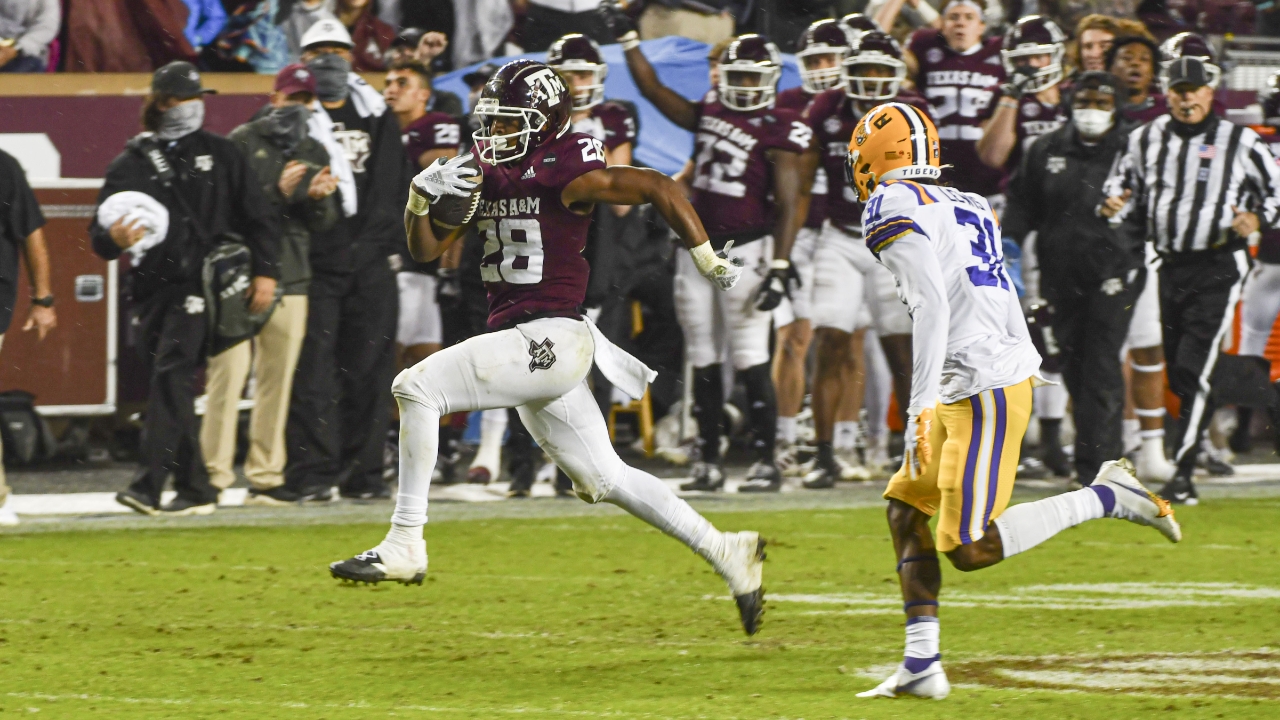 Photo by Lia Musgrave, TexAgs
Texas A&M Football
Landry offers A&M-LSU scouting reports as Ags travel to Baton Rouge
---
Key notes from Chris Landry interview
It's a compressed week with Thursday feeling sort of like a football Saturday. Then you have Friday, Saturday and Sunday with games. A lot of my consulting work is coaching search stuff, and there are more openings earlier than ever this year. My crazy season has gotten here sooner than expected.

LSU still has a lot of young talent on defense. They're down three or four corners and still have guys that can play. They do a good job with their pressure packages up front. What got them moving in this direction is what they saw A&M do against Alabama. They put in more pressure packages and more blitz looks heading into their game vs. Alabama, which has worked effectively. That will be A&M's biggest challenge. The Aggies can blame themselves for giving LSU the blueprint of what they'll see this week.

The issue for LSU is that they have no offense. It's similar to what A&M saw against Auburn. This will be an opportunity to create negative plays and control field position. LSU could do a good job defensively, but they'll still give up some points.

This game isn't that big of a threat for A&M, but of course, the Aggies will prepare as if it is. Shame on A&M if they lose this game. There is no reason for them to lose it. This should be a game that the Aggies handle.

Zach Calzada will be a big part of it, and he has to make good decisions and protect the football. The only way A&M loses is if they turn it over, make mistakes and give LSU short fields. Make them go the length of the field. A punt is a good play for A&M in a game like this. Similarly to the Auburn game, which wasn't a good game from A&M's offense. From a stylistic standpoint, that's what they can and can't do. I'd be shocked if this was a shootout game.

Calzada does throw a nice deep ball. A lot of what works so well in A&M's offense is running the football and moving the safety a little bit. Throwing against split safeties is more difficult. Protection has to hold up, and they have to move the safeties. There are big-play chances if A&M can do that. I think Texas A&M will be able to run the football in this game.

I grew up going to games at Tiger Stadium as a kid. You're not going to like the answer because it's so simple: When the Tigers are good, it's tough to play there. However, I've seen a lot of good teams come in and beat LSU. I saw Miami obliterate LSU. I saw Miami (OH) beat LSU in Baton Rouge. Tiger Stadium is like anything else. When they're good, the fan base is excited and engaged, so everything that contributes to a home-field advantage is there. When it's going bad, the saying is that Tigers eat their young. Tiger fans eat their own. Because it's Ed Orgeron's last game, the crowd might be good. I think it's a little bit overrated, and it's all dependent on how good the team is. This is not that good of a team.

I know Bill O'Brien well. I thought he did a good job at Penn State. He did much better than the guy that just got a ten-year extension yesterday. He was a good coach in Houston. He won that division without a quarterback in most years. As a GM, he struggled. He sometimes has a little Bill syndrome and wanted the same type of power as Bill Belichick. In the coaching search world, the media is getting it from the agent. He's not a real candidate at LSU. His name is being leaked to generate interest in the Virginia Tech job. Scott Woodward wants to get the big-name because if it doesn't work out, it's not Woodward's fault. I don't think O'Brien has been in play or will be in play for the LSU job.

Scott Woodward wants Jimbo Fisher. The LSU job is Jimbo Fisher's if he wants it. It was from day one and is still today. That's who Scott wanted. People know that because of the history and the close relationship there. Jimbo was underneath Nick Saban, and Scott was under Mark Emmert. Why did Fisher want to get out of Florida State? The money wasn't as good to compete with Clemson. Things are different, and now, Jimbo is at a job he is comfortable at. There was legitimacy on LSU's end from an interest standpoint, but I'm not sure Jimbo was ever interested in it.

Jimbo has his own legacy. If he does what he thinks and knows what he can do at Texas A&M, they'll be building statues of him. Coaches love the opportunities when they have unlimited resources and full support, but it can still be "their" program. If Fisher can win a championship at A&M, he will be like what Saban is to LSU — The man that brought them back.
Never miss the latest news from TexAgs!
Join our free email list