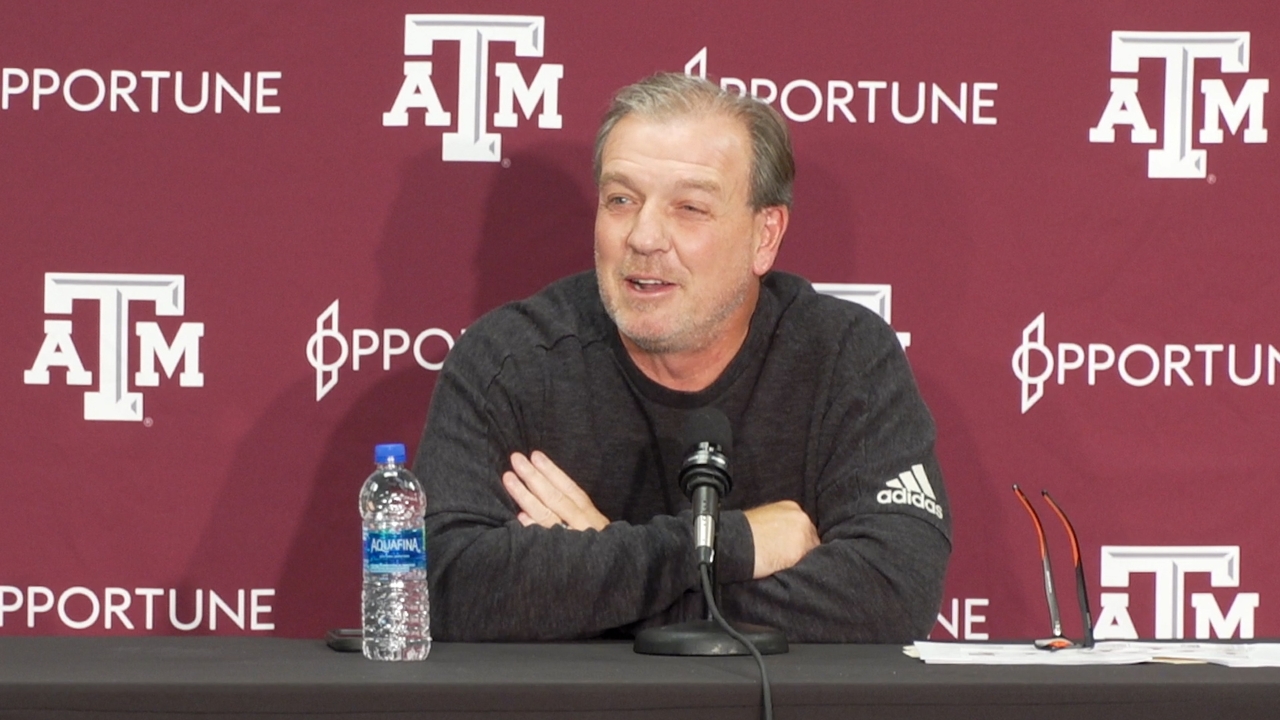 Jimbo Fisher
Kenyon Green
Ainias Smith
Tyree Johnson
Edgerrin Cooper
Texas A&M Football
Press Conference: Aggies travel to Oxford looking to extend winning streak
---
Texas A&M is riding a four-game winning streak as the Aggies travel to Oxford this week to face Lane Kiffin and the Ole Miss Rebels. Ahead of Saturday night's showdown, Jimbo Fisher, Kenyon Green, Ainias Smith, Tyree Johnson and Edgerrin Cooper spoke to the media.
---
The following are live, paraphrased notes from Jimbo Fisher's Monday afternoon media availability:
Very proud of our team. I thought that was a hard-fought, physical, competitive football team. Our kids stepped up at the line of scrimmage as the game went on. Our defense was outstanding. I thought Chappell and Jaylon Jones played outstanding. Everyone was all over the field. Up front was outstanding. Bigsby's as good of a back as there is. We did an excellent job of pressuring Nix and keeping him in the pocket. They did a good job of staying to their guys when he did scramble.

Punting game was really good. We should have had a roughing-the-punter call. I guess I don't know what that is. Not sure how you can have "incidental contact" with the punt.

Some of the runs we broke, I thought we could have scored and got tackled by the safety. We should have scored right off the bat.

Clapping is a penalty, but calling the snap count ain't. It's ridiculous. They need some hearing aids. Our guys still can't jump.

We moved the ball well. We ran the ball well. As the game went on, we put our will on them. Achane had the fumble, but you saw the team rally around him. We had some drops that cost us.

We're still playing and beating good football teams and still have a lot to improve on. We kept improving in the game. I never felt the game got away from us. Very proud of the way they competed.

Zach is a tough son of a gun and got back in there. The team responds to that. He played really well when he got back in there. Two plays after that, he took a shot and completed a third-down pass to Ainias Smith. I was Caleb Chapman stayed up on his post route.

We play a tough Ole Miss team. That night game is tough. They're playing really well. They can run the ball up front. They do it with tempo. They can throw the ball. Defensively, #10 is leading the league in sacks. They have different pressures, blitzes and fronts. It's a different setup, and you have to understand what it is and what they do. They're getting their hands on the ball and being very opportunistic. Lane does a heck of a job coaching them. We'll need to be ready to play.

A lot of it has to do with how we practice and how it's set up. We practice good-on-good. You only get better by playing good people, and we have good people on the other side. They make each other better. They're learning to compete as well. We preach that. We want to start fast. Hopefully, the kids are buying into it. It's paying off not because we're saying it but because of what they're doing.

I don't think the offensive line is at the top. There are still a lot of things we can do better. Some of the younger guys need to see things quicker. I thought we've blocked well the last two weeks, but last week, I wasn't happy with our perimeter blocking. Our line can improve, but I'm pleased with their productivity.

Tyree can get to that edge, turn those hips and keep leverage. Lower body flexibility is something you have to have. Football is a low to high game.

Red zone is just executing. We've been killing it in the red zone. We just didn't do it this week. The mentality is there. The issues were just execution.

We try to develop a family atmosphere. I tell them that if you don't compliment each other, it just doesn't work. There are days where you just don't have it. Everybody has them. That's part of being part of a team that people don't understand it if you don't play. Being part of something bigger than you. The only thing like being part of a team is part of your individual family. Teams can be tighter than families. At the end of the day, what the teammates say about you in 20 years matters more than any awards. You have to have each other.

Calzada will practice today.

I live in my own cocoon. I have my own problems to focus on coaching firings. I don't like to see it because it's tough. Something must have happened. It's a what have you done for me lately business.

Recruiting-wise, we're locked on our guys and have been for a while.

I keep telling Calzada to keep doing what you're doing. Wydermyer and Ainias had some drops, and it can affect Calzada's psyche if you let it. It can affect theirs too. It's just fundamental things.

Calzada was very competitive in high school. He was banged up his senior year and took a team that didn't have much to a state semifinal. We saw a great competitor then.

I tell our guys not to worry about the division race. Focus on practice today. When you get to November and you're relevant, it's a playoff.

Corral can beat you with his arm and his legs. He's athletic. He keeps plays alive, and he can shoot the ball downfield when he's scrambling.

Seth Small is as good of a kicker but a better human being. He has a great personality, great wife, family. What he is off the field carries over to our team. He kicks his tail off, and we're very blessed to have him.

Ole Miss' numbers last year were crazy. They're playing complimentary football this year. Lane is a great offensive mind, and they do as good of a job as anybody.

Ole Miss can pound you in the run game, and Ealy can fly. They're very well-balanced.

Isaiah Spiller is very natural. Very diverse. Great eyes. Great competitor. Productive, and that's what you want at running back.

You know certain situations where Lane will go for it on fourth down. You have to be aware of that in your play calling.

I'm always encouraged when the defense plays well. They have to know why they were successful, stay confident and carry those same principles into this game. You still have to practice well to play well.

You look at the stuff around the nation and put it out of your mind because it doesn't matter if you don't play well at Ole Miss, against Prairie View or at LSU. What matters to me is getting them ready to practice today, tomorrow, and the next day to play well on Saturday the next week.

Veteran's Day is as important of a day as any in the country. Freedom is not free, and that's why this is the greatest country in the world. To honor, celebrate and remember our veterans is special, and we don't do enough for our veterans.
Never miss the latest news from TexAgs!
Join our free email list