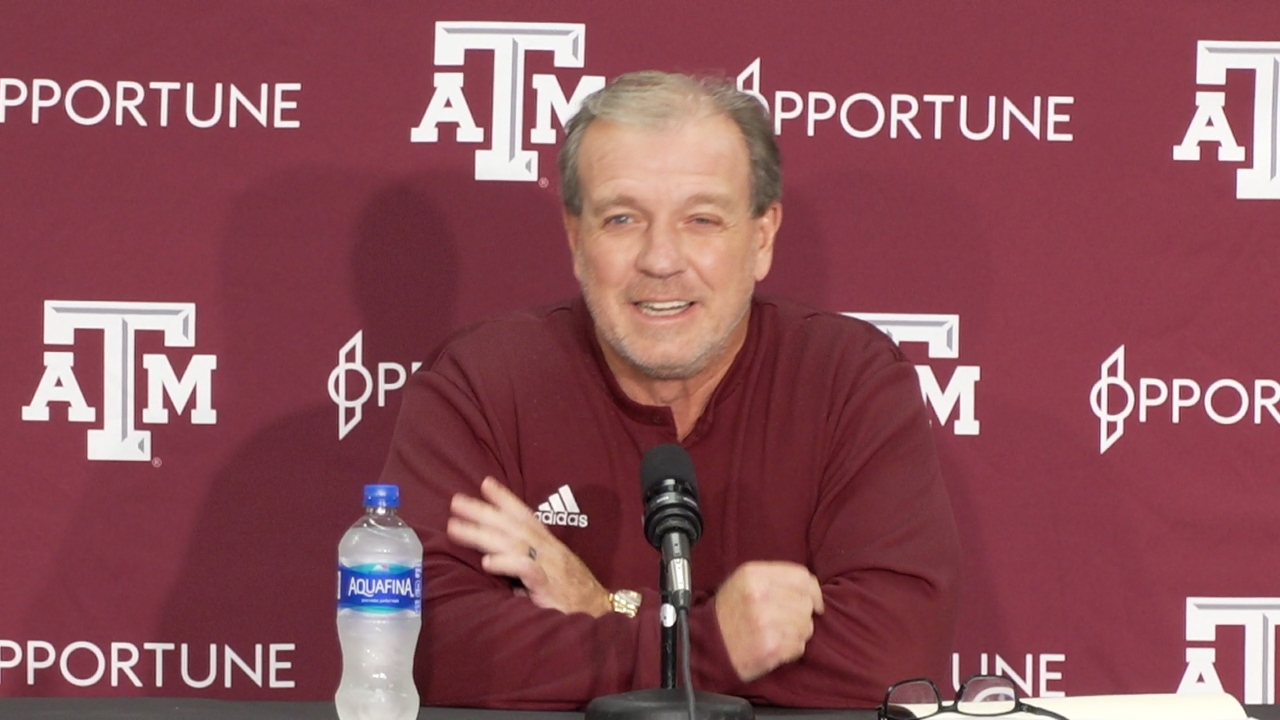 Jimbo Fisher
Jalen Wydermyer
Demani Richardson
Isaiah Spiller
Texas A&M Football
Press Conference: No. 13 Aggies prepared for top-15 clash with No. 12 Auburn
---
No. 13 Texas A&M hosts No. 12 Auburn on Saturday in a top-15 showdown in College Station. Ahead of this weekend's SEC Game of the Week, Jimbo Fisher, Jalen Wydermyer, Demani Richardson and Isaiah Spiller spoke to the media.
---
The following are live, paraphrased notes from Jimbo Fisher's Monday afternoon media availability:
It's good to see y'all. I was glad not to see y'all last week. We needed a break. Eight weeks is a long time. It was good for them to get a week off from playing. We had good practices in the three weeks we had. I got on the recruiting trail. I had a day off on Saturday with the family. November is always important. The big thing is that we need to be relevant each week and each day. We have a great opponent this week.

In the South Carolina game, I thought we played well. We were suffocating at the line of scrimmage on defense. We were getting back to where we needed to play.

Auburn is playing great football. Bo Nix is an outstanding player. Tank Bigsby is running the ball well. They lead the country in tackles for loss. Their linebackers are healthy. They have great depth there. They are fast and physical up front. They're big and physical on the outside. They're playing as well as anybody. They've won some big games. We're going to have to play a good game. We're playing well too. We need a great week of practice before this game here against Auburn.

Mike Bobo does a great job. Bryan Harsin is an offensive mind and is doing a great job with this team. Bo Nix is making great decisions. He's a great competitor who can beat you with his arms and his legs. He's making great decisions and being smart with the football.

We play in one of the greatest stadiums in all of college football, if not the best. We want to play well for the best fans in football. We don't worry about being 0-4 vs. Auburn at home. Eventually, those things break.

The players know what Antonio Cromartie has done as a player. He has credibility. When he says something, his knowledge of the game is very astute, and not just at corner but in the entire defense. He's going to be a great coach in the future.

It wasn't an off week. It was a preparation week to get better. They have a confidence in themselves right now, and they have an understanding of what they need to get better.

You get confidence yourself by going out and doing it and having success. You can coach them exactly how to do it. You can help a guy do it, but it comes from doing it yourself. You know when you know as a player when you can get something done.

Derek Mason's defense is very sound, physical and diverse. They create a lot of different problems for you. It was not a simple thing to do. You have to be aware of where everybody is. Derek is an outstanding coach.

We do good-on-good every week of the season, and I think that's part of why we're getting better.

Sometimes we'll have a set plan with who we use going into a game. The good thing about Spiller and Achane is that they can do so much that you don't have to specialize in one thing.

Calzada's knowledge and confidence is up. He loves ball. Teammates love him and are playing hard for him. He just keeps on getting better and better.

I knew Bryan Harsin was a very good coach at Boise State. Mike Bobo has a very good football mind. He understands how to take care of a quarterback and then as him to do what he does. They can get the ball to their playmakers and be in advantageous positions to be successful.

Micheal Clemons and Jayden Peevy are good players in general. They have leadership and can tell the young guys the big picture of how, why and the standard of the things we do. They reinforce that.

You can't be somewhere else. Your mind can't be anywhere else. If you've done it 1,000 times, the pressure is not there. If you've studied for the test and know the answer, the stress is not there. Be where your feet are. Right now, what am I doing? Then go to the next thing and the next. The biggest thing for us is doing those things and staying true to the process.

You have to be aware. You have to be aware of your gaps. Sometimes you have to close the gaps and not let Nix get out. We have to be diverse. We have to be physical and disciplined.

Tyree Johnson should be good and should be practicing today.

When you're in the battle, it's hard because you understand how you have to play. The group you listen to is different than who the fans or everybody else listen to.

Depends on the situation of the game, the score of the game, the momentum of the game and the flow of the game. I've seen a lot of guys go for it on fourth down and cost themselves the game. There are times to do it and times not. I don't think there is a book that tells you.
Never miss the latest news from TexAgs!
Join our free email list