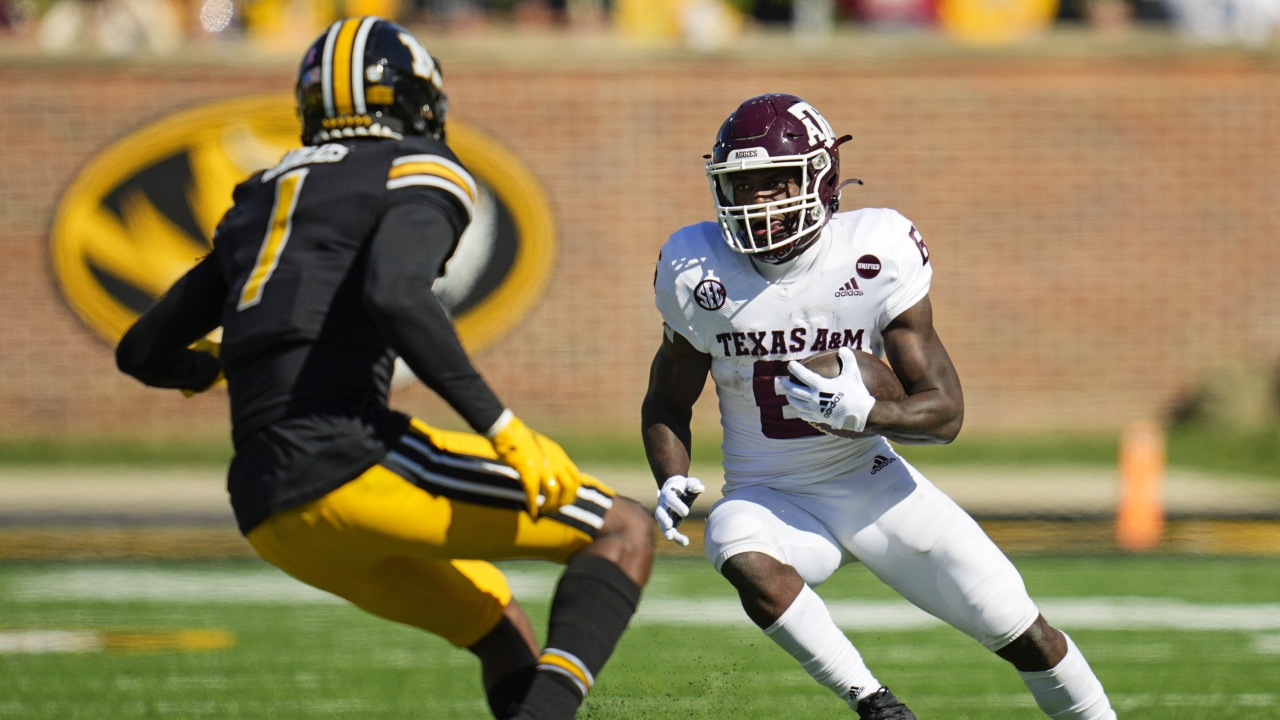 Photo by Jay Biggerstaff-USA TODAY Sports
Texas A&M Football
Post Game Review: No. 21 Texas A&M 35, Missouri 14
---
Low heart rate win.
Behind a 21-point first quarter, No. 21 Texas A&M cruised to a three-touchdown road victory over Missouri, 35-14. The Aggies took advantage of the Tigers' poor run defense, amassing 283 yards on the ground en route to their second SEC win of the season.
With the Tigers near midfield on their first drive, miscommunication between Connor Bazelak and a receiver led to an interception that Jaylon Jones returned to the Mizzou 22-yard line. Four plays later, Zach Calzada connected with Ainias Smith for a touchdown on third-and-goal to put the Aggies up 7-0.
After a quick three-and-out, a 60-yard punt gave the Aggies the ball at their own 11. It took four plays for the Maroon & White to move into Missouri territory before Isaiah Spiller ripped off a 48-yard touchdown run.
On the ensuing drive, Leon O'Neal Jr. had an interception negated by a pass interference call against Edgerrin Cooper. Bazelak & Co. failed to capitalize as the Tigers were forced to punt for the second time during the opening 15 minutes.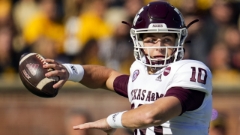 Jay Biggerstaff-USA TODAY Sports
Devon Achane took over on A&M's next series, taking carries for gains of 11, 20 and 19 before sprinting 20 yards to the house on third-and-15 to give the Ags an early three-score edge. A&M closed out the first quarter with 151 rushing yards.
Bazelak threw his second interception of the quarter as Antonio Johnson came up with his first career pick, giving the Ags the ball at the Mizzou 30-yard line. The Aggies ultimately settled for a 54-yard field goal attempt, which Seth Small left well short.
Missouri's offensive struggles continued on its next possession. After a quick first down, a holding call pushed the Tigers backward before Micheal Clemons blew up a screen pass to Tyler Badie for a loss of six. Punter Grant McKinniss' third boot of the game gave the Ags the ball at the A&M 20.
Calzada & Co. failed to regain their momentum, going three-and-out before Nik Constantinou's first punt of the day went for 47 yards to the Mizzou 33.
Missouri's offense finally found its footing as a 32-yard touchdown run by Badie capped off a five-play, 66-yard drive with 8:09 to play in the opening half.
The Aggies responded with a steady dose of Spiller as he gained 20 yards on two carries to push him over the century mark in the first half. After a pass interference kept the A&M drive alive, Calzada connected with Achane for 27 yards to the Missouri 22-yard line. Three plays later, Calzada found Smith in the corner of the endzone for an 11-yard touchdown pass. It was Smith's fourth score in his last six quarters of action.
Another quick three-and-out gave the Aggies the ball near midfield. After moving the ball inside the Tiger 30, Calzada took a shot but was intercepted by Jaylon Carlies with 1:28 to play in the second quarter. Mizzou ran the ball to take it into the break.
A&M opened the second half with a three-and-out, but Constantinou hit a rocket for 56 yards. Hindered by a block-in-the-back against Missouri's Mason Pack, the Tigers began the ensuing possession on their own three-yard line. A pump-fake by Bazelak got Jones to bite, leading to a 24-yard completion on third-and-six. After moving across the 50, Mizzou elected to go for it on fourth-and-six at the A&M 45. A pass-interference call against Jones kept the drive alive. Bazelak then connected with Tauskie Dove for 26 yards to the A&M 13. An end-around to Dominic Lovett resulted in a seven-yard touchdown to cut A&M's lead to 14.
On A&M's next possession, a 17-yard sack set the Aggies behind the chains, but a defensive holding call and a huge 21-yard completion to Smith over the middle converted a third-and-17 situation that kept the drive alive. An 11-yard pass to Jalen Preston picked up another first down. Four consecutive runs by Achane, including an acrobatic 11-yard carry down the sideline, culminated in a one-yard score for the sophomore speedster.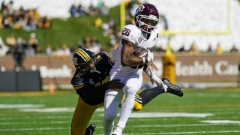 Jay Biggerstaff-USA TODAY Sports
A well-designed screen to Badie on Mizzou's first play of their next possession netted a 34-yard gain. However, the drive stalled in Aggie territory and McKinniss' 29-yard punt gave the Ags the ball at the 17.
Spiller took a handoff for 18 yards to open the drive. The Aggies again moved into Tiger territory but again settled for a long, 46-yard field goal attempt into the wind, which Small left short.
The two sides then traded punts with Constantinou's third punt covering 44 yards into the wind. Missouri took over at their 24 with 5:11 to play. The Tigers moved near midfield but failed to convert on fourth-and-three as A&M took over at the 42. Subbing in their second-team offensive line, the Aggies picked up the one first down necessary to kill the clock.
Texas A&M hosts South Carolina next Saturday night at Kyle Field.
RUMBLED: The running back tandem of Isaiah Spiller and Devon Achane did what was expected against the nation's worst run defense. The duo combined for 292 yards and three touchdowns on the ground with Spiller contributing 168 and one score as Achane went for 124 and two.
STUMBLED: Although Texas A&M's defense played a very good game, Mike Elko's unit still allowed the Tigers to go on a 97-yard touchdown drive on the home team's first possession of the second half. Missouri converted three third-downs and took advantage of an A&M penalty on a fourth-down to score.
UNSUNG HERO: After an all-world performance last week, Zach Calzada was who the Aggies need him to be moving forward. The quarterback produced a modest stat line, going 13-of-25 for 148 yards and two touchdowns. Solid day for Calzada.
TURNING POINT: Jaylon Jones' interception on Missouri's first possession set the tone and lead to some early points for the Aggies. The Maroon & White never looked back.
KEY STAT: Penalties. A&M wasn't extremely clean, but Missouri was extremely undisciplined. The Tigers committed 11 penalties for 91 yards in the loss.
Scoring Summary
First-quarter
A&M: 11:25 - Zach Calzada 2-yard touchdown pass to Ainias Smith. Drive: 4 plays, 22 yards. TOP: 1:58. Texas A&M 7, Missouri 0
A&M: 7:55 - Isaiah Spiller 48-yard touchdown run. Drive: 5 plays, 89 yards. TOP: 1:33. Texas A&M 14, Missouri 0
A&M: 2:43 - Devon Achane 20-yard touchdown run. Drive: 8 plays, 83 yards. TOP: 3:13. Texas A&M 21, Missouri 0
Second-quarter
MIZ: 8:09 - Tyler Badie 32-yard touchdown run. Drive: 5 plays, 66 yards. TOP: 2:34. Texas A&M 21, Missouri 7
A&M: 4:45 - Zach Calzada 11-yard touchdown pass to Ainias Smith: Drive: 7 plays, 75 yards. TOP: 3:24. Texas A&M 28, Missouri 7
Third-quarter
MIZ: 8:12 - Dominic Lovett 7-yard touchdown run. Drive: 14 plays, 97 yards. TOP: 5:34. Texas A&M 28, Missouri 14
A&M: 2:33 - Devon Achane 1-yard touchdown run. Drive 12 plays, 75 yards. TOP: 5:39. Texas A&M 35, Missouri 14
Never miss the latest news from TexAgs!
Join our free email list