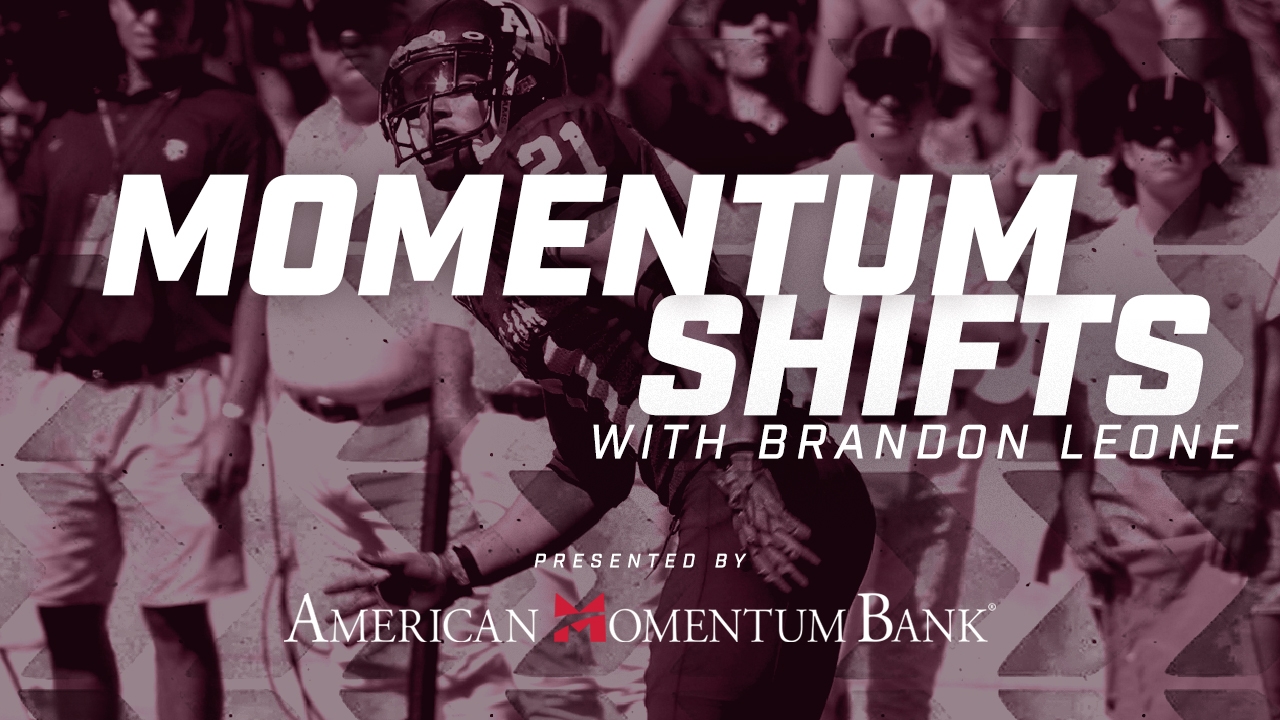 Texas A&M Football
Momentum Shifts: Win over Tide a turning point for Aggies everywhere
---
First and foremost, I have to say that I'm so thrilled for Jimbo Fisher, his staff, these football players and every single person involved with this football program. If I may, I'm going to speak from my heart on this one. This will be a little different than most of my articles.
I genuinely love this school with everything in me.
Texas A&M and so many Aggies have impacted me in ways not many can understand, but what I do know is that Aggies are a family. That's what makes this place so freaking special.
Something I also know that everyone understands is that families have disagreements. Sometimes very big ones, and sometimes very small ones. Families unfortunately can hurt each other and say or do hurtful things. For whatever reason, family members and those closest to us have the ability to chip away or hurt our hearts more than others. That's because we are more vulnerable with those closest to us.
For most of us, following Aggie football is a passion and a hobby because we all share a family-like love for our school, fellow former students, our athletic teams, etc. Sometimes within a family, it's the tough times that can bring everyone closer. That is, if the conflict is handled or stewarded well.
Some of us haven't necessarily handled conflict and disappointment very well in the past (as it pertains to our support of this football team), specifically the last few weeks. Our passion for seeing our school and team succeed and excel can make us say and do things out of emotion that we might not normally say and do. But family forgives. Families move on, and most importantly: Families stick together.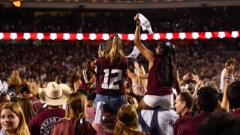 Jamie Maury, TexAgs
Our family needed some good news. We needed a celebration together and a reminder of why we are who we are, why we love Texas A&M and why this place is so damn special. What better way to make amends together than watching the Fightin' Texas Aggie Football Team BTHO Alabama and Nick Saban at Kyle Field, on national TV, under the lights, in a massive celebration that caught the attention of the entire college football world?
Every single person involved with this program wants to be great. I believe without a shadow of a doubt that Jimbo and this staff have us headed in that direction. I've touched on this on Post Game Wrap, on Twitter, and in other places. I've had my own doubts after the last few weeks about how this season would play out, but I never doubted the direction of the program, our head coach or his vision. Saturday night, despite some of the mistakes we will cover later in this article, this team did what great teams do: They responded to adversity at critical times, they made big-time plays when they absolutely had to, and they just found a way to win a gigantic football game for this program.
That's your momentum change: A program-changing and massive momentum-changing W at the most critical time.
Back-to-back losses to teams we should have and could have beat. Sub-par performances and underwhelming wins on the year. The national media almost enjoying seeing A&M struggle and pointing out Jimbo's contract, recruiting momentum seemingly slowing down, fans irrationally losing their minds on social media and message boards.
Texas A&M football was the wounded animal backed up in a corner needing to claw its way out to survive and move on. And that's exactly what they did.
Here's what is crazy: I still believe we didn't play our best game.
We made a couple of mistakes and missed some opportunities that can cost us in the future, but that if we clean them up, it can take us to that consistent rare air Jimbo always talks about.
Our family needed some good news. We needed a celebration together and a reminder of why we are who we are, why we love Texas A&M and why this place is so damn special.
Here are a few:
* Kickoff out of bounds after opening up game with points.
* Defensive third downs and self-inflicted wounds:
Third-and-9 in the first quarter, we give up 15.
Third-and-2, we give up 4.
Not sure the call, but left RB wide open in flat for a TD.
Penalty on an overthrow giving them a first down.
Defense holding on third-and-9 gave them a first down.
Out of the half, third-and-2, we give up a 10+ yard gain for a first.
Same drive, third-and-9, we get good pressure on Young, force him out of pocket and then miss a tackle for a would-be sack as he is scrambling, he makes a phenomenal play to convert first down.
* Blocked punt for a TD. Huge mistake.
However, I don't want to focus on the negative on the most positive night for our football program in a long time (minus Florida Game and Orange Bowl). I am Just pointing out what the possibilities could be if we can execute and get half of these plays to go our way.
The defense got so much more right than wrong, and the improvement was phenomenal:
* Winning at the point of attack and winning the LOS.
* Pressuring Bryce Young and getting him out of his comfort zone with strong push by DL, great blitzes called by Elko and executed by the players, hitting Bryce more than he has been hit in his career, and outstanding effort from the guys up front.
* Demani and Leon played much better games. Antonio Johnson was who he has been all year, IMO…our best defensive player of the season.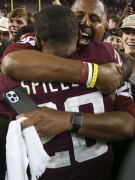 Thomas Shea-USA TODAY Sports
The offense also rose to the occasion in so many ways:
* Offensive line played its best game of the year by far with two true freshmen starting.
* The offense got big plays from its best players who we've been waiting to shine all year: Jalen, Spiller, Ainias and Achane all scored TDs.
* Isaiah Spiller ran with authority, patience and outstanding vision. He and Achane made great catches out of the backfield.
* And Zach Calzada….cheers to you, young man. You proved a lot of people wrong, me included. I couldn't be happier for you and happier to eat crow. You played like an absolute stud Saturday night. I hope you enjoy every single second of this (but then move on to Mizzou)!
The team also showed signs of greatness by answering on critical possessions in all three phases. The offense laid an egg in most of the third quarter, but when absolutely necessary they did what's necessary to close out the game.
And those kinds of responses were the theme: Give up a blocked punt on special teams…respond next play with a kickoff return for a TD. Give up a touchdown to let Bama take the lead, respond with a game-tying TD drive late.
Then, of course, the clinchers: Make a big stop on defense to give the offense a chance to go win. Watch the offense and Calzada march down and put us in position for Seth Small to do what Seth Small does – ice a massive football game as time expires.
I also have to add: The 12th Man was amazing Saturday night. They always are, but the world got to see them in maybe their best form yet. They cheered their extended family on and truly impacted the game. They showed why Kyle Field is the best college football venue in the country.
Enjoy this one together, Aggie family. It was a total team effort...and one we all needed.
BTHOmizzou!
Never miss the latest news from TexAgs!
Join our free email list
PRESENTED BY