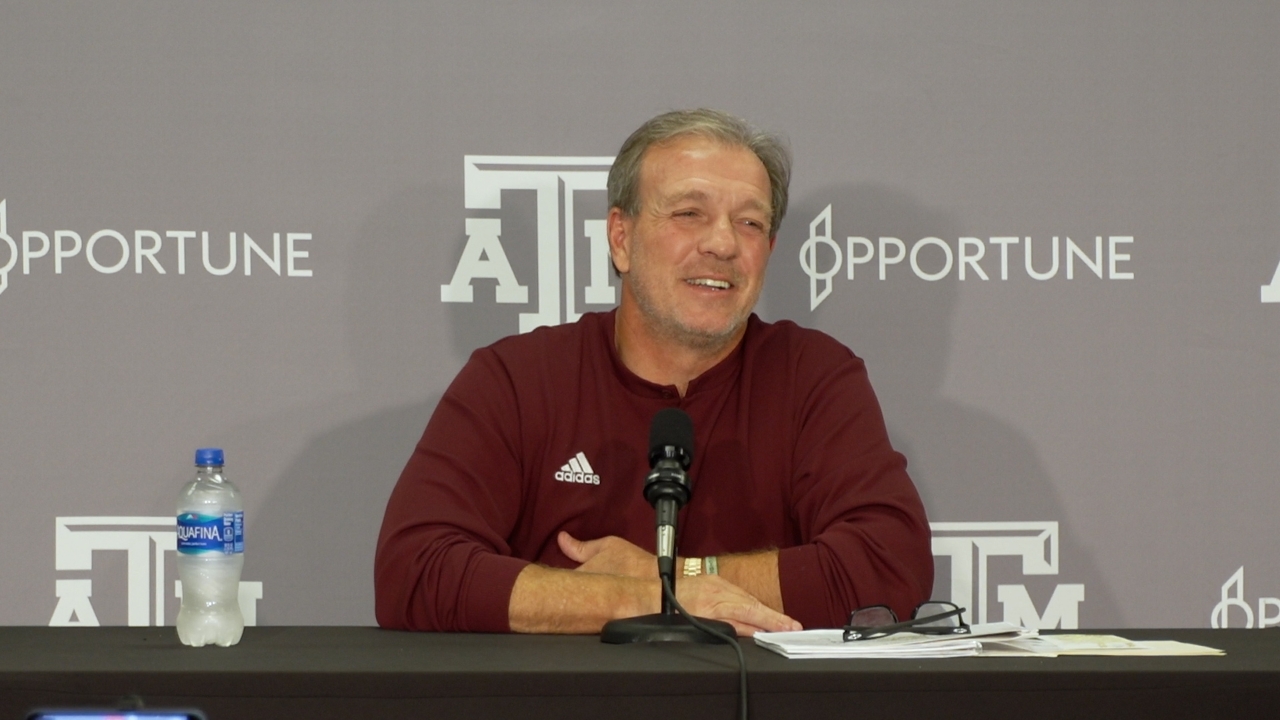 Jimbo Fisher
Ainias Smith
Demani Richardson
Texas A&M Football
Press Conference: Fisher, Aggies aim to get back on track vs. Mississippi State
September 27, 2021
13,234
---
After suffering a loss last week, No. 15 Texas A&M looks to get back in the win column as the Mississippi State Bulldogs comes to Kyle Field on Saturday night. On Monday, Jimbo Fisher, Demani Richardson and Ainias Smith spoke to the media to preview the contest.
---
The following are live, paraphrased notes from Jimbo Fisher's Monday afternoon media availability
After evaluating the film, we have plenty of things to fix and get better at. We played in spurts and did not play well consistently. It's about doing ordinary things better and becoming fundamentally sound. The offense moved the ball and did not have a three-and-out in the first half. We just did not execute. We needed to respond with some points or momentum. Hit a couple of runs and then would have a negative run. We made third downs in the beginning. Too many penalities and costly penalties. The second half, we only had 22 plays in the second half. We scored, came back on our next drive and moved the ball before they called us for an illegal guy downfield. I'm not going to get into that. We had a check down for Spiller; it got deflected and intercepted. They forced us to throw the ball underneath. Defensively, the first three drives they scored. A field goal and two touchdowns. We were down 17-0. That thing could've gotten ugly quickly. We got back to 17-10 with 7:50 left in the third. We didn't finish. One guy here or one guy here, offense and defense. Nik Constantinou did a really good job. We had no punt returns. We had one good kickoff return. The one we could return, we popped out to the 36. We have to execute better on long drives. We have to have more clean looks. We just got to play better. At the same time, there are a lot of good things that happened.

We can't let one game become two. Hopefully, we can play better this weekend.

Mississippi State is playing very good defense right now. Offensively, you know Mike is going to throw it. Will Rogers is completing 75 percent of his passes right now. They've had some tough luck in their games so far. They're getting better and better. It's going to be a tough game.

I would've loved to run it more. We were going to stay patient late with it being 17-10, but a turnover occurred. We only had two possessions after the Spiller touchdown, and in one of them, we were facing first-and-20.

Calzada is a new guy. We need to play better around him. We have a young line. He needs to be an eraser and clean things up. Could he have run it more? Yes. He needs to make some better decisions and keep his head up. The one time we get a low snap, it changes things up for young guys. We had two bad snaps, and those cost us. Timing and wanting to make plays is what we have to learn. We have to be our coolest when it's tight. That's on us. We have to build that confidence in them in practice.

We're preparing, but the standard of how to do details is not detailed enough, or else we'd play that way. Some of that is experience and youth and guys at different positions at critical times. Those aren't excuses. Guys have to get experience in the saddle. They did a good job of battling back. We can't get behind 17-0 right off the bat. That game could've gotten out of hand if we didn't get a fourth-down stop. We have to execute better and practice better. You can always play and practice better. We have to push that level with these young guys.

Eli Stowers will split some time at quarterback. He knows the routine.

Execute. Be able to run the ball consistently. Hit those short to intermediate throws. Same stuff we did last year when we'd score six straight touchdowns. They give you an umbrella and don't let you take deep shots. You can dictate the run and be in control of the game if you're not behind.

Kenyon Green's effectiveness has probably been compromised some. It's hard to move around like that as an offensive lineman. We're trying to get the best guys on the field. You have to.

Our running backs are playing well. They're experienced. Spiller is playing excellent football. We're handing it to him and getting it to him with passes. We've been doing that with Achane as well. They're very versatile in what we do. The experience that helps. We need more guys to develop behind them. We need a third and fourth guy. That group has probably been the most consistent.

It depends on what they do, but they're predominantly four wide, but they'll mix in some two backs. Mike Leach is a shrewd guy. They'll do well. We'll have dime, nickel and regular packages ready to go.

There are days we do and days we don't. No team I've ever played for or coached has been perfect through an entire practice or an entire game. It just doesn't happen. With new guys, you don't have any erasers. There aren't huge scrambles that clean up a bad drive. We're close, and you have to keep putting your best foot forward to play consistently.

We need to protect better, and Wydermyer needs to get open. We've called lots of balls to him. We've missed some reads here and there. He should've caught some balls this weekend. It's across the board and finding a rhythm on offense.

I'm not frustrated. We can play better. Frustration clouds your thinking. We know what we can do, and we just need to do them better.

Jahmir Johnson should be available. He came back towards the end.

Sometimes you can get two quarterbacks, but to keep three is almost utterly impossible. There may be one or two rooms like that, but most of them get up and leave. It's an issue around the country, and you're seeing young quarterbacks play around the nation. It's the year of the defense. The top teams, most of them have experienced quarterbacks. This is happening at other positions, not just quarterback. Kids forget they're one play away from playing.

Jalen Preston had a great week of practice. He hadn't seen a lot of practice, but he works his tail off in practice. I thought he did some great things in practice and the game.

You're seeing lower-scoring games. A year ago, teams were averaging 40-50 points per game. This year, teams aren't scoring as many points. I don't see those through-the-roof scores. It doesn't seem to me like people are scoring as much as they were a year ago. I could be wrong. inthat. I'm not watching a lot. I'm more than us.

Layden Robinson should be practicing today.
Never miss the latest news from TexAgs!
Join our free email list