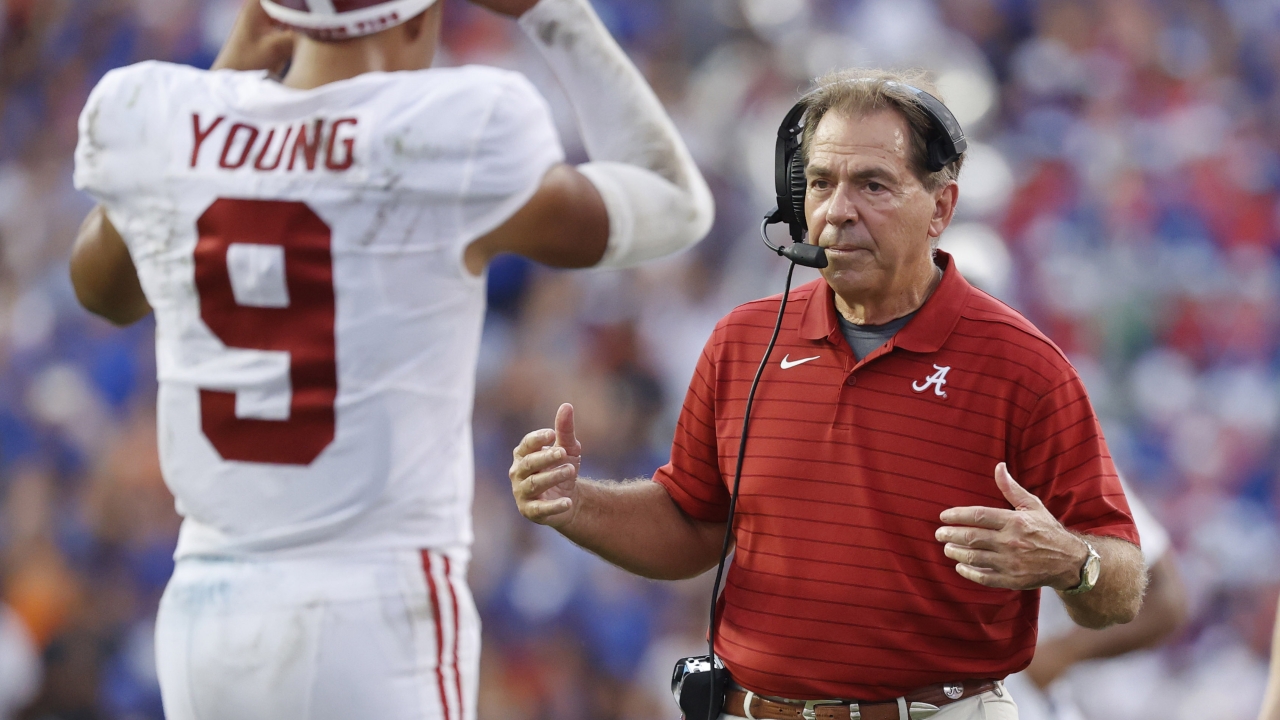 Photo by Kim Klement-USA TODAY Sports
Texas A&M Football
SEC Round-Up: The Tide look vulnerable, but can anyone stop Saban?
---
Through just one lap, this 2021 college football season has been strange.
Ohio State and Clemson have losses. USC has a new coach. Fresno State might be the best team in California. A falling cat got more support and adoration at Hard Rock Stadium than the 1-2 Hurricanes have.
But maybe the strongest development is the perceived vulnerability of defending national champion Alabama.
The Tide's strength is questioned because Alabama beat No. 11 Florida on the road.
Think about that: Alabama won. Against a ranked opponent. On the road. And that's giving everyone else hope.
Clearly, Alabama's 31-29 victory over Florida revealed some chinks in the Tide's armor. Coach Nick Saban acknowledged as much.
"We need to play to our standard," Saban said. "We need to do the things that we do well."
No question Alabama isn't excelling in some areas it usually does.
TexAgs
A quarter of the way into the season the Crimson Tide has a pedestrian running game, a mediocre run defense, few big plays and a slew of penalties. Alabama is among the nation's most penalized teams.
Quarterback Bryce Young has completed just 2 of 12 passes more than 20 yards downfield. Leading rusher Brian Robinson has gained 208 yards. The killer instinct isn't there. The Tide led Florida 21-3 in the first quarter but had to sweat out the Gators two-point conversion attempt in the fourth quarter to escape with a victory.
Alabama is not as lethal as last year but shouldn't be. That was one of the best college football teams ever. There was no place to go but down.
Alabama might indeed lose a game or two, but the Tide won't collapse like 2019 national champion LSU did in 2020.
Ed Orgeron never could fix LSU's problems. Would anyone bet against Saban fixing Alabama's?
Most teams in most years would be praised for beating Florida. Especially if the Gators were ranked No. 11 and in the Swamp.
Around the SEC
Who's hot: Auburn running back Tank Bigsby has surpassed the 100-yard rushing plateau in all three games. He's also scored two touchdowns in two of the games. Bigsby is averaging 7.3 yards per carry.
Who's not: Alabama's running game is currently ranked 12th in the SEC and 95th in the nation. No Alabama running back has rushed for 80 yards in a game yet. Complicating matters, leading rusher Brian Robinson is "day to day" with a rib injury.
Keep an eye on: Mississippi State cornerbacks Martin Emerson and Emmanuel Forbes face a tall task covering LSU receiver Kayshon Boutte. Boutte has caught six touchdown passes — more than half of LSU's season total. If State's corners can contain Boutte, the Bulldogs could severely limit LSU's offense because the Tigers are averaging just 86.7 rushing yards.
A loss for LSU in Starkville might lead to another collapse, which might lead to another coach.
Pressure is on: Isn't the pressure always on LSU coach Ed Orgeron? It is, but some days the old hot seat is hotter than others. The Tigers are 2-1, which isn't bad. But LSU expects much more. Next, the Tigers face MSU, which might be the weakest team in the SEC West based on a loss to Memphis and a close call with Louisiana Tech. LSU's 2020 collapse began with a stunning loss to Mississippi State. A loss in Starkville might lead to another collapse, which might lead to another coach.
Best matchup: Arkansas quarterback K.J. Jefferson directs a rushing attack averaging 282.3 yards per game to rank eighth in the nation. The Razorbacks have accumulated at least 245 rushing yards in every game. But can the Razorbacks consistently run effectively against the Texas A&M defense? On the surface that wouldn't appear to be a major problem. The Aggies are ranked a mediocre-at-best 86th in the nation in run defense. However, A&M has allowed just 120 rushing yards in the last six quarters against Colorado and New Mexico.
Never miss the latest news from TexAgs!
Join our free email list