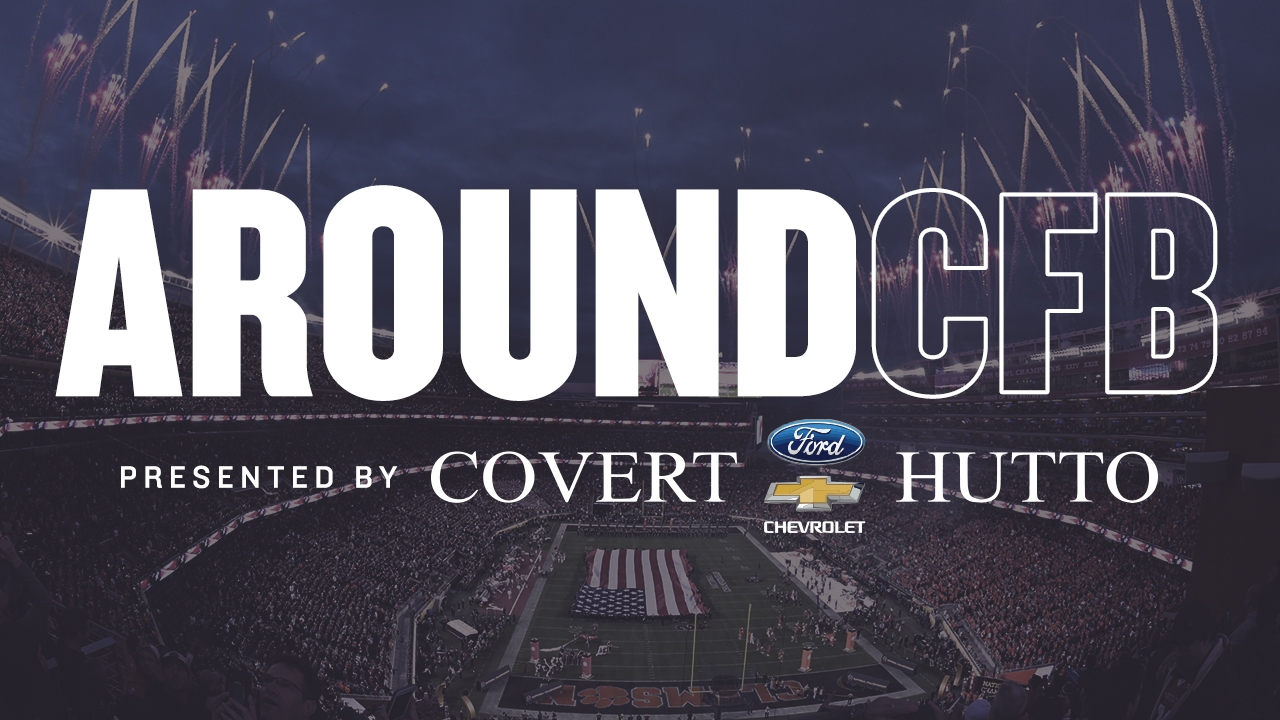 Photo by Kirby Lee-USA TODAY Sports
Texas A&M Football
Around CFB: USC kicks off coaching carousel in search for elusive return to glory
---
The college football coaching carousel started on Monday. The first domino fell. It was a big one.
The ouster of Clay Helton as USC head coach was a stunner. Not because he was fired — that was as predictable as Texas being overhyped. Rather, the axe falling just two games into the season raised eyebrows.
Helton was chopped following a 42-28 loss to Stanford. You know, the same Stanford that managed just one touchdown in a 24-7 season-opening loss to Big 12 also-ran Kansas State.
USC Athletic Director Mike Bohn saw an opportunity and took it.
Apparently, the Trojans are dead serious about regaining the form that made USC the nation's dominant program in the early 2000s.
In response to Helton's dismissal, USC Board of Trustees Chairman Rick Caruso issued a statement:
"It has become abundantly clear that it is time to make a change and I am supportive of the actions taken today by President (Carol) Folt and AD Bohn. We have a proud football tradition of excellence, and I am confident in our ability to attract a world-class coach who will return the USC football program to the most competitive and highest levels of collegiate football."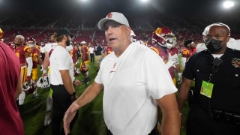 Kirby Lee-USA TODAY Sports
Define "world-class coach."
Would that be Oregon's Mario Cristobal? Or former Oklahoma coach Bob Stoops? Or former Boise State/Washington coach Chris Petersen? Or Cincinnati coach Luke Fickell? Or Iowa State coach Matt Campbell? Or Penn State's James Franklin? Or maybe Jacksonville Jaguars coach Urban Meyer?
What would it cost to lure one of those coaches to the pressure cooker job that is USC? In a few months, the national media that loves to criticize Texas A&M for making the investment to get — and keep — Jimbo Fisher may be changing their tune.
Three different coaches have won national championships at USC. John McKay won four (1962, 1967, 1972, 1974). John Robinson won one (1978). Pete Carroll won two (2003, 2004).
Anything less equates to failure.
USC has failed miserably with recent hires. Lane Kiffin replaced Carroll in 2010. Three-and-a-half years later he was fired on an airport tarmac following a 62-41 loss to Arizona State.
Ed Orgeron finished the regular season as the interim head coach but resigned before the Trojans faced Fresno State in the Las Vegas Bowl. Helton coached USC to a 45-20 victory.
USC then hired Steve Sarkisian away from Washington. He was 12-6 in a year-and-a-half before being fired for alcohol-related issues.
Helton, then the offensive coordinator, was named interim head coach. The interim tag was removed on Nov. 30, 2015 — two days after the Trojans defeated arch-rival UCLA, 40-21.
But they lost their next two games to close that season.
Helton wasn't a bad coach. He just wasn't world-class.
The first domino has fallen. Now the question is who's next?
Heisman Watch (If my vote was due today)
1. Bryce Young, Alabama, QB: He followed up a stellar showing in the season-opening victory over Miami with a sound effort in a 48-14 win over Mercer. Young completed 19 of 27 passes for 227 yards and three touchdowns. That gives him 571 passing yards and seven touchdowns in two games.
2. Matt Corral, Ole Miss, QB: In an abbreviated appearance, Corral passed for 281 yards and five touchdowns in a 54-17 victory over Austin Peay. In two games he's passed for 662 yards and six touchdowns. He's also rushed for 90 yards and a TD.
3. Christian Rodriguez, Kentucky, RB: The nation's second-leading rusher, Rodriguez gained 207 yards and scored three touchdowns in a 35-28 victory over Missouri. Overall, Rodriguez has rushed for 332 yards and seven touchdowns this season.
4. C.J. Verdell, Oregon, RB: He followed a solid 74-yard effort in the season-opening victory over Fresno State with a spectacular showing in the 35-28 upset of Ohio State. Verdell rushed for 161 yards and scored touchdowns on runs of 14 and 77 yards against the Buckeyes. He also caught a 14-yard touchdown pass. Thus far, Verdell has 235 yards and three touchdowns. He also has four catches for 36 yards.
5. Jack Coan, Notre Dame, QB: After having a dislocated finger in his throwing hand popped back into place, Coan threw an 18-yard touchdown pass to stave off an upset bid by Toledo. Coan finished a 32-29 Notre Dame victory with 239 yards passing and two touchdowns. He also had an interception, which was returned for a touchdown. In two games Coan has passed for 605 yards and six touchdowns.
Predicted Playoff Participants
1. Alabama: The Tide has outscored its first two opponents 92-27 and coach Nick Saban is angry about the lack of intensity.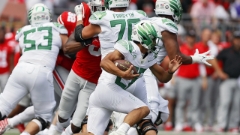 Kyle Robertson-USA TODAY Sports
2. Oregon: Perhaps no team will have a better victory than the Ducks' win over Ohio State. Oregon might cruise through the Pac-12 which still doesn't look overly challenging.
3. Georgia: If the Bulldogs could finish 12-1 with a close loss to Alabama that should trump an undefeated team from the woeful Big 12.
4. Oklahoma: Undefeated in the woeful Big 12 translates to Oklahoma. The Sooners' main threats — Iowa State and Texas (I guess) — already have suffered bad losses.
This week's top matchups
No. 1 Alabama at No. 11 Florida: Florida made it interesting in the SEC Championship game last year. Maybe the Gators can do it again.
No. 22 Auburn at No. 10 Penn State: Auburn has outscored two opponents 122-10. Of course, those opponents (Akron and Alabama State) barely had a pulse. We'll see what happens when the Tigers pick on somebody their own size.
No. 19 Arizona State at No. 23 BYU: Questions remain, but the winner proves its worth as a bona fide Top 25 team.
Fresno State at No. 13 UCLA: The Bruins are creeping up on the Top Ten. But Fresno could send them back where they came from. The Bulldogs almost upset Oregon just two weeks ago.
No. 8 Cincinnati at Indiana: Cincinnati needs to beat a decent Power-5 opponent. Indiana of the Big Ten may qualify as decent. Then again, Hoosiers might not.
Never miss the latest news from TexAgs!
Join our free email list
PRESENTED BY