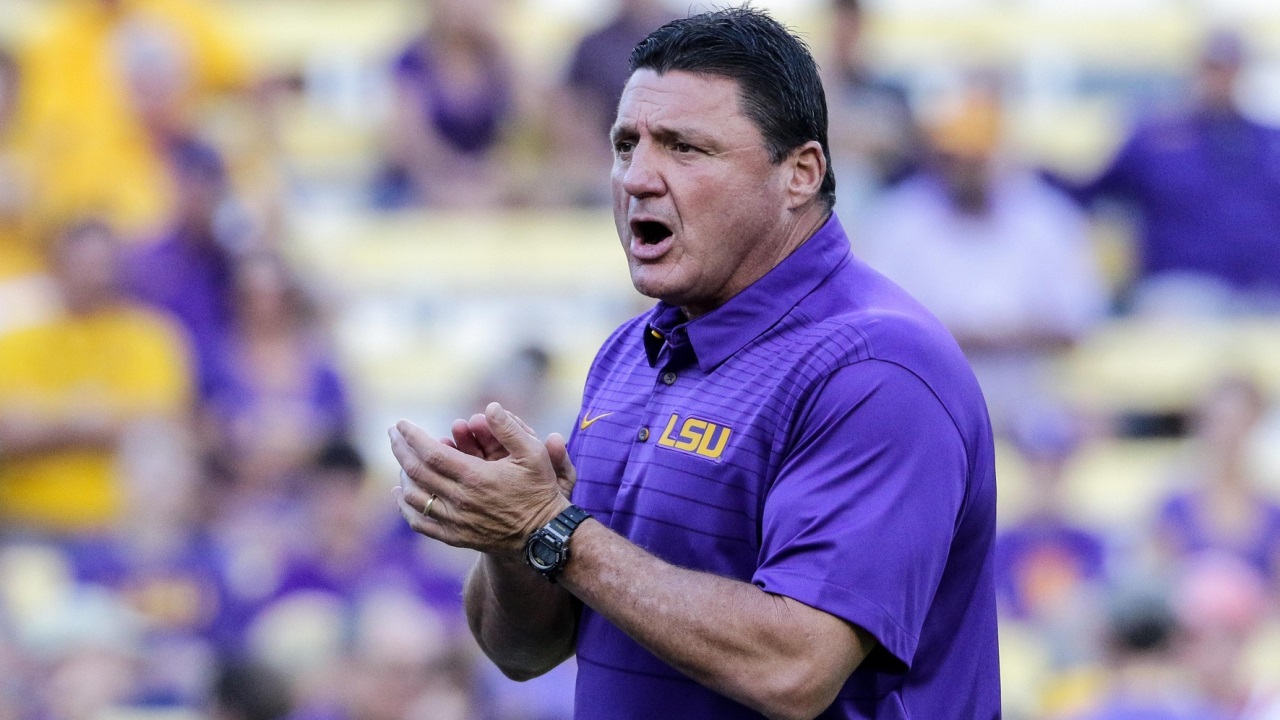 Photo by Derick E. Hingle/USA Today Sports
Texas A&M Football
SEC Round-Up: Pressure mounting for Ed O after another disappointing opener
---
Apologies to the great country songwriter Rodney Crowell:
"Have you ever seen a Cajun when he really got mad
When he really got trouble like (the Tigers) gone bad
It gets real hot down in Louisiana."
It's scorching down in Louisiana, specifically around LSU coach Ed Orgeron. The problems keep compiling for coach O-no, who just seems to keep embarrassing LSU — which is no small feat.
Last year there were leaked bedroom photos of him and a companion. No big deal, but maybe not the kind of image a university wants its most well-known employee to project.
He also was accused of ignoring rape allegations against his players. He was named a co-defendant in a Title IX lawsuit against the university.
Last week a rumor surfaced that he broke into the lakeside fish camp to challenge someone who'd heckled him.
And before the Tigers' game in the Rose Bowl last week Orgeron told a heckler from UCLA to "bring your ass on in your sissy blue shirt."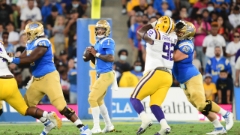 Gary A. Vasquez-USA TODAY Sports
UCLA's colors are sky blue and gold.
Most of those transgressions would be easily forgivable if the Tigers are winning. However, after Orgeron called out the heckler, the guys in the sissy blue jerseys proceeded to kick the Tigers' butts, 38-27.
"They (UCLA) did a good job; they knew what we were doing," Orgeron said earlier this week. "They out schemed us in a lot of situations. We spent time on Sunday going through those things. We have to eliminate those things. There were a lot of things as coaches that we could have eliminated, and we didn't do it."
LSU getting out-coached won't sit well in Baton Rouge, especially after the Tigers' 5-5 debacle in 2020. It was the first year in which LSU did not manage a winning season since 1999.
Suddenly, the 15-0 national championship season of 2019 seems like a long time ago. For those who think that championship would should give Orgeron a sense of security I've got two words for you — Gene Chizik. Of course, Auburn fired Chizik two seasons after winning the 2010 national title.
LSU media outlets are already compiling lists of Orgeron's possible successors. Louisiana-Lafayette's Billy Napier is high on many of those lists.
Complicating matters, LSU is dealing with injury issues, too.
Starting tackles Austin Deculus and Cam Wire are sidelined. Further, Wire is a starter only because projected starter Dare Rosenthal transferred to Kentucky.
Also, defensive end Soni Fonua, defensive end Ali Gaye, running back John Emery, safety Jay Ward and receiver Jontre' Kirkland are expected to miss the Tigers' game against McNeese on Saturday.
Those absences aren't major concerns against McNeese or Central Michigan next week.
But five ranked opponents remaining on LSU's schedule are currently ranked — No. 25 Auburn, No. 13 Florida, No. 20 Ole Miss, No. 1 Alabama and No. 5 Texas A&M.
Kentucky, where LSU travels on Oct. 9, soon might be in the polls.
A 7-5 or 6-6 finish is a distinct possibility. Orgeron was fired at Ole Miss. He's been let go at USC. His tenure at LSU certainly appears in jeopardy.
Or as Rodney Crowell might sing (with apologies):
"Scott Woodward say let me tell you 'bout the travelin' kind
Everywhere he's goin' such a very short time.
He'll be long gone before you know it."
Around the SEC
The Bulldogs sacked Clemson quarterback D.J. Uiagalele seven times and snatched an interception which was returned for the game's only touchdown.
Who's hot: Georgia's defense did not allow a touchdown and limited Clemson to just 256 total yards in a 10-3 victory. The Bulldogs sacked Clemson quarterback D.J. Uiagalele seven times and snatched an interception which was returned for the game's only touchdown. Dating back to last season it's the fourth consecutive game in which the Bulldogs have limited the opponent to 305 yards or less.
Who's not: Sometimes it's too easy to list Vanderbilt here, but this is a slam dunk. Of course, being Vandy, it's a slam dunk that ricochets off the back iron and results in a fast break layup at the other end. The Commodores did not manage a touchdown in a 23-3 loss to FCS program East Tennessee State, which finished 3-9 in its last full season (2019). Obviously, it's not the kind of debut coach Clark Lea wanted. But it gets worse. It was Vanderbilt's 11th consecutive loss dating back to 2019. In fact, the Commodores have lost 14 of their last 15. That win? It was over East Tennessee State in 2019.
Keep an eye on: New Kentucky quarterback Will Levis appears to give the Wildcats a passing threat they've been sorely missing. He passed for 367 yards and four touchdowns in a 45-10 season-opening victory. Never mind that it was against ULM. The Wildcats haven't had much passing success against any opponent in recent seasons. That was the most passing yardage by a Kentucky quarterback since Patrick Towles threw for 390 in a 45-31 loss to Mississippi State in 2014. It was also the Wildcats' first 300-yard passing performance in 51 games. The last time a Kentucky quarterback hit the 300-yard mark was when Stephen Johnson had 338 yards in a 41-38 victory over Louisville in 2016.
The pressure is on: The Kentucky offensive line, which must protect Levis against the Missouri pass rush. Last week the Tigers posted nine sacks in a 34-24 victory over Central Michigan. It was their most since notching eight against Colorado in 2009. Linebacker Blaze Alldredge, a transfer from Rice, led the way with 3.5 sacks.
Best matchup: Perhaps not the best matchup, but the most interesting is LSU coach Ed Orgeron against his Cody, the quarterback for McNeese State. Cody passed for 367 yards and two touchdowns in a 42-36 loss to West Florida last week. Meanwhile, Orgeron's defense was burned for touchdown passes of 75, 14 and 45 yards by UCLA quarterback Dorian Thompson-Robinson last week. He passed for 260 yards on just nine completions. Woof. All this after LSU was ranked last in the nation in pass defense in 2020.
Never miss the latest news from TexAgs!
Join our free email list