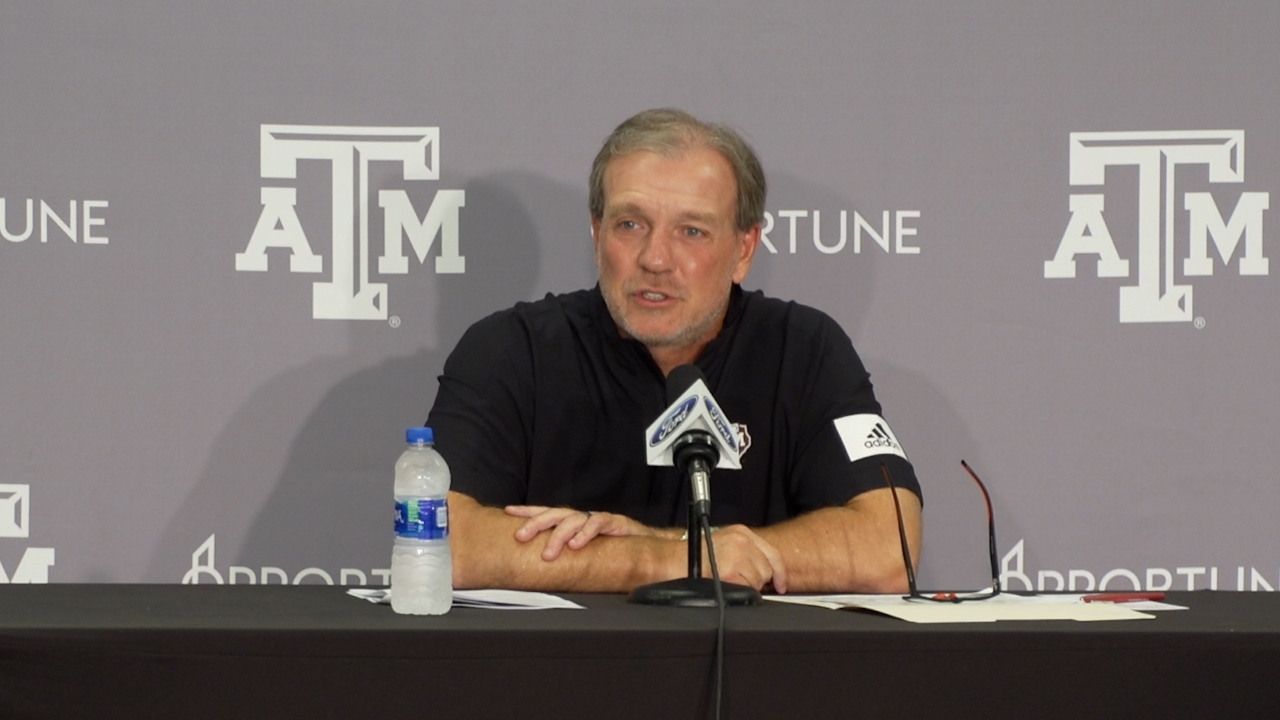 Jimbo Fisher
DeMarvin Leal
Leon O'Neal
Demani Richardson
Kenyon Green
Ainias Smith
Isaiah Spiller
Texas A&M Football
Press Conference: No. 6 A&M prepared to begin season with Kent State
---
Football season is finally here, and No. 6 Texas A&M will begin the season on Saturday night against Kent State at Kyle Field. Before the first game of the year, Jimbo Fisher and a number of Texas A&M players spoke to the media on Monday afternoon.
---
The following are live, paraphrased notes from Jimbo Fisher's Monday afternoon media availability.
It's game time, and I'm excited to be here. There is nothing like the excitement of the first game and coming out of the grind ready to play. Very pleased with our team. Hard physical camp. Great competition throughout the month. That's one of the things I love. Battling each other and getting people better. Pleased with that process, and I'm anxious to see us play.

Kent State was marvelous last year. Dynamic on offense. Quarterback is a very good player. Makes good decisions, accurate with the ball. Very athletic as well. A really good player who knows what to do. The receivers have a good group of guys, and they have a transfer in from Syracuse. They know how to get open and know how the play. Up front, they're experienced. The tailback isn't giant, but he's quick and strong. Some of the best ones I've had are shorter than I am but are powerful, explosive guys. They're tempo. They run an RPO game and shots down the field.

Kent State's defense has dominated their camp. They had 12 players come in as transfers. They have guys back on defense. A safety who didn't play last year but is back this year. The corners are back. They have a big old linebacker. They have depth. Clark is #3, and he was a hybrid guy who is a natural football player. They do a good job with constant movement and blitzes. They are a tough team to go against schematically and with their personnel. They're predicted to win their league, so they're a heck of a team.

We need to come out and play well and get out of the blocks well. I've been pleased with our camp. We have a big week ahead of us, and this is our week one opponent, so they get all of our attention.

Kenyon Green played both right and left tackle in camp and can play well. On the right side, he and Layden Robinson are very good. Jahmir Johnson has played a lot of left tackle. Kenyon is very versatile, and we can play him everywhere. In college football, left tackle to right tackle isn't a big deal. They're both good players.

Haynes King won the job on consistency. He won it from his pocket presence. He has done a great job. He got the ball out of his hand with blitzes. He's making calls. His accuracy downfield is excellent. Zach Calzada played well too. They matched each other. King played a bit better, and that's who we went with.

The team understands that if you want to be a great team and a great player, you have to play with an edge. You have to come with juice. When you compete, you have to play with a chip on your shoulder. You understand the mentality and physicality you have to play with to win at this level. The guys that have a lot of experience understand the level, and that's why they talk about it.

We want to play great. You play like you practice. You play with the habits you have. We're ready to play, and we're going to play. Each opponent has its own purpose and scheme that you have to play again. You have to understand that. We want to play, and we want to play well. We want to play our game. We want to play consistently and don't want to have self-inflicted wounds. We want to play well in all three phases.

King is very fast. There are a lot of guys on our team that can run, and he's one of them. He's very athletic. I hope he's faster than the guys chasing him.

We had our final scrimmage on Sunday, and I said I'd know when the answer was there. On Tuesday, our staff and I felt the answer was there.

McKinnley Jackson and Micheal Clemons are dealing with the school, and I can't speak on those things. We'll keep you updated as those things go.

At the end of every year, it doesn't matter how many years you've had a quarterback. No matter what game it is, there are always those jitters and concerns. I feel very good about King's preparation and the way he has played. If I was coaching Joe Montana or Tom Brady, I'd still be nervous.

Kent State is going to make plays. They're a good football team. We can't give plays away in all three phases. With a spread team, you have to tackle well. We have to get hats to hats. We have to get open and run routes. They will alternatively kick you in two seconds. There are multiple things they can do in the punt game. This is a very experienced team. They have a very veteran team.

What guys do on a team, the coach knows part of. Leon O'Neal is very mature and does a great job of creating energy and leadership. He loves to play ball. He loves to play and loves Texas A&M. That energy is infectious. Football is a game that's tough. Some guys feel sorry for themselves because they've had a tough day, but you never see that from Leon. He's always going hard, and it's big.

Here are my thoughts on the SEC's announcement: COVID is here to stay. There are people getting it that are doing everything right. I hate that part of it. You try to keep them in protocols. If you have to forfeit, that's a tough thing to swallow, but rules are rules. It can come from anywhere. People who have been vaccinated, had it are getting it again. I'm not in charge of those decisions, but we play by the rules.

You've got freshmen playing. This isn't like it was 15 or 20 years ago. Go back to the late 70s and the early 90s. Whoever had the most juniors or seniors won the SEC. Do you know how many transfers we'd have today? To have freshmen on the field is the nature of the beast today. Certain guys are capable. Bryce Foster is a physical and smart guy. If they're in that depth chart, we feel comfortable about them playing.

The playmakers have to do what they do, get open and get into a groove to allow King to play his game. Hopefully, they'll do that, and in camp, they have.

When you talk about the 12th Man, you're talking about an outstanding human being who does everything right and understands the history of the tradition and loves Texas A&M. Connor Choate was a scholarship guy that left his scholarship to come to Texas A&M because he wanted to be an Aggie. When you don't hear the long snapper's name, that's a good thing. He's as good as I've ever been around. He brings an infectious energy to practice every day. I can't think of a guy that is such a high-character player who loves his teammates as much as Choate. I'm happy he's the 12th Man, and I think our team is too.

You used to recruit in your own area 35 years ago. Then it became a national area, and now it's a global world. The world is so much different because of the ability to communicate. We had a player from Germany when I was at Florida State. Kids from around the world want to play football. That's the world we're in. They want to play American football. You can get video easily now.

A lot things go into openers. You can't compare one team to the other. They all have their own personality and dynamic. I hope we go and play well. We've created some confidence through spring ball, summer and camp that should allow us to play well. Hopefully, our guys learned from last year's opener, and we play better because we're going to have to.

My respect to the people in our military and the things they do. No place is perfect, but there is no better country in the world than ours. The people who stand for it and defend it. Freedom isn't free. We wouldn't sit here doing what we're doing without those people. To remember all of those folks and our country this weekend is special. We do have to get better and work on things. It's just like a team, and something always needs to be taken care of. We live in a great place, and we must remember that and the people that made that happen.
Never miss the latest news from TexAgs!
Join our free email list