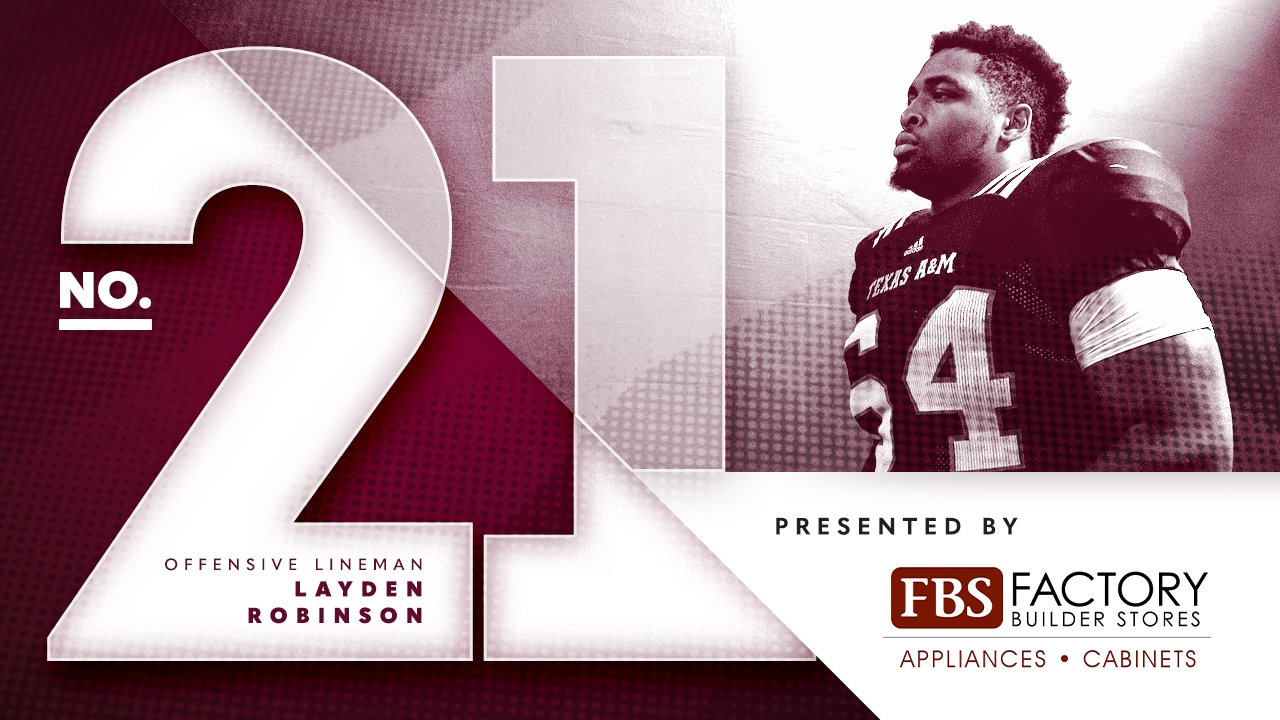 Photo by Texas A&M Athletics
Texas A&M Football
21 Players in 21 Days: #21 Layden Robinson
---
Position: Offensive Line
Classification: Sophomore
Hometown: Manvel, TX
Listed Height: 6-4
Listed Weight: 330
Key notes from Billy's analysis on Robinson
Twenty-one could be insanely low for Layden, but for now, it seems right. He hasn't started a game yet. He looked so good against South Carolina, demolishing people. What you saw in that game was Layden Robinson at his best. You see what he does when he's fresh.

He's an incredibly physical guard. He has some pop. He will drive you back. He knocks guys off the ball and drives them off the ball. He has incredible punch and power. In his stance, he's big and wide. You're not moving him.

He was 330 in the spring, and that was too heavy. At 310-315, he's an absolute beast in the trenches. When he's heavier, fatigue and mental mistakes will set in. If he has gotten in shape over this offseason, which I've heard he has, Robinson can look like he did against South Carolina.

You can line him up alongside Kenyon Green. If he and Akinola Ogunbiyi are the two guards, those are two eventual long-time NFL guards. There are so many unknowns with this offensive line. Jordan Moko and Bryce Foster are both physically ready for the SEC and could play guard, but we don't know if they're ready in the same way we didn't know if Kenyon Green was ready in his first year, and he struggled early on.

Robinson still has to win a starting job, and I think he will. With that, it's about not making mistakes and staying fresh. If he's in shape, he's a laydown starter. He's in year three in this program, and that's the type of guy you want. You want guys who have grown up in the weight room and are ready to roll.

They've lost four starters on the offensive line, but what you don't hear them talk about is how they have Robinson, Luke Matthews and Jahmir Johnson to go with Green. You could have a lot of maturity and some grown man football in the trenches.
Follow the entire 21 Players in 21 Days series here.
Never miss the latest news from TexAgs!
Join our free email list
PRESENTED BY