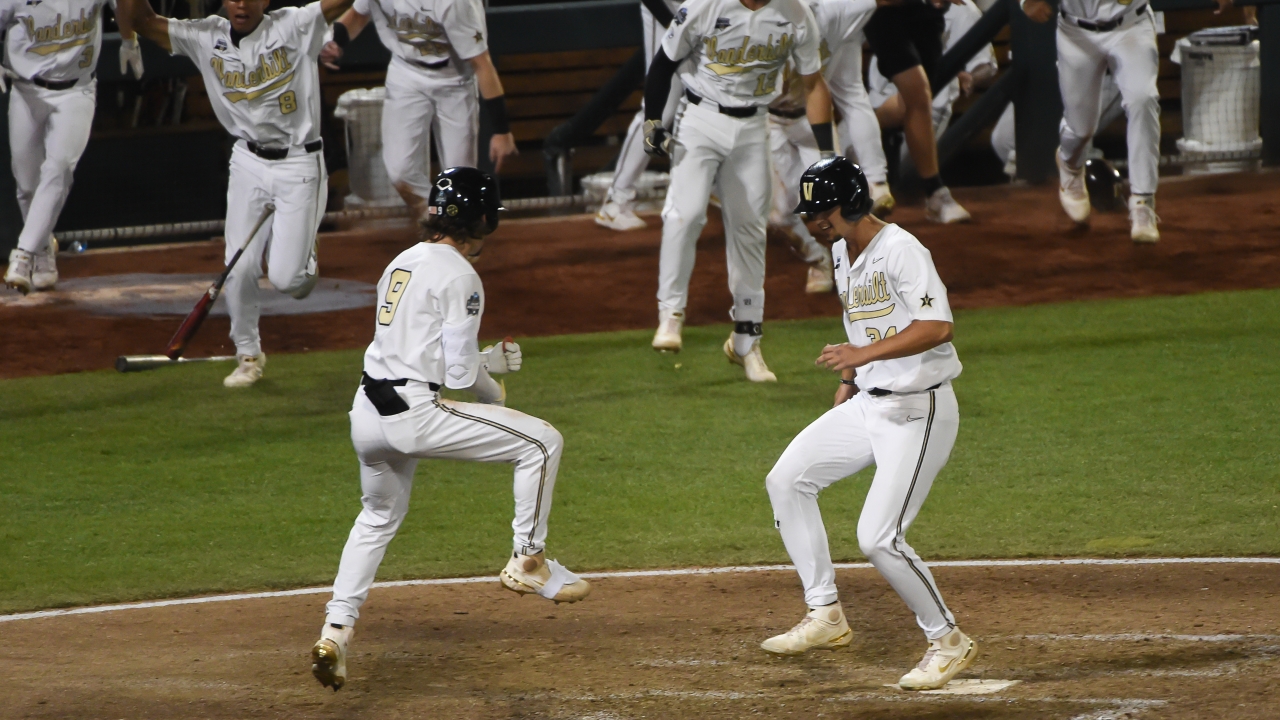 Photo by Steven Branscombe-USA TODAY Sports
Texas A&M Baseball
D1Baseball's Kendall Rogers shares latest from crazy College World Series
---
Key notes from Kendall Rogers interview
When you get to the College World Series, it seems like the last two innings of games get weird. You saw that with Virginia the other night with a no-hitter in the eight, then they lost. Vanderbilt last night looked like they were down and out, and then they stay alive on a walk-off wild pitch.

Tim Corbin is usually pretty stoic during the game, but after the fourth of fifth inning, they had a team meeting in the dugout, and he lit into them. Once that happened, he got their attention, and they played better the rest of the game. It still took them down to their last out to finish off the comeback, but they got it done.

I think Vanderbilt gets this thing to an "If Necessary" game with NC State. Having Kumar Rocker on the mound on Friday night is huge for them. He really seemed to find himself the last time out. The bigger question is this: If they get to that next game, do they roll Jack Leiter out there on short rest? It'll be interesting to watch.

NC State is still my team to beat on that side of the bracket, no matter what happens tomorrow. They have played so well since the beginning of the season. They have a strong bullpen and still have fresh arms. I think they are a complete team that does everything well. They kind of take your breath away while watching them.

I think I might lean Texas tonight. The Longhorns have the better starting pitcher going tonight, and I think that will be huge for them. They still haven't thrown their closer the entire time in Omaha. It'll be interesting to see how Virginia bounces back after such a heartbreaking loss the other night to Mississippi State.

I like Mississippi State on that side of the bracket. To be in that situation against Virginia and to come back against the win is just huge for their confidence. It'll be interesting to see what the Dawgs do with their rotation in this next game. If they lose, they have some questions on the mound for the "If Necessary" contest.

Michael Earley is an excellent hire as Texas A&M's hitting coach. He's going to do a great job running the offense. For them to be able to get him as a volunteer assistant is huge. Then you'll have Nolan Cain running recruiting, and it's looking like Nate Yeskie running the pitching staff. That will be one of the top coaching staffs in college baseball. Yeskie, in my mind, is one of the top two or three pitching coaches in college baseball.

I think, looking ahead to next year, the Aggies will have to claw to piece a good team together. The message this staff sends to recruits around the country is that this school is committed to winning college baseball at a really high level. They have made a strong commitment to the A&M baseball program by getting Schlossnagle the resources to compete for Omaha and national championships. They've put their money where their mouth is.
Never miss the latest news from TexAgs!
Join our free email list