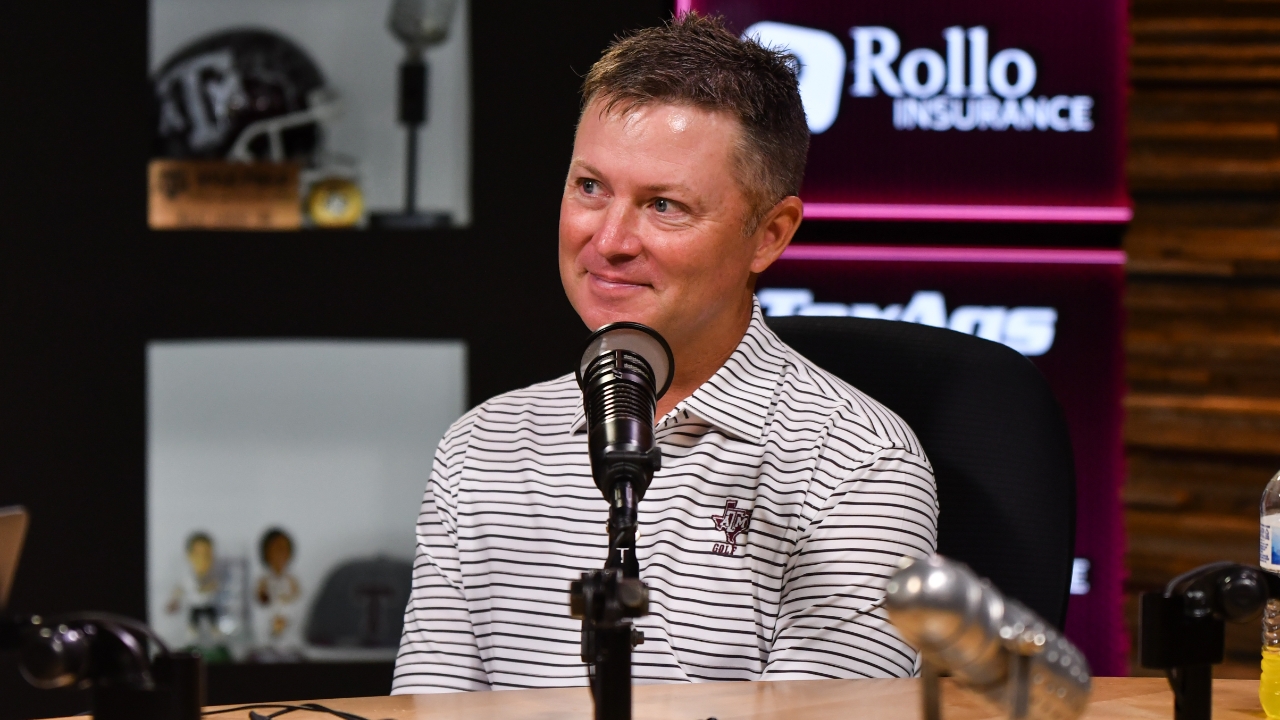 Photo by Jamie Maury, TexAgs
Texas A&M Women's Golf
WATCH: Get to know Gerrod Chadwell, Texas A&M's new women's golf coach
---
A day after being announced as the new head coach of A&M women's golf, Gerrod Chadwell joined TexAgs Radio in-studio to share his thoughts on taking the job in Aggieland and his vision for the future of the program.
---

Key notes from Gerrod Chadwell interview
My head is spinning, but things are starting to fall into place, which is great. There are a lot of things that are similar to when I took the Houston job. You want to impart your culture on stuff that is already established. Houston was great, and I inherited a blank slate. You could make it a great job or a bad job. After a lot of help and eight years, it's going to be very attractive for whoever comes in behind me. We're excited and blessed about that. Those girls there are still my girls, so I'm excited about what happens there. I'm also excited to bring my energy to this place, which has unlimited potential.

We had our first call with the entire team yesterday, and there's really no secret to building a program. I'll bring the same energy and plan I did at Redlands Community College and Houston to Texas A&M. There is no magic to it. It's just about recruiting the right fit for this place and this team. We'll get it going pretty quickly.

When Ross Bjork called, it was extremely emotional for my family. I have an almost three-year-old and a wife who has a professional golf career. There are a lot of places that don't work for her and some that do. We were in a great spot in Houston, but raising a family in College Station fits my values and fits what Stacy and I want for our family. Stacy was getting excited about the opportunity even though she's a Razorback. It aligns with how we want to raise our family and the fit for us. That'll come out in recruiting and with our players being involved in a family atmosphere.

We had unfinished business at Houston. The last two years, our season ended in a parking lot. I don't think the COVID year prepared me for this year. We could have a whole show about the myriad of errors that happened at the Baton Rouge Regional. The great thing for those young women is that they're all coming back. I did not have to tell a senior that she was done. The year before was tough. Nothing prepares you for situations like that.

I know myself better than anybody else, and this is a perfect fit for hopefully this entire program and this town. I will be an ambassador, and my wife will be an ambassador for this university. We're just extremely excited to get to work.

This all happened so fast. I just got back from the NCAA Tournament with an individual. We got back late Monday night. I interviewed on a Wednesday night, and they offered on a Friday. They played their cards close to their chest on a Zoom call. There were many candidates in for that, so I didn't really get a feel for Ross and Co. I knew how I felt about this place when I drove over. They were looking for the right fit, and I knew they'd do right for the young women in the program. The first thing I did was I sat down with Bjork for an hour, and I was sold. Our man can hire some coaches. To have his support is all I could ask for as a head coach. My expectations will be higher than everybody else in the department, but to have that support is all you can ask for.

One of the questions I get is how to make it work. First, you have to have a supportive spouse who played college golf and understands what I do. When I come home, I've had players needing my attention. When I walk in, a two-year-old goes, "Dada." That soaks up a lot of my attention and energy. Stacy usually gets attention and affection last, but she married somebody who understands what she does as well. I didn't follow the LPGA much, even though I coached women's golf. Not knowing who she was got me to a second date because I got to know Stacy Lewis the person first before the golfer. We understand what each other does for a living. Summers are crazy, and spring is the hardest part. It's organized chaos, but it works beautifully.

The facilities are one of the things they pitched during the hiring process. Traditions is phenomenal. There is a plan with the indoor football facility that will include an update into the golf building. All of this is important. Kids are recruited with their eyes these days. This is a constant thing. When it comes time to put that together and put the money together, Brian Kortan and I will make sure it gets done. We have plenty right now to sell the message to kids.

We have to have a bigger in-state presence recruiting-wise. You're either raised in burnt orange — and I was raised to hate burnt orange — or wearing maroon. We have to see what being an Aggie can do for you. We can build these women up to be independent and show them what being an Aggie can do when they're done playing. I'm a teacher at heart, and I will have a family presence away from home within my program. We want players to feel like their home. I think Stacy and I provide that. There will be great synergy within that golf building. Our players will know that they're loved when they're dropped off. That's not a sell. We walk it.

Once the players get over the awe of Stacy, they'll enjoy it. She enjoys it. She'll be out there practicing with them. She finds more joy pouring it into their lives than digging it out herself.
Never miss the latest news from TexAgs!
Join our free email list