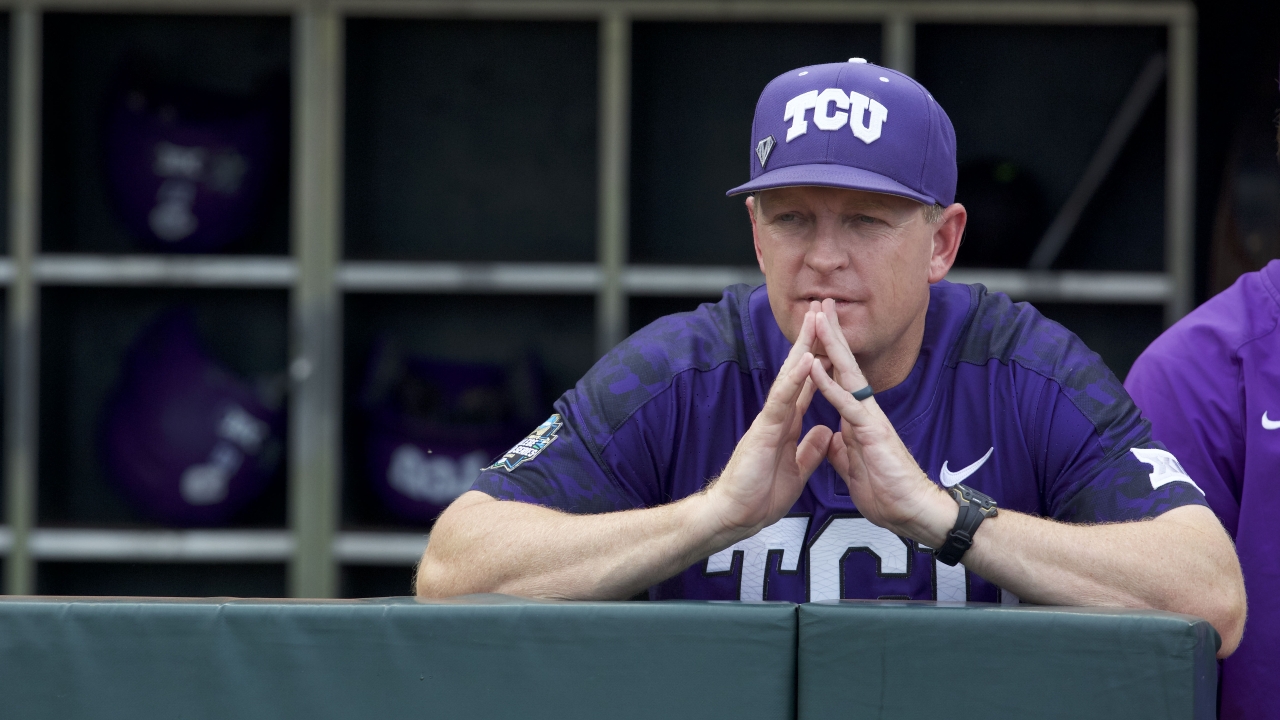 Photo by Bruce Thorson-USA TODAY Sports
Texas A&M Baseball
Rogers interested to see Schlossnagle utilize A&M's brand, resources & reach
---
Key notes from Kendall Rogers interview
It's the worst-kept secret in the world. I think everybody saw this coming for the last three to four days, and it finally came to fruition. I think Jim Schlossnagle is a great hire for Texas A&M. If you're going to part ways with Rob Childress after so many years, you better make a great hire. They did just that.

Before Jim Schlossnagle came to TCU, they were very bad. They even considered dropping the baseball program at one point. When he got there, the switch flipped. It was an expensive school, and they out-recruited several in-state schools for a lot of years. I'm interested to see what Schlossnagle can do with A&M's brand, resources and reach. It should be much easier for him to walk into a living room in Cypress and sell playing at Texas A&M vs. playing at a small private school.

He's hard-nosed. It's funny reading message boards and seeing people say that. All of these coaches are hard-nosed for the most part. Childress and David Pierce demand a lot too. Schlossnagle is a good coach, and in my estimation, he's an elite CEO guy. When I look at the SEC, you have to be a combination of CEO and coach. Most of the programs have that combo, and Schlossnagle certainly is that. He's going to recruit at a top-level.

I'm interested in seeing who he hires as his assistant coaches, and many of the options are still in the NCAA Tournament. To hear some of the pitching and hitting coaches that are in the mix is interesting. Ross Bjork showed with the Schlossnagle hire that they're committed to winning, and I think that's the case with the assistant coaches too.

Kirk Saarloos might take the Cal State Fullerton head coach job, so I'm not sure he'll follow Schlossnagle to Texas A&M. I would keep an eye on Bill Mosiello. He's a guy that could come to A&M. There will be some other names that'll be out there too.

I think the TCU job is a really good job. They might hire Saarloos or Dan Heefner. Heefner is a great coach. The biggest winner outside of Texas A&M is Tennessee because Tony Vitello might stay put. If Schlossnagle had stayed at TCU, A&M's next guy would've been Vitello. The biggest winners are Tennessee and the SEC outside of A&M.

Paul Mainieri might have been the last major hire in college baseball. Other than that, we've seen a lot of assistant coaches get elevated. Kevin O'Sullivan wasn't a huge name when he got the Florida gig. In college baseball, it's not easy to get your top targets. Look at Texas. Their fourth option is about to go to Omaha again. It's difficult to get guys to leave comfortable situations where they're winning a lot. If Schlossnagle had stayed at TCU, that stadium would've eventually been named after him, and he'd get a statue in front of the ballpark. He gave all of that up, and he'll likely run into them down the road. It's a bold move on his part.

Has anybody ever looked at Texas A&M's baseball history? This hiring is very seismic in the same way that the Jimbo Fisher hire was seismic. This hire could flip the switch for Aggie baseball the same way that Jimbo did for Aggie football.
Never miss the latest news from TexAgs!
Join our free email list