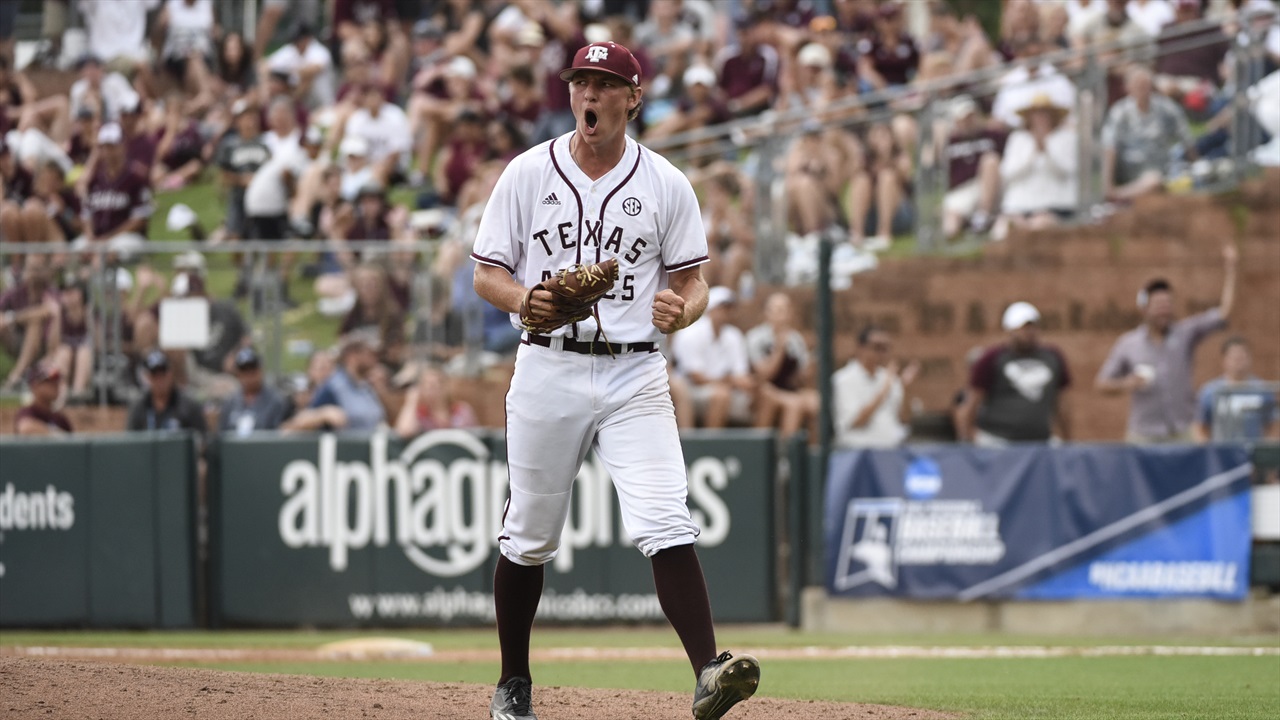 Photo by Lexie Hudson, TexAgs
Texas A&M Baseball
Catching up with former Texas A&M standout left-hander John Doxakis
---
Key notes from John Doxakis interview
Summer ball in college is more like a team-orientated thing. Minor league baseball is as well, but you're trying to develop yourself. There are more selfish moments in the minor leagues than in summer ball or college. When you're not playing, you're worried about yourself because you're the one trying to get to the big leagues. It's weird to think about it that way, especially from Texas A&M, where you were trying to grind it out and win a championship.

At A&M, we used to fly on charters. It was an adjustment to be on these buses all the time. Back in college, the only place we drove was LSU, which wasn't a bad drive.

Living in Charleston is awesome. I haven't had a bad meal yet.

I feel great this season. Before spring training, we were doing live ABs in Houston, and I was feeling really good. Spring training took a toll on my body just being on the field all the time. I had to trust the process, and my last outing in spring training got back to what I had been doing. That carried over into my first few starts. My key has been getting that first-pitch strike. That was my main focus: throwing strikes early. That's where a good month of May came from.

Many people experience that slow start in spring training because you're not used to being on your feet all day. Getting my feet back under me was an adjustment. The Rays did a great job with that because they don't want to rush anything. They had us on a four-inning limit coming into the year because of the year off of baseball. Right now, we can only throw five innings. That will help us in the long run.

One thing that I benefit from being around my dad and Rob Childress is making in-game adjustments. Not letting an outing get away from you and damage control is key. Fixing stuff on the fly helps. That's one thing I've learned from my pitching coach and learning what's wrong with my mechanics mid-game. Making those adjustments is huge going forward. The mental mindset that Childress teaches you is huge. Learning that is life-changing, and I thank Rob for it every day. I used to tell our young guys to see Dr. Pittsinger because it's life-changing. I spent five minutes with Pittsinger, and it helped me turn the page. All of that transfers over into the game.

It's weird that Childress is no longer the head coach. I was shocked. Childress texted me first, not about the coaching change but something different. I had to apologize for not reaching out because I didn't even know what to say. He did so much for every individual. I get where people are coming from, but it had to be tough to fire an outstanding coach like that. Everyone wants to win, and that's how college baseball is. You have to win at the biggest stage. I still don't know what to think about it, and it's going to be weird for a while. I hope that the new coach accepts the old players, and that's very important to all of us.

If A&M hires the right guy, we will 100 percent win a national championship. Everything is there to do it. We're in the SEC, in Texas and pull in all of the best recruits. Nothing will hold us back from winning it all if we hire the right guy, and I don't know who that is. I'm sure it's a stressful decision to fire somebody after Rob Childress. Ross Bjork has a tough decision, but he'll do the right thing. I trust that he'll hire the right guy.

We talk about moving classifications a lot with our pitching coordinator, and the way the Rays see it is that it doesn't matter what level you're at. The goal is to pitch and develop to pitch in the big leagues one day. The goal is not to move to Bowling Green or Montgomery. That's obviously the path to get to the big leagues, but it's about developing every day. I'm excited to be in Charleston, and we have a great group of guys.
Never miss the latest news from TexAgs!
Join our free email list