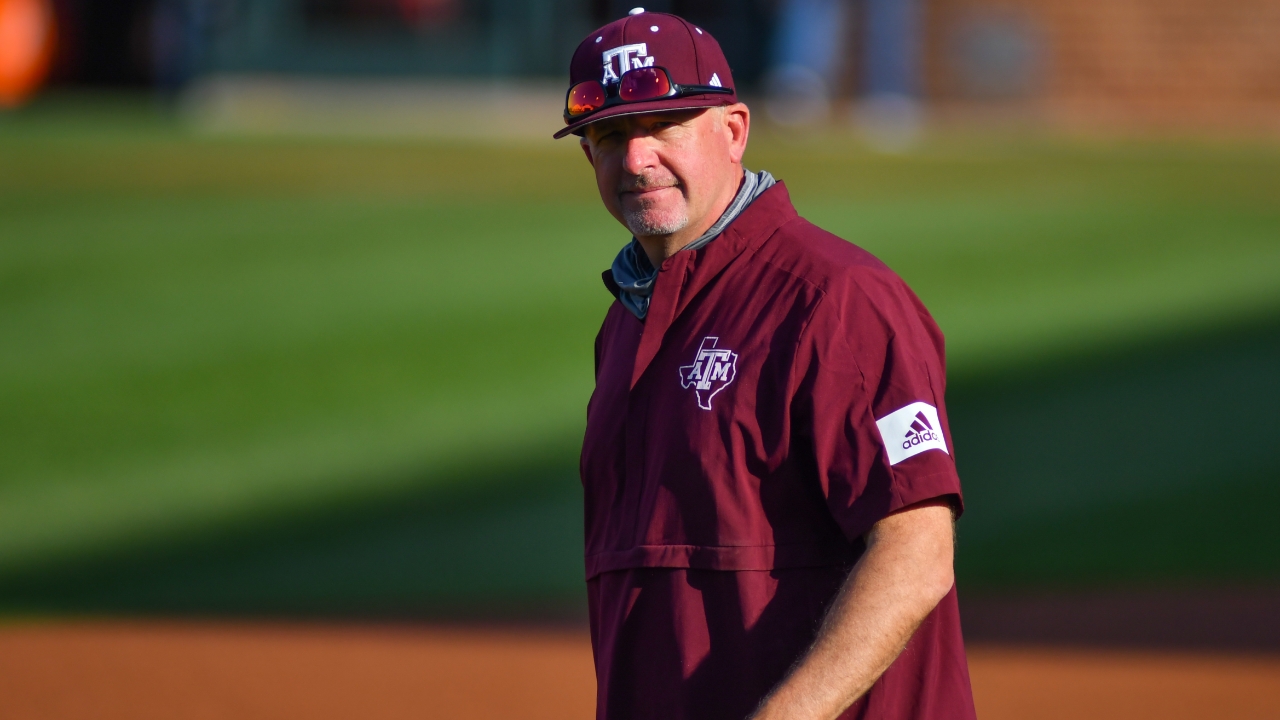 Photo by Jamie Maury, TexAgs
Texas A&M Baseball
Rob Childress looks back on A&M's thrilling series win over Ole Miss
---
Key notes from Rob Childress interview
I'm certainly proud of our guys for staying together. It seems like the game of baseball has tilted back to even, and we're getting some breaks. One guy got incredibly hot, and Will Frizzell put together one of the best weekends in the BBCOR era. We needed a performance like that. I'm incredibly proud of him, and his story is tremendous. He did whatever it took to get back on the field, and he's turning into an All-American. He is truly a special, special story.

The lineup and the game came to Will. He accepted each challenge. Logan Sartori had a great weekend and made Ole Miss pitch to Will each and every time.

Jordan Thompson had been our defensive replacement who got some at-bats here and there. He got the start this weekend and made the most of it. He had some big at-bats and hits against Ole Miss. He stayed engaged and prepared while waiting for his opportunity. If you can do that, you get paid back. For Jordan and Logan to do that, it speaks volumes about them.

On Friday, Dustin Saenz didn't start great, and we were chasing three runs, but we scored three runs. For us to take the lead and give it right back was tough. Chandler Jozwiak gave us a hold, and Bryce Miller got us off the field. With the walk-off home run, Will Frizzell won that game for the weekend because it allowed us to save Miller.

On Saturday, Chris Weber did not disappoint. He got us through five innings, but I thought his last at-bat was a 12 or 13 pitch at-bat against a leadoff hitter that was seeing him well for the third time. The bullpen let us down in that game.

We went with Nathan Dettmer as an opener to shorten Sunday's game for Miller and Jozwiak. We made some mistakes along the way and didn't cash in from an offensive standpoint a couple of times. There were more could've-should've-would'ves until we got to the seventh inning. Mikey Hoehner leads off with a double. Ray Alejo and Sartori walk with two outs to set the stage for Frizzell. Taylor Broadway challenged him with a third fastball, and it was at his neck. He got even with it and hit it out of the yard. Jozwiak got us the final six outs.

That wasn't an 88 mph fastball at the letters. It was 84. Broadway has a wipe-out breaking ball. I'm just glad that Will Frizzell was locked in. He's a hitter first, and that's the special package you get with that kid.

It was an exciting moment to grab the lead. However, we hit a guy, and they get a single to begin the eighth. They sacrifice bunt with Ben Van Cleve. We didn't put a wheel play on. We took the out. I was shocked when they took Cael Baker out of the game and put Tim Elko in the game. My wife would've walked Tim Elko. She actually texted me and said to walk him. We ran Ty Coleman out there to turn the double play. Calvin Harris bounced one to Kalae Harrison's right, and the game found Ty. He threw a strike to first for the double play.

Frizzell should be an All-American with the numbers he has put up in the league we play in. He has had a special year, and it has been fun to be a part of it. He's a special young man and a great teammate.

We need to finish strong. I'm glad that we are where we are with no midweek games, going in healthy. Auburn has been up-and-down on the mound. They're very offensive. We played them in Round Rock, and they beat us 6-1 in a game that was 1-1 in the seventh. The game got away from our bullpen. They will keep coming at you. It's a comfortable ballpark to play at, and it's a great place to play. We will go with the same rotation and do what we have to do to win one game at a time.
Never miss the latest news from TexAgs!
Join our free email list