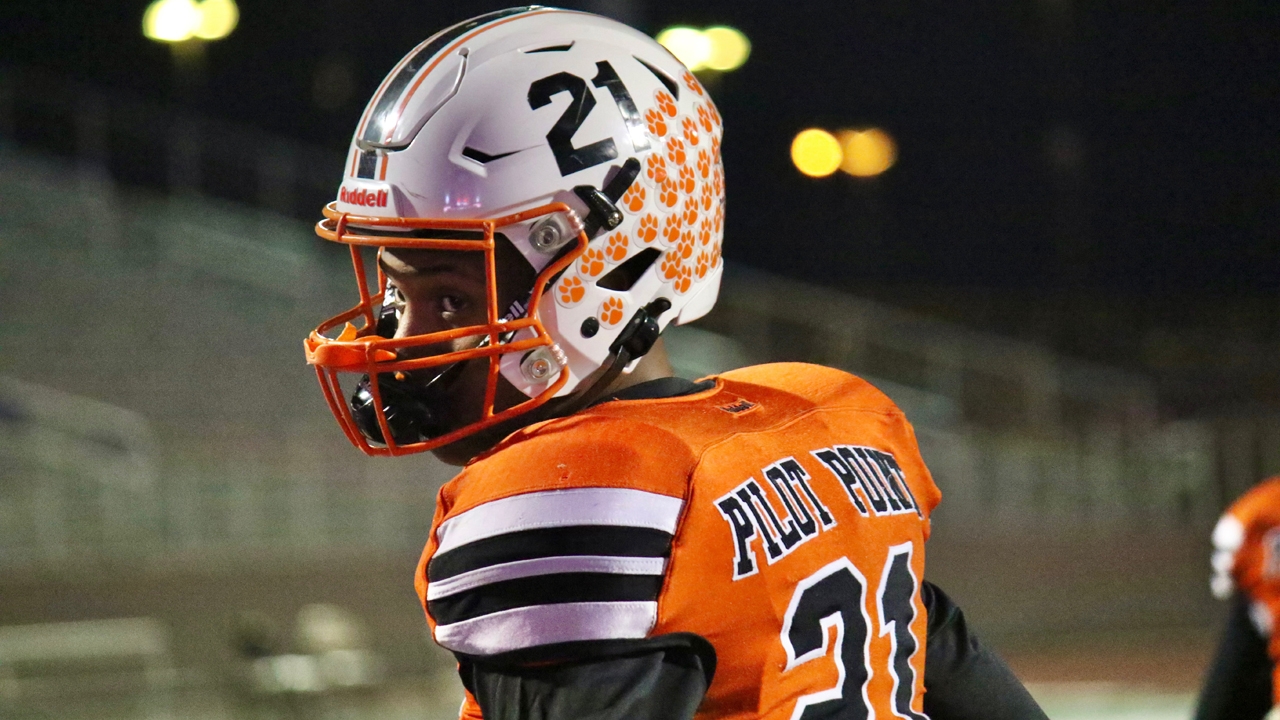 Photo by Guy Frazier/DCTF
Texas A&M Football Recruiting
2022 Pilot Point (TX) ATH Ish Harris discusses his top six schools
---
Pilot Point (TX) ATH Ish Harris‍ has been popular over the last few months. His schedule is filled with Zoom calls, track, basketball and conversations with elite college football coaches, and scholarship offers have arrived from across the country.
It has been quite the process, but after much research and thought, the 6-4, 200-pound standout has arrived at a top six.
"I arrived at these six schools because of education, football talent and just talking to my coaches and parents about what's best for me," Harris said. "That's how we arrived here."
Baylor - "Baylor is just a prestigious university. They have a great education and a great football team they're rebuilding right now, a great campus and they've been loyal to me from the start. Me and coach Aranda and coach Nance and a lot of those coaches talk almost every day."
Oklahoma - "It's the Sooners. The Sooners have that Boomer Sooner culture over there. They have a real nice defensive program. Coach Odom called me, not the area recruiter, but coach Odom called to offer me. Coach Odom told me he wanted me on his team and I'm going to do whatever I need to do to get you here."
Oklahoma State - "They have been really loyal. They were the second team to offer me and that's a program I could fit in really easily. I went and visited one of the games and I liked the town. The people were really nice, and they showed really good hospitality."
Texas - "It's that Sark-effect. Everybody knows that Sark-effect has something to do with everything. So, Texas, it's that brand, they play great football, and they want to bring me in and turn me into an Agent zero 2.0."
Texas A&M - "The Aggie Network, they're rebuilding a great football team right now. Coach Price, coach Santucci, coach Fisher and all of them are really close and I have a great relationship with them. They haven't recruited any linebackers in the past two years so playing time. And the fact I want to study Agricultural Engineering puts them on the list."
Utah - "The Utes, me and coach Swan are real close. He's the linebacker coach and he sent nine of his 11 players to the draft this year on defense."
What's Next:
"The next step is to take visits and get to know the coaches more and break it down to a top three and I'll probably end up announcing at the end or middle of the football season."
Harris said there is no order to his top six, and he is planning to graduate in December and enroll early at his school of choice.
As a junior in 2020, Harris rushed for 1,788 yards and 18 TDs on 226 carries earning district offensive MVP honors as a running back. He recorded 44 tackles and 7 INTs on defense.
Never miss the latest news from TexAgs!
Join our free email list