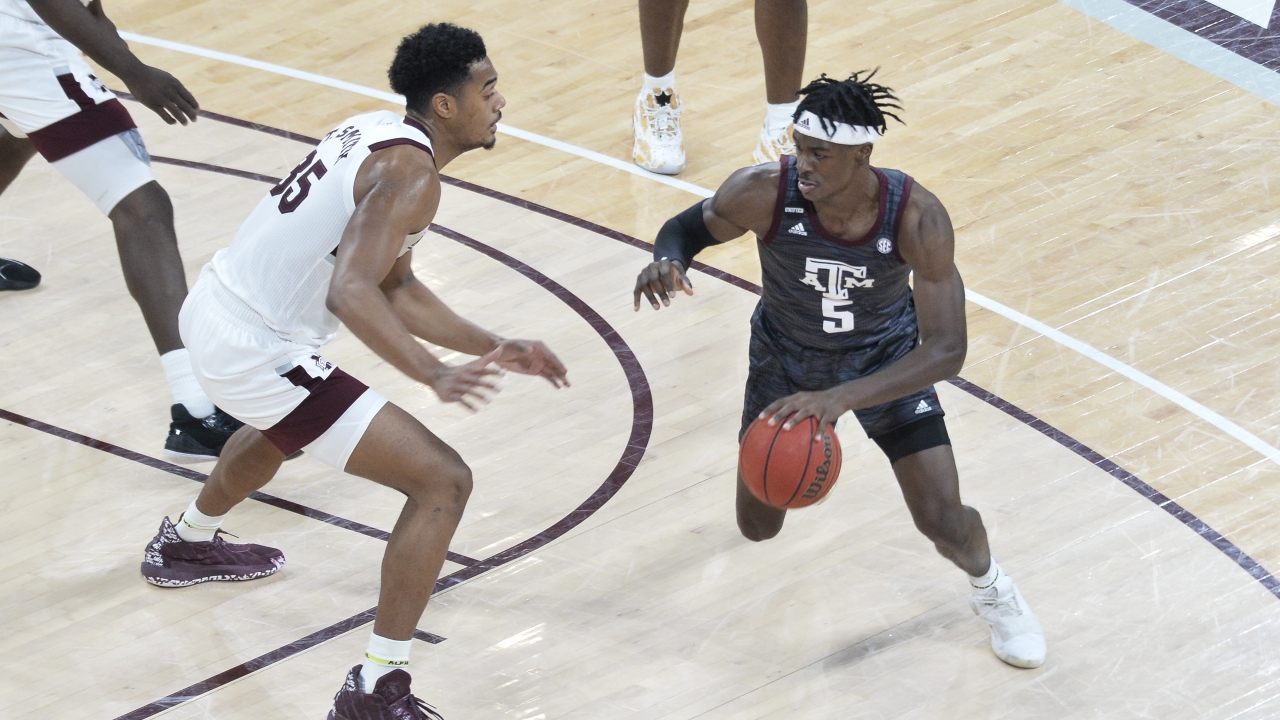 Buzz Williams
Andre Gordon
Jay Jay Chandler
Texas A&M Basketball
Aggies erase double-digit deficit to earn hard-fought victory in Starkville
---
A marvelous second-half defensive effort and some clutch plays on the offensive end enabled Texas A&M to rally for a stunning 56-55 Southeastern Conference basketball victory over Mississippi State in Starkville on Wednesday night.
The Aggies (7-4, 2-3) rallied from a 13-point second-half deficit and took a 56-52 lead on back-to-back spectacular baskets by sophomore guard Andre Gordon in the waning minutes.
Later, trying to protect a one-point margin, sophomore forward Emanuel Miller deflected a Mississippi State pass out of bounds as time expired.
"I thought it was the most together we have played relative to the recipe that is required of us for it to be a game."
"I thought it was the most together we have played relative to the recipe that is required of us for it to be a game," Texas A&M coach Buzz Williams said. "We scored 56 points, and that's our average."
Williams noted that Mississippi State (8-5, 3-2) dominated the boards and scored eight second-chance points en route to taking a 33-22 halftime lead.
"The only way you can overcome it is having the spirit of fight and togetherness — all the coach cliché words — that will at least give you a chance," Williams said. "And it at least gave us a chance because we knew it was our only choice."
It was an unlikely victory for the Aggies, who were led by Jay Jay Chandler scored 12 points, Gordon with 11 and Miller with 10.
However, A&M's most impressive effort was on the defensive end, limiting Mississippi State to just 34.8 percent shooting.
Mississippi State had won five of its previous six games. The Bulldogs appeared on the way to another victory when holding a 40-27 lead following an Abdul Ado dunk with 17:28 to play.
Instead, freshman guard Hassan Diarra scored a layup to ignite a game-tying 13-0 run.
The Aggies were exceptional on the defensive end in the comeback.
In the second half, they forced eight turnovers and gave up just 11 rebounds. Mississippi State guard Iverson Molinar scored just four of his game-high 16 points in the final 20 minutes.
"We just went out there and kept fighting," Chandler said. "We know every game is going to come down to who wants it more. So we just all came together and pulled out the win."
Mississippi State was able to reclaim a 50-44 lead on a Tolu Smith put-back with just over five minutes left.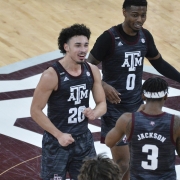 Matt Bush-USA TODAY Sports
Again, the Aggies rallied with a 9-2 run. They took a 53-52 lead with 2:38 to go when Gordon dunked an alley-oop pass from Savion Flagg.
"We actually called the play a couple of times in the first half, but it wasn't open," Gordon said. "We just kind of clicked. We had Savion in the right position. We had where we needed everyone to be. It worked out for us at the end of the game.
"I think it brought momentum. You get a dunk on the other end, it gets the defense hyped up. More momentum towards the end of the game, especially with a low clock. I think it helped us out in that sense."
Gordon followed that with a top-of-the-key 3-pointer to put A&M in front 56-52 with 1:52 left.
But nothing comes easy for the Aggies.
Mississippi State pulled within 56-55. An A&M shot clock violation with 6.1 seconds remaining gave the Bulldogs a final chance to avoid an upset.
The Bulldogs inbounded the basketball from their baseline to guard D.J. Stewart, who was slowed down by Chandler and Flagg.
He managed to get the ball past mid-court with a pass to Deivon Smith. But with time quickly running out, Deivon Smith tried to rush a pass to Tolu Smith, who was breaking to the basket.
Instead, Miller knocked the pass away to clinch A&M's second conference victory.
The rally and defensive effort was reminiscent of last season when the Aggies got off to a slow start in SEC play but closed by winning five of their last seven games.
"I hope that tonight's second half will be an acceptance similar to what our team did last year," Williams said. "They finally accepted what the margin was, and they said this is the only way it's going to work."
Never miss the latest news from TexAgs!
Join our free email list