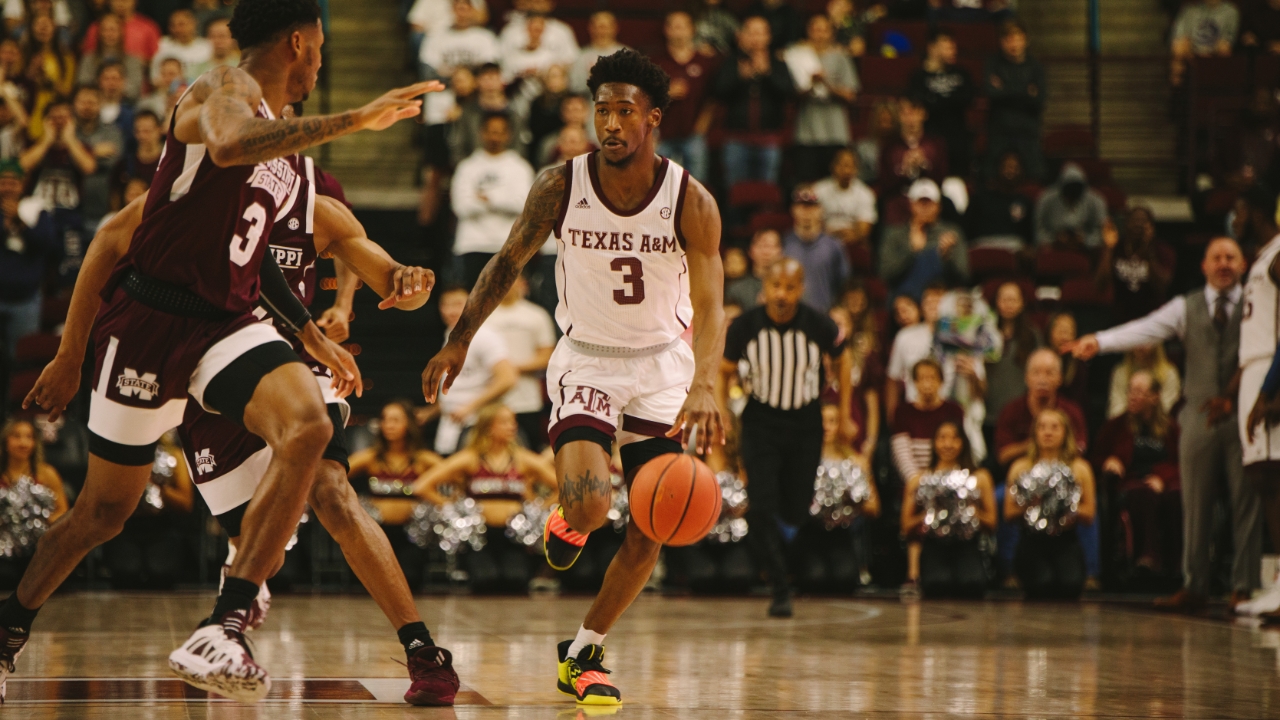 Photo by Rey Romo, TexAgs
Texas A&M Basketball
Improving scoring output imperative for Texas A&M vs. Mississippi State
---
Aim for 56.
Perhaps that modest total should be the goal when Texas A&M travels to face Mississippi State in a Southeastern Conference basketball clash on Wednesday at 8 p.m.
The Aggies (6-4, 1-3) have been limited to 55 points or in all of their four losses. Therefore, at the very minimum, they should be aiming for 56 points.
Unfortunately, aim hasn't been an asset.
In SEC play, the Aggies are shooting 37.9 percent (79 of 208) from the field. Improving that accuracy is vital against Mississippi State, which has scored at least 78 points in seven of its last eight games.
A&M coach Buzz Williams said getting more consistent in games will require more consistency in practice.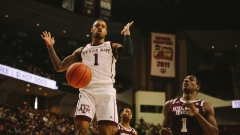 Rey Romo, TexAgs
"We've got to get to the point where there is consistency from us in regards to what we're trying to do each day, not just on game day," Williams said following a 68-54 loss to No. 10 Tennessee on Saturday. "But if we can find some consistency in what we do on non-game days, I think there will be a translation at a higher rate on game days."
The Aggies could be encouraged that senior guard Savion Flagg broke out of a shooting slump against Tennessee, hitting four shots behind the arc for 12 points.
Continued progress at the perimeter is desperately needed to ease the pressure on 6-foot-7 forward Emanuel Miller.
Miller leads the Aggies with a 17.3 scoring average. But as opponents recognize A&M's dependency on him, defenses will be adjusted to minimize his impact.
He managed just eight points in the loss to Tennessee. That was the first time this season Miller failed to score in double figures.
He could face difficulty inside against Mississippi State, which has a significant height advantage in the post.
Forward Abdul Ado, a 6-foot-11 sophomore, is among the SEC leaders in blocked shots. Tolu Smith, a 6-foot-10 sophomore, isn't far behind.
Smith averages 13.2 points and 8.8 rebounds to lead the Bulldogs inside.
However, most of their scoring comes from guards Iverson Molinar, who averages 19.2 points, and D.J. Stewart, who averages 18.6.
Molinar has scored 20 points or more in three of the Bulldogs' last four games. Stewart has been in double figures all season.
Containing them will be among A&M's top goals. That, and scoring more than 55 points.
Never miss the latest news from TexAgs!
Join our free email list
PRESENTED BY