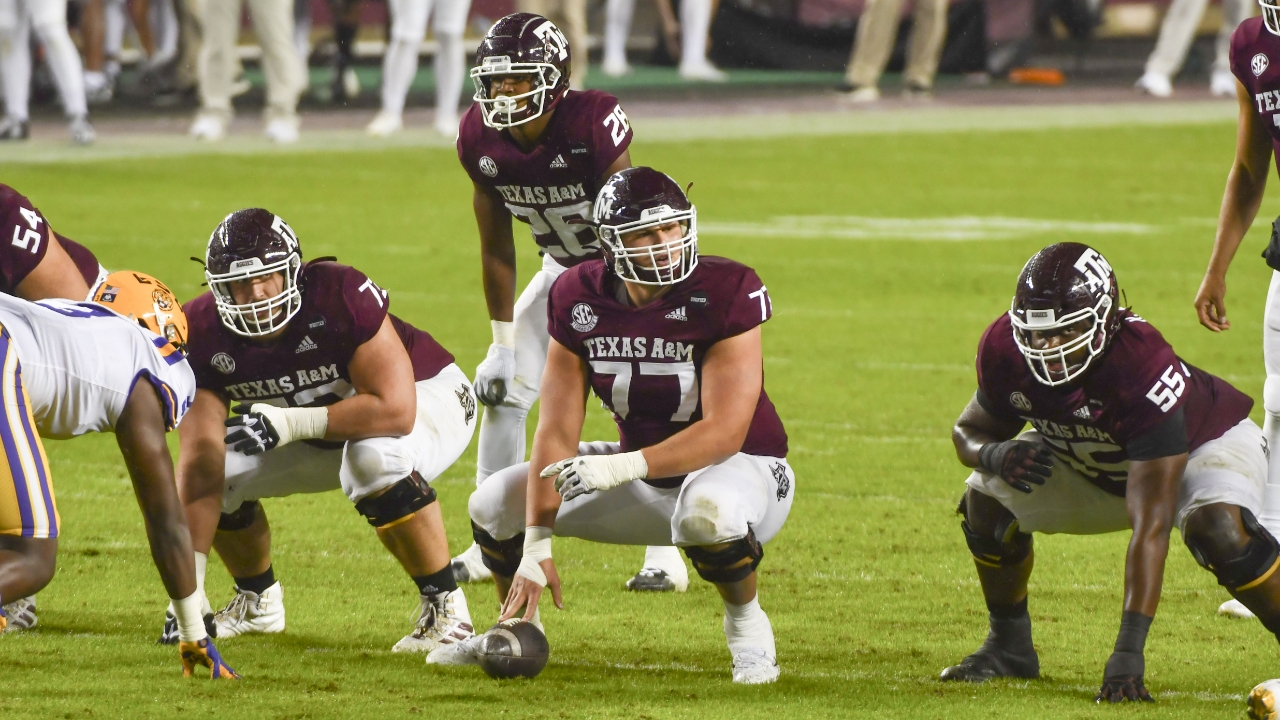 Photo by Lia Musgrave, TexAgs
Texas A&M Football
Blocking out the clutter: Fisher, Aggies insist their focus is beating Tennessee
---
Blocking continues to be stressed by Texas A&M football coach Jimbo Fisher.
It's just no longer is limited to upcoming opponents.
A game against Tennessee remains on the schedule. Therefore, Fisher has instructed the No. 5 Aggies to block out any thoughts or discussions about getting into the four-team College Football Playoff field.
Proponents say the Aggies (7-1) deserve a spot in the field because they've beaten highly-ranked Florida, defeated their last five opponents by double figures, and their only loss was to No. 1 Alabama in the second game of the season.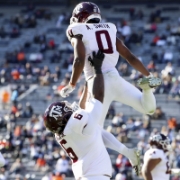 Craig Bisacre/Texas A&M Athletics
Detractors argue the Aggies haven't been dominant enough.
To remain in the discussion, the Aggies must beat Tennessee (3-6) on Saturday and then hope for help to get into the playoff. They likely need Notre Dame to defeat Clemson in the ACC championship game or Ohio State to lose to Northwestern in the Big Ten championship game.
However, Fisher made it clear he doesn't want the Aggies thinking about anything except playing well against the Volunteers.
"Listen. What do you do in the postseason depends on what you do in-season, and the season's not over," Fisher said on Monday. "We need to play well and prepare well, and we'll handle our business.
"You control where you're going to go based on what you do. Our guys have done a really good job of eliminating the clutter and blocking it out."
That's not easily done. Whether A&M is deserving of a place in the field ahead is a hot topic of debate in both the local and national media.
Fisher has preached that those conversations are counter-productive. He has even said they're toxic.
"They're all poison because they don't help you," Fisher said. "What helps is how you practice, how you play, and how you prepare. That's what it's got to get down to, and I think we've done that all year.
"Hopefully, we'll do it one more time. We've done a really good job of that this season. The maturity of our team has allowed us to do that."
The Aggies appear to have gotten Fisher's message loud and clear.
"They're all poison because they don't help you. What helps is how you practice, how you play, and how you prepare."
"We just worry about practice today," star sophomore running back Isaiah Spiller said. "Coach Fisher told us not to worry about (playoff discussions). That's just all noise. That's all the clutter. We're really knocking out the clutter and just focusing on us as a team and keep playing every week."
Sophomore guard Kenyon Green concurred.
"(We) focus on each week. We have Tennessee this week, so that's who we're focused on," Green said. "Playoffs would come with us, you know, dominating each week like we should."
When asked if A&M was a playoff team, Green refused to take the bait.
"No comment," he said.
They've learned well. Fisher indicated he'd comment at the appropriate time: After the season is completed.
Only then would he consider arguing A&M's case to the CFP selection committee.
"After the season's over, if we're in position to be able to do that, we'll make our own comments and do the things we do," Fisher said. "But the folks on that committee know what they're doing and how they're doing it. All the lobbying becomes good social media (talk), but I don't know how much it really works when you get right down to it.
"We have to take care of what we can with our play on the field and give them a good argument. If we need to make an argument, we need to make an argument about how we play, not by what we say."
Notes: Fisher said starting sophomore safety Demani Richardson was back at practice. Richardson had an undisclosed injury and did not play in the Aggies' 31-20 victory over Auburn on Dec. 12.
Fisher also confirmed that freshman receiver Demond Demas will be at practice this week.
Never miss the latest news from TexAgs!
Join our free email list
PRESENTED BY