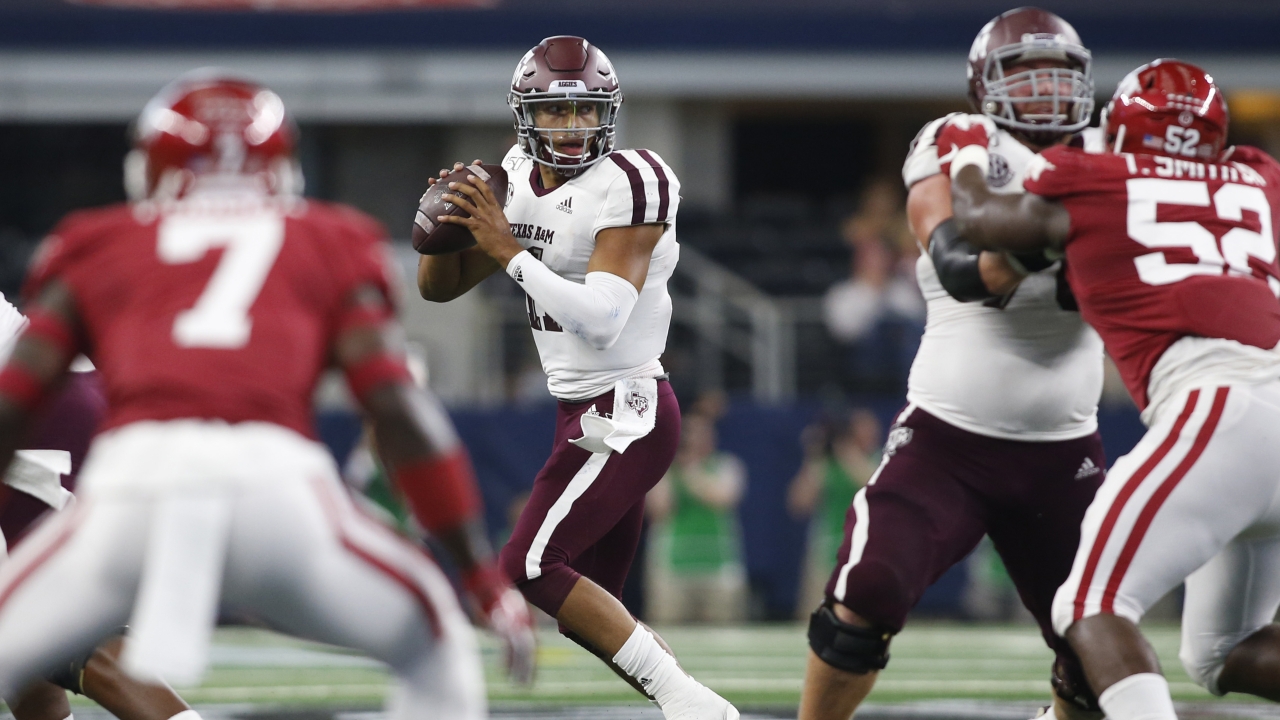 Photo by Tim Heitman-USA TODAY Sports
Texas A&M Football
Ball-hawking Hogs defense heightens risk for Mond, A&M passing game
---
Some say it was former Texas coach Darrell Royal who uttered the famous quote: "Three things can happen when you pass, and two of them are bad."
Others attribute it to former Ohio State coach Woody Hayes. Still, others contend that the quote goes back to legendary Tennessee coach Robert Neyland.
Who said it doesn't really matter. The point is clear. Incompletions are an annoyance. Interceptions are abhorrent.
Passing can be risky, especially against the Arkansas Razorbacks, who visit Kyle Field on Saturday night.
Arkansas leads the nation with 10 interceptions. Three of those were returned for touchdowns. Defensive back Greg Brooks had a pick-six in a 21-14 victory over Mississippi State. Jalen Catalon and Grant Morgan returned interceptions for touchdowns in a 33-21 victory over Ole Miss.
"These guys play the ball well. They see the ball with their eyes very well. They see the quarterback very well. They understand routes. They match routes."
"These guys play the ball well. They see the ball with their eyes very well," A&M coach Jimbo Fisher said of the Razorbacks. "They see the quarterback very well. They understand routes. They match routes."
But not always. The Razorbacks managed just one interception for no yardage in a loss to Georgia. They had no interceptions in a loss to Auburn.
The trend is rather obvious. Arkansas, which also has claimed three fumbles, wins when reaping turnovers.
Avoid turnovers. Avoid an upset.
That's typically the case in any football game. The teams ranked among the top 20 in turnover margin last season averaged 9.1 wins. The bottom 20 averaged 4.4 wins.
The importance of turnovers cannot be over-stressed. But does stressing them in practice this week put too much stress on A&M quarterback Kellen Mond? Sure, Fisher wants Mond to be careful, but he doesn't want Mond playing tight or fearful.
Besides, Arkansas has a history of generating turnovers against A&M. They haven't beaten the Aggies lately, but turnovers have resulted in A&M victories being much closer than necessary.
In last year's 31-27 A&M victory, an Isaiah Spiller fumble was returned for an Arkansas touchdown, and a Mond pass into the end zone was intercepted.
The Aggies' 24-17 win in 2018 wouldn't have been that close if not for Arkansas linebacker Dre Greenlaw intercepting two Mond passes.
The Aggies had to rally for a 50-43 overtime win in 2017. An interception by Henre' Toliver led to Arkansas taking an early 21-7 lead.
Does Fisher remind Mond of those close calls?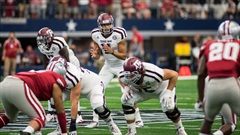 Alex Parker, TexAgs
"You don't scare a guy, but you've got to make them aware of what that team does, how they play, what they play him, why they're having success on the plays and which (plays) they're having that (success) on," Fisher said.
Mond said he's gotten Fisher's message about the Pigs' propensity to pick off passes.
"It's something to always be aware of," Mond said. "But, you know, it's nothing that scares me. I think coach Fisher does a phenomenal job of game-planning within the week.
"You know, understanding or having an idea of what type of defense they're going to be in and calling the game aggressively, but also with great intelligence."
That could mean relying heavily on the running game and high-percentage passes.
Running back Isaiah Spiller has exceeded 100 rushing yards in three of the Aggies' four games. He figures to be used extensively against an Arkansas defense that has allowed 501 rushing yards in the last two games.
The Aggies could complement Spiller's running with dink and dunk passes to Ainias Smith, Chase Lane and Jalen Wydermyer.
When Arkansas becomes overly preoccupied with A&M's running game and short passes, then — and maybe only then — might Mond throw deep against the opportunistic Razorbacks secondary.
That approach seems simplistic. Maybe even ancient. Perhaps, Fisher will ignore that plan and opt for something more modern.
But it's a plan Royal, Hayes and Neyland would have used.
Never miss the latest news from TexAgs!
Join our free email list
PRESENTED BY