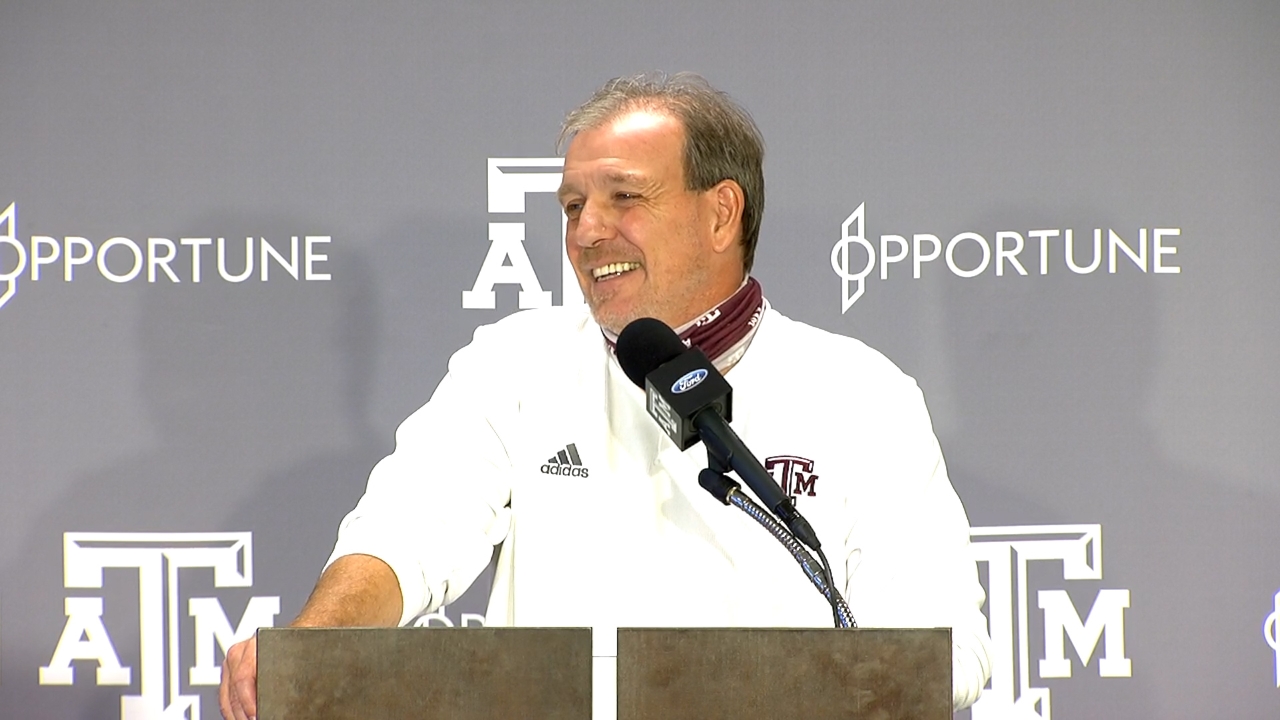 Jimbo Fisher
Kellen Mond
Dan Moore
Texas A&M Football
Press Conference: Fisher, Aggies feel improved following bye, ready for Arkansas
---
Arkansas seems to always give the Aggies fits, and this year, the Razorbacks are much improved. Jimbo Fisher, Kellen Mond and Dan Moore spoke to the media ahead of No. 8 Texas A&M's contest with the Razorbacks on Saturday at Kyle Field.
Video courtesy of Texas A&M Athletics.
---
The following are live, paraphrased notes from head coach Jimbo Fisher's media availability on Monday.
Our team worked very hard in the off week. We worked on a bunch of fundamental work and getting better. We worked on drills with our younger players. We have prepared for Arkansas and other upcoming future opponents. We worked on ourselves, and that was a big part of our off week. We had a good week, and the guys worked very hard.

I think Arkansas competes extremely hard. They compliment each other. They've created 13 turnovers on defense. They have been extremely opportunistic as a football team and play together extremely well.

Any time you play in Kyle Field, it's great. It was a good opportunity to go up there and play in front of the fans in Arlington too. It's unique to have those games like that. It's helpful to have those neutral site games, but it's a great thing to be able to play at home.

I've known of Sam Pittman for a long time as an offensive line coach. He's a good coach. I wouldn't say we're good friends, but I have talked to him a few times. He's done a fantastic job as a head coach.

On Nik Constantinou: We had talked to all kinds of people and people in Australia. You have connections all over the world. They sent some tapes because they knew we were in the hunt for a punter because that's a popular thing. We liked him and we trusted these people. It went from there. He is phenomenal. He works his tail off. He is a workaholic. He's in the weight room or kicking by himself 24/7. He's a tremendous student and our players love him. He is ingrained into our program with every inch of his body and his mind.

You always have those games like it seems we do with Arkansas. You do get used to playing somebody because you want to beat them. Arkansas and A&M have played each other for so many years and it means so much to the alums that the teams play tough. I've had games like there everywhere I've been. It's just the way it is.

Here's the thing about fans: I know they bring energy, but I've never seen one of them get on the field. I do believe bringing the energy and atmosphere gives you an advantage. It's always harder to win on the road. It doesn't matter if the stands are full or empty.

We might see Erick Young and Hez Jones this week. They're healing well. We'll see how they do in practice.

Aaron Hansford's size, speed and athleticism worked at linebacker. He was a good tight end, but we felt he could be a good linebacker. I am not surprised by his success at linebacker. He is a very talented young man.

The team understands that a lot needs to be done. They understand there is room to get better and that we need to work. They went into this off week with that attitude.

We'll wait and see what changes we make to the starting lineup. I don't anticipate any, but we'll have to see how it goes with practice. We'll see how it goes with our individuals each and every day.

You make your guys aware of what the opponent does well. Arkansas sees the quarterback and read them well. You have to be aware of why they're having success so we can counter that.

I think Arkansas is playing very hard. They're diverse on defense. Their linebackers are very active and play the ball well. Offensively, they're very athletic. They have different guys across the board at receiver. Their running backs are good. Feleipe Franks has a cannon and can get the ball verticle. He makes a lot of plays. They also believe that they're playing well. You have to beat this team. They're not going to give you anything.

I don't think there is any doubt that Sam Pittman's personality fits Arkansas. I do think there are fits for different jobs, not that guys or schools can't adjust. It seems to be working well for Sam. The belief, style of play, and the way the school recruits play into that fits. There are zillions of reasons as to why guys fit into jobs.

We were inconsistent in the passing game, but we still made big plays. We have to catch the ball and create yards after the catch.

If you see something that you like that people do, you're going to add it. You don't change drastically. You change stuff that'll create big plays for you. You always look to see if there's something there that can help you win a game.

Offensive line is a huge part of a team's identity. All the great teams I've been part of, the lines have been exceptional. There's skill guys that stand out, but they're performing for a reason. I think guys up front who buy in to everything you need to do and the toughness helps. It's technique. It's angles. It's hand and hat placement. It's hard. Time: maturity. Leadership up front helps.

I think the younger guys, the better they play, the more they'll get on the field. They'll have to help us in the future.

I don't really pay attention to what's going on in the rest of the conference. I'm worried about our own little world. We're worried about how we practice and how we play. I don't get into hypotheticals and what's down the road. I always say that you got to be where your feet are.

I'm sure Alabama will adapt. They have a bunch of other players on that team. I'm sure they'll adjust very well.

Hansford battled very well with Anthony Hines. We felt very comfortable about him playing and rotating with Anthony. We're very pleased with his progress.
Never miss the latest news from TexAgs!
Join our free email list