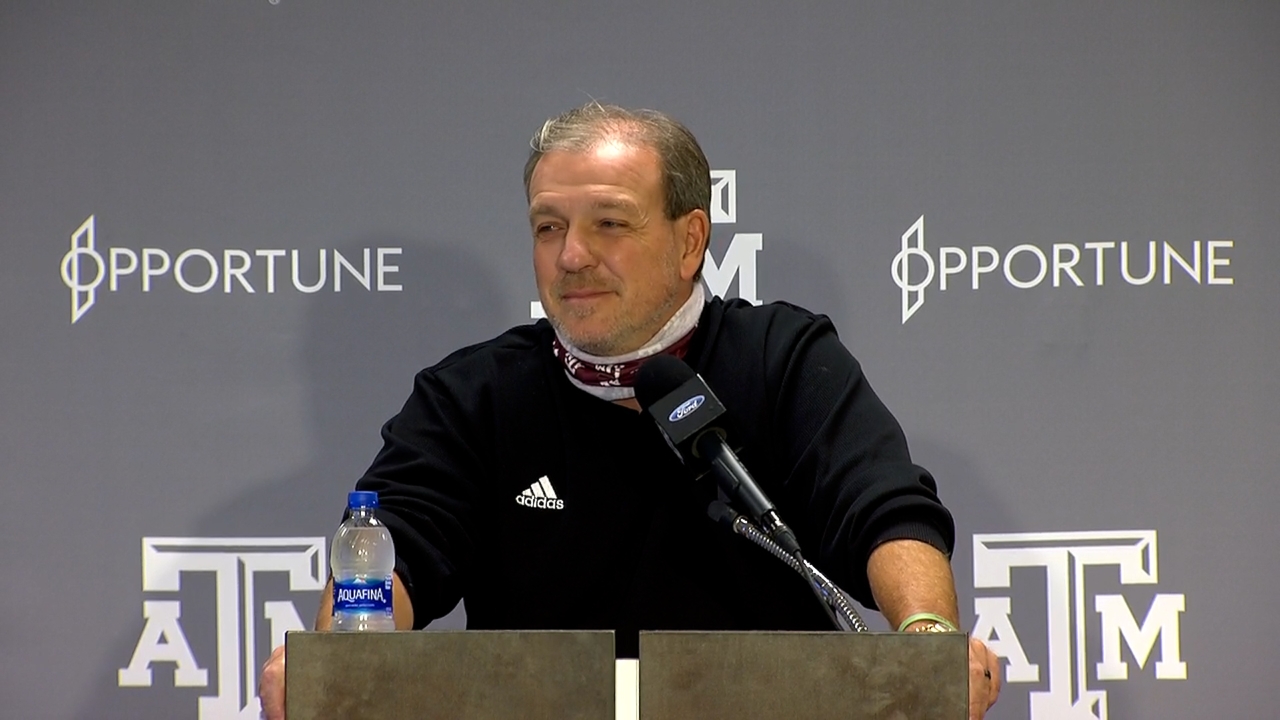 Texas A&M Football
Press Conference: Fisher focused on working on the team during the bye
---
No. 7 Texas A&M has the week off following a 3-1 start to 2020, but Jimbo Fisher is far from satisfied. The Aggies' head man spoke to the media on Monday to discuss what he and the coaching staff will focus on during A&M's bye week.
Video courtesy of Texas A&M Athletics.
---
The following are live, paraphrased notes from head coach Jimbo Fisher's press conference on Monday.
After evaluating the film, I'm very proud of our team. We played well on the road. It's tough to get a win on the road in the SEC. We followed up a so-called "big" win. We have some consistency. We are close to the team we need to be, but we're still a work in progress. Our defense did a great job in the game. We got some pressures and still leveraged the football in the secondary very well. We tackled well. We didn't miss many tackles. Overall, our defense played a great football game. We got a couple of turnovers. Myles Jones had an interception in the end zone. Peevy had one as well. We blocked a punt too. We had a couple of nice punt returns as well. We punted the ball well too. Offensively, I don't think any group played well. I don't think they played poorly, but we could be better in all facets. We have to do some things better. We answered up a big drive and hit a couple of big plays to answer back. We have a lot of room to improve. This off week, we have to get better and get healthy. There are some bumps and bruises, but nothing major. We have to play one game at a time after this because that is the kind of football team we are.

I'd work on the team this week. The overall knowledge of how to play and compete in the game. We can't give people hope, and we have to take advantage of every opportunity we have.

You got to have joy, but make sure you don't have too much that you can't get lined up with all of the no-huddle we play today. The guys work too hard not to have some emotion. Showing emotion is good, but being emotional is bad. You have to try to be smart. It's hard to tell guys not to enjoy making a play. The rigors of playing football are tough, but you have to keep it in temperament. Bobby's thing was a freak thing, but he should be fine. He didn't feel like he could go in the game, but he should be able to go next week.

Whether it's pressure or run stopping, we have to have the defensive line play well. We got pressure and had six sacks in the game. Our defensive line can be a very good strength for our football team.

DeMarvin Leal has the ability to go in or out. He's athletic. He's a unique football player and a guy I think will be a good player for a long time. McKinnley Jackson is the same way. They have great football minds and love ball. They love everything that goes with ball. How many guys truly love everything that goes with it? Lord willing, they stay healthy, and they'll play this game for a long time.

Isaiah Spiller should be good to go.

We got to get better. There's lots of room for improvement at receiver, but they're getting better, and they're learning. We only see what guys do with the ball in their hands. Most of what they do isn't seen. We still have to get better at that position and every position to go where we need to go.

We're going to have to keep developing our guys because we have six big SEC games. We need depth, and some guys are ready to go. I hope we get better this week, and our young guys get ready to go.

Our linebackers have played solid. They're getting better. They tackled well. We need to do better and continue to grow. They're very athletics, and they're good guys. Our team is a work in progress.

To me, Jayden's success has started in the offseason. I expected Jayden to have a good year. I think his offseason was the best one he's had. He has had a total commitment. He has been tremendous in the offseason. It's hard not to have success when you invest that much.

We have to have a balance on offense. Again, I don't think we played great. I don't want to throw it, and I don't want to run it. I want to do both. We're learning to run when we have to run it. That's the mark of a good football game. We have been able to run the clock down. We're learning how to run in different ways and different forms, but we're also learning how to pass it. There is still a lot of yards that we're leaving on the field.

Hopefully, we're molding our identity, but we're still not playing close to our capabilities. I want to be relentless in how we compete and what we do. We need to stay in games and make critical plays in critical moments. Hopefully, we're in the process of progressing.

It's all garbage. It's all poison. We need to worry about getting better this week and then go play Arkansas after that. You can't believe the poison that's out there, whether it's good, bad or indifferent. You have to worry about how you play.

We're going to coach our team and get better and prepare for the upcoming team and the games down the road. We'll stay on recruiting like we have all year, doing all of the things we've done all year.

You can't stop the players from going and doing. I can't stop them. You hope they're smart. How can you stop them from seeing their families? It's no different than when their families come for games. You hope they're smart and only being around people that have been tested and are following protocols.

If I can, I'll be with the family. I may watch some football, but we'll go out in the country, maybe to some hunting or stuff like that. I'll spend time with the boys and Courtney.

Chase Lane is learning how to play, and he has a lot of ability. He's getting better each week and becoming a bigger piece in our offense.

Isaiah Spiller has learned to play, and we're blocking well. He's running well, but I think he's leaving yards out there too. He's learned a lot since he was a freshman. He's learning to chip, block and run routes well. Ainias Smith is running the ball well, too. Isaiah is growing and learning how to be a one-cut guy and not dancing back there. The big runs come, but when they can run on those five-yard down-and-distances, that's what you love to see as a coach.
Never miss the latest news from TexAgs!
Join our free email list