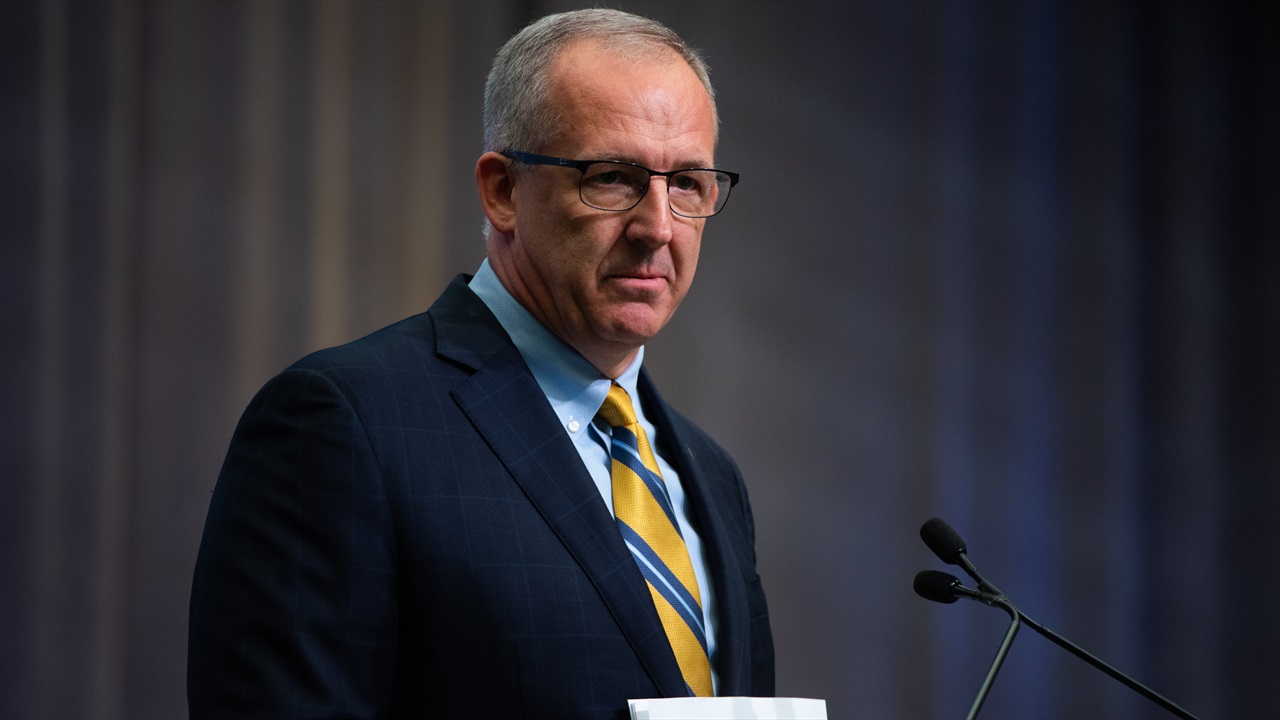 Photo by Hayden Hyde, TexAgs
SEC announces 10-game, conference-only schedule starting September 26
---
Southeastern Conference officials on Thursday afternoon approved a 10-game, conference only football season. The change will result in Texas A&M dropping four non-conference games but adding two additional SEC contests.
As Billy Liucci reported earlier Thursday, the start of the season, which remains in jeopardy because of the threat of the COVID-19 pandemic, is scheduled for the weekend of Sept. 26 and will conclude on the weekend of Dec. 5. The SEC Championship game will be held on Dec. 19.
"This new plan for a football schedule is consistent with the educational goals of our universities to allow for the safe and orderly return to campus of their student populations and to provide a healthy learning environment during these unique circumstances presented by the COVID-19 virus," SEC Commissioner Greg Sankey said. "This new schedule supports the safety measures that are being taken by each of our institutions to ensure the health of our campus communities."
Texas A&M Athletic Director Ross Bjork said in a statement he supports the SEC's new plan.
"This is the right decision for the SEC, our athletics program, and most importantly the well-being of our student-athletes," Bjork said. "Given the evolving nature of the current health challenge and the potential variables our University faces when thousands of students return to College Station, we believe a late September start for college football gives our students, student-athletes, staff, coaches, and university community the safest environment possible. An 'SEC-only' schedule gives us clarity, hope, and optimism as we approach the weeks and months ahead."
The SEC is following the lead of the Big Ten and Pac-12 conferences, which previously announced the cancelation of all non-conference football games.
Consequently, traditional regular season-ending SEC-ACC rivalry games — including Florida-Florida State, Georgia-Georgia Tech, South Carolina-Clemson and Kentucky-Louisville — have been eliminated this year.
Sankey expressed disappointment at the loss of non-conference games but emphasized the need for flexibility as another reason for the change.
"We believe these schedule adjustments offer the best opportunity to complete a full season by giving us the ability to adapt to the fluid nature of the virus and the flexibility to adjust schedules as necessary if disruptions occur," Sankey said. "It is regrettable that some of our traditional non-conference rivalries cannot take place in 2020 under this plan, but these are unique, and hopefully temporary, circumstances that call for unconventional measures."
The 14 SEC teams, which are divided into West and East Divisions, typically play 12-game schedules. The schedules consist of four non-conference games, six divisional games and two inter-divisional games, including one against an annual opponent.
Teams will still face the opponents on their 2020 schedule, but two more inter-divisional games will be added.
Texas A&M had already lost a Sept. 19 game against Colorado when the Pac-12 announced it was going to a conference-only schedule. The Aggies also figured to lose an Oct. 10 game against Fresno State.
Until the SEC's current plan was announced, A&M was still planning to face Abilene Christian on Sept. 5 and North Texas on Sept. 12 at Kyle Field.
However, there had been speculation A&M would substitute Colorado on the schedule with BYU, TCU or Texas Tech.
Instead, the Aggies open the season on Sept. 26 against Arkansas. That game was initially slated to be played at AT&T Stadium in Arlington but is expected to be moved to Kyle Field. A&M was scheduled to be the designated home team if the game was played in Arlington.
"In the near term, we will be releasing specific details of our Kyle Field capacity plan that follow Governor Abbott's executive orders, and will provide options for season ticket holders, students, and fans so they can experience Texas A&M and SEC football in 2020," Bjork added. "We will also work with the University of Arkansas and officials at AT&T Stadium to officially move our game to Kyle Field since we are the designated home team for this season."
The Aggies also have games at Kyle Field against Ole Miss on Nov. 7, Vanderbilt on Nov. 14 and LSU on Nov. 28. A&M's road games are at Mississippi State on Oct. 3, at Auburn on Oct. 17, at South Carolina on Oct. 24 and at Alabama on Nov. 21.
Never miss the latest news from TexAgs!
Join our free email list
PRESENTED BY