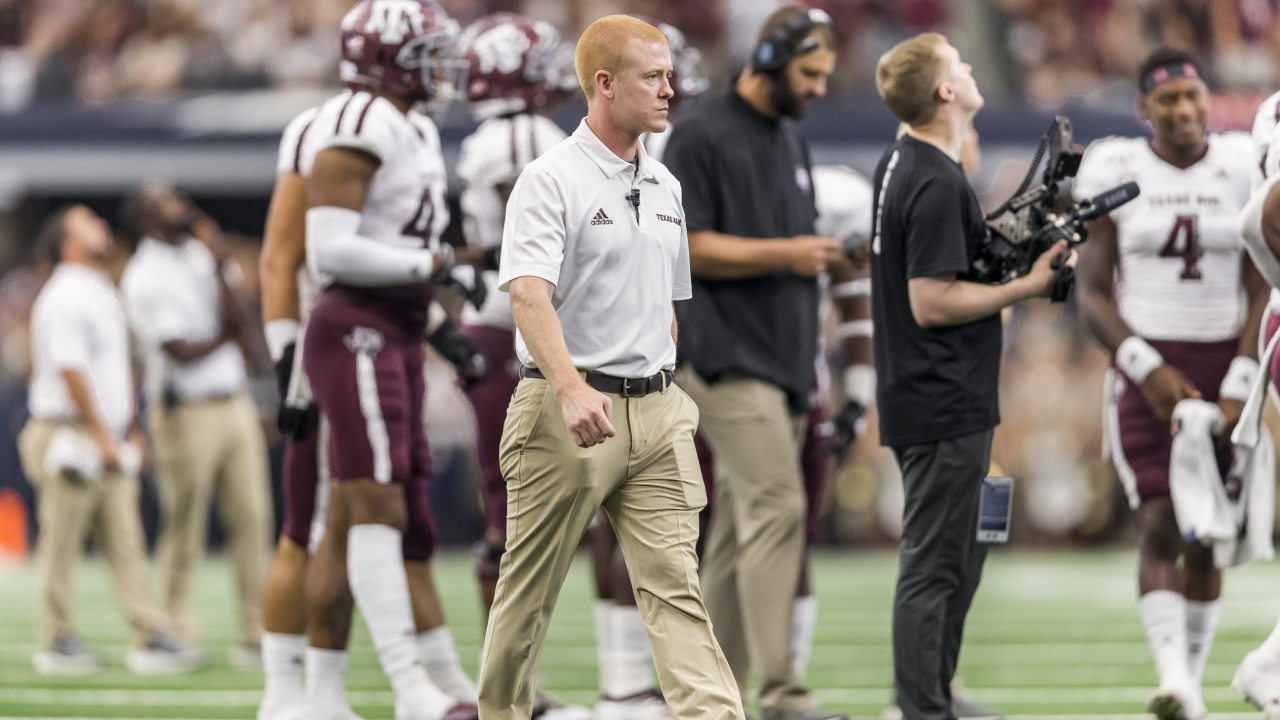 Photo by Craig Bisacre/Texas A&M Athletics
Texas A&M Football
Dan Jacobi, A&M training staff, constantly evolving in ever-changing world
---
Key notes from Dan Jacobi interview
It's been very different for all of us. We're trying to do our best and keep our athletes up to date in a completely different setting than we're all used to.

Fortunately, we have a great staff of athletic trainers. Each sport has its own trainer. My job is to pass along relevant information so it can be passed along. Our athletes have had a lot of questions, and we've had to differentiate between fact and function, so we've been trying to sift through what is real and what has been hyped, for lack of a better term.

It's a constantly evolving message from the top down. Our message has tried to stay consistent with the guidelines that are always changing.

Up until a few weeks ago, we were still trying to cooperate on campus, but as local ordinances changed, we felt the need to adapt as well. There are still a few athletes on campus that are receiving hands-on care. They're at the point in their rehab in which not receiving treatment would be a detriment to them. We have a lot of software that we can use to assign exercises to others who are rehabbing from home, and we can even oversee them and tend to them to make sure it is being done correctly. We can still do that, and it has been a huge advantage for all of us.

Everyone handles it differently, but all of our athletes are competitive, so even when they're facing adversity, they handle it exceptionally well and are very resilient.

The long break is so different from the breaks we're used to, like spring breaks and summer breaks. Whether they're here or not, they've always had access to workout equipment, whether it be at a high school or nearby gym, but now across the nation, everything is closed down. The athletes coming back will be different than we're used to seeing, and we have to be prepared for that.

It's going to be a very collaborative effort to get all of our players back. There's going to be more of a template to go off of from the NCAA. We're in a great position here at A&M to gather objective data. We can take numbers to see where an athlete was at the end of their sport versus where they are now, so we can put them in the best position to be successful and bring them back to playing shape in the safest way possible.

I think if we were thinking of anything other than preparing to play, we would be caught off guard by things that are constantly changing, but that just means you need to have backup plans, and that's what most conversations are consisting of right now.

I'm incredibly excited to watch what Jimbo will be doing in the coming years. We see the players work out and practice just like everyone else, and the excitement around the program is palpable. I know these athletes are as ready to get back on the field as we are, and we will have them prepared for when that time comes.
Never miss the latest news from TexAgs!
Join our free email list