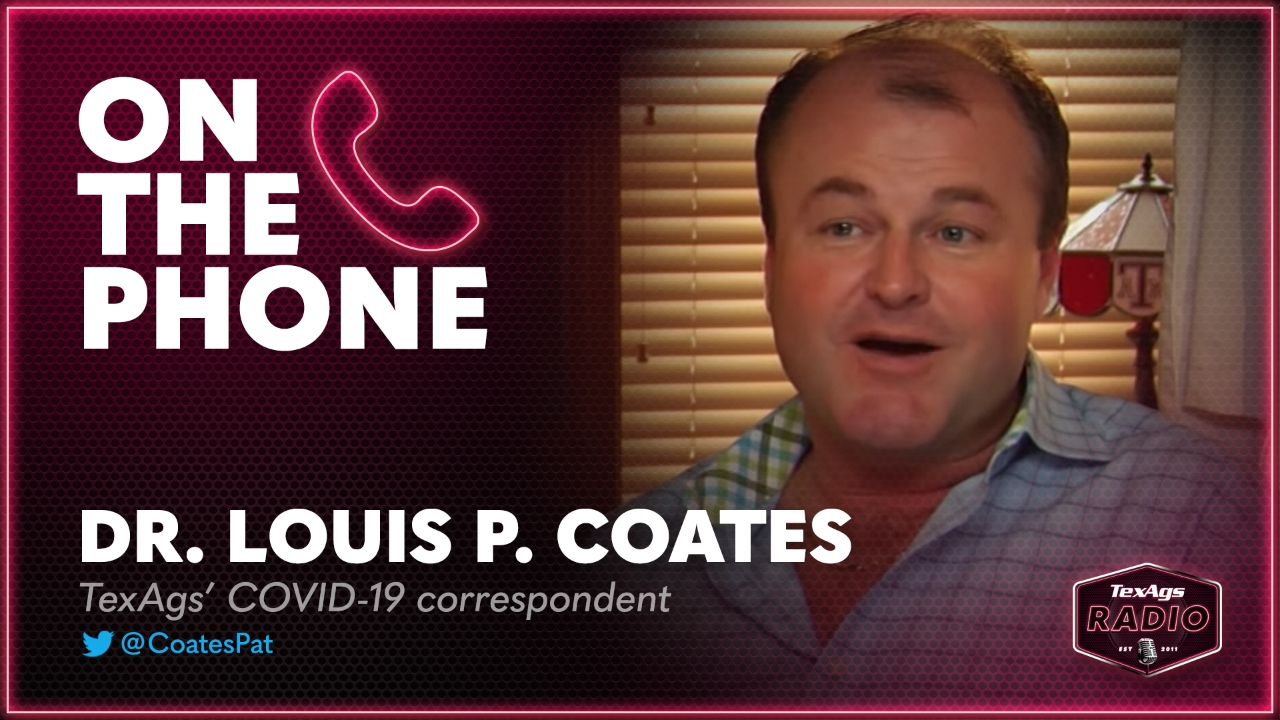 Coates: We're dealing with a different animal than we've ever seen
---
I listen to the GO Hour just about every day since y'all began. It's a staple here. I listen to other segments during breaks in between patients as well.

We're dealing with a different animal than we've ever seen in our lifetime in medicine. People like to compare this to the flu, but this thing is way more contagious than the flu. With the flu, people feel sick. This disease has 80% asymptomatic patients running around, living their lives normally. People are out in public without knowing they're sick. If you have a change in taste or smell, that's a sign you might have it. Stay up. The other 20% are becoming extremely sick. Those people need to be hospitalized, and we don't have the facilities for that. 7% of patients need ventilators. With the flu, there is a quick test. There isn't one of those yet, and there is no vaccine. With no vaccine available, everybody is at risk.

The other problem is that there is no clear treatment. We have some encouraging leads to some drugs for treatment. We need to start mass-producing those things to keep people out of hospitals, or we will be in a crisis.

In Texas, we're in a good place as far as numbers of cases. We're about two weeks behind New York, and we started isolating way before they did.

We, as scientists and doctors, are trying to find things out. People with Type A blood are getting it about 10% more than Type O blood.

Everybody out there needs to do what they can to strengthen their immune systems. Get your health up as high as you can get it. There are some vitamins that can help you as much as possible. These things are kind of experimental, but we're looking at how other viruses have attacked to get a better understanding of this.

Doctors have made all kinds of changes. In my office right now, we don't see potentially sick people until the afternoon. Even then, we're seeing a lot of people who might have coronavirus through telemedicine. We don't have our waiting rooms open anymore. Everyone waits in their car until it is there down. Our staff is all wearing masks now and taking extra precautions. I believe most offices around the state are doing similar things.

I really appreciate the State of Texas taking away a lot of restrictions around telemedicine. Luckily most of that stuff has been waved.

If we're going to prevent this from spreading like in other states, we have to make sure our patients are healthy, and their immune systems are as healthy as possible so they can fight this thing without going to their doctor's office.

We're starting to run out of certain drugs that can help people fight this thing. We have to find a way to produce these pills until we can develop a vaccine. I'm not talking millions of pills. I am talking hundreds of millions of pills.

A lot of vaccines take 5-7 years before they are approved, but they've cut through a lot of red tape, and maybe we're 12-18 months from a vaccine.

For 20 years, I have shaken every patient's hand. We're doing elbow bumps and all of that now instead.
Never miss the latest news from TexAgs!
Join our free email list