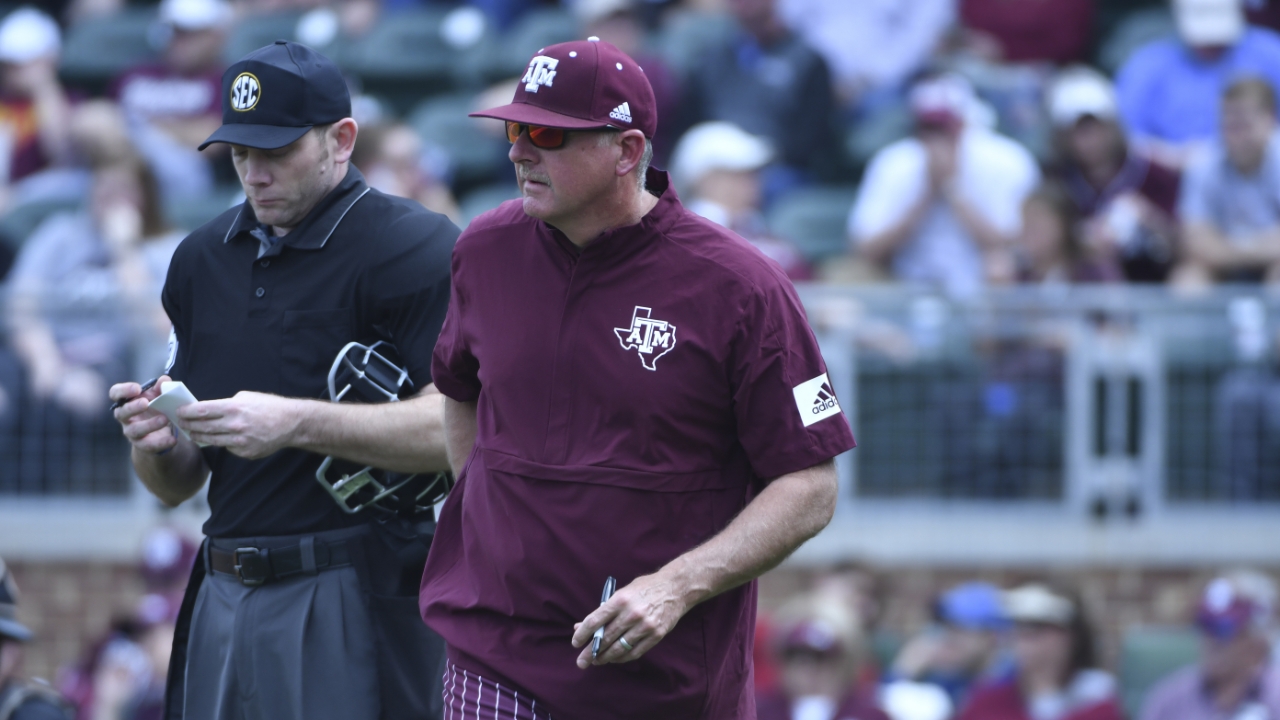 Photo by Tarah Cochran, TexAgs
Texas A&M Baseball
Rob Childress, Aggies ready for first SEC challenge on the road at Auburn
---
Key notes from Rob Childress interview
We certainly needed that performance this week to build some momentum. Very, very proud of our team.

Asa Lacy can ruin a weekend for a lot of hitters. He can take a lot of confidence from you. He executed all 100 pitches on Friday night. That can be frustrating for any group of hitters. Now we have to be focused on having a short memory – good or bad – so that we can handle what is coming next. Our guys were certainly, collectively, prepared for a guy like Nick Gonzales.

The thing that will continue Asa is the ability to execute pitches. The first ten picks are separated by whether or not guys are going to be starters or bullpen pieces. He's got a great arm and a wipeout, swing-and-miss pitch.

Really proud of Chandler Jozwiak and Bryce Miller. We had an extended sit down with both of those guys. They're both super talented, but we had to find a role for them to be successful. Joz coming out of the bullpen, it's a sprint, and he's on the attack. We don't win the game without his performances on Saturday. Bryce Miller has got to be what he was this weekend as a finisher. You're either the hero or the goat. I'm proud of how he bounced back.

Christian Roa has too much credit built up with me and with our program even to consider going with someone else on Saturday against Auburn. The second inning last weekend got away from him and from us. Those guys laid off of some good pitches, and then they got the benefits of some two-out hits. I am all in on Roa, and he will most definitely be in the two-hole for us against Auburn.

Austin Bost has been a great teammate. He's embraced his role. He wants to produce when he can. This success is because of that disposition. I'm really proud of him right now. He has certainly written his name in the lineup. I'm thankful for it because it's an excellent lesson for the rest of the guys in the clubhouse.

Zane Schmidt is the same way. We tell the guys all the time that if they don't like the role they have, they need to master it first. Those two guys are doing that and are impact players.

I'm encouraged by Moo Menefee's response from the strained oblique, coming in on Sunday and getting those two punchouts. Trevor Werner won't play tonight, but he's coming back. We should have him this weekend.

Rice hasn't played very well this year. They have let some games get away, so we know they're hungry for a win. We will start a fully rested Jonathan Childress, so we're looking forward to going out and throwing out the first blow.

This weekend against Auburn is going to be a great challenge. Great team, great atmosphere, and a great facility. It's not overly intimidating. We always seem to play well there since we've been in the SEC.
Never miss the latest news from TexAgs!
Join our free email list