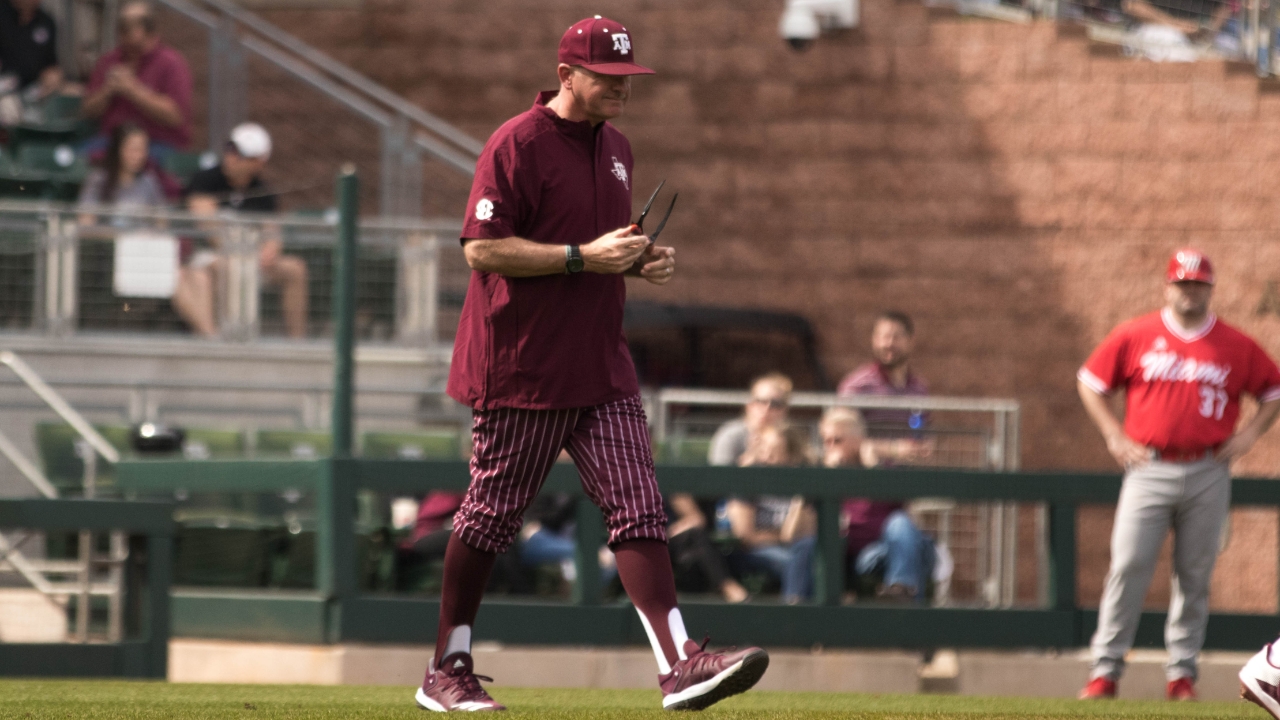 Photo by Angelina Alcantar, TexAgs
Texas A&M Baseball
Rob Childress details Opening Weekend sweep, team offensive approach
---
Key notes from Rob Childress interview
I was really proud of the way we prepared. It's hard to know where you are when all you have to go off of is what you see in scrimmages. Miami came in with a squad that won 37 games last year with most of their lineup coming back, and I was extremely impressed with how well our guys came in and played.

Our lineup was connected and grinding out at-bats all weekend long. We had nine hit-by-pitches, which is one of the most selfless things you can do as a hitter; staying in the box and taking one for the team to get on base. Great example: On Sunday, Logan Sartori hit a home run and gave us a 1-0 lead. With two outs and nothing going, Will Frizzell gets hit by pitch. Now with someone on base, they start pitching Hunter Coleman backward, and eventually, he gets into a 3-1 fastball count, and he hits a home run. Because of Frizzell taking one and getting on base, we end up with a 3-0 lead instead of 1-0.

Throughout the entire season last year, Frizzell would spend two hours in the training room just to be a DH for us, and he was in a tough position where he had to decide if he should undergo a surgery that could've possibly ended his career. There were only a few people that thought he could have come back from it, but he did everything he could do to get back here. Watching him play again and succeed makes us so proud to have him in our clubhouse.

It was unbelievable that Zach DeLoach wasn't the national player of the week, let alone the SEC Player of the Week. He's a great kid that works hard and is continuing what he did in the summer and fall, which is a huge addition to our team.

Each one of our starters did exactly what we expected from them. All three guys got us through six innings, and as we get deeper into the season and get their pitch counts higher, those guys will pitch deeper into games. They got us off to an incredible start over the weekend.

Dustin Saenz will go for us tonight against SFA. He has really picked up his slider, and he had a great fall showing for us. He's very similar to Chandler Jozwiak. He's been 93-94 mph, and we need to get him more innings and get his pitch count higher.

We hope to start Jonathan Childress on Wednesday's and build his pitch count. He's been doing well, and he's come back very nicely, but we want to make sure we get him out there when he's 100% and make sure he's someone we can rely on when we need him.

Army was a regional team last year and had a nice season last year, around 130 steals. We have to keep them off the bases. They opened up at Duke last week and lost two of three but gave Duke all they had. We'll certainly have another tough test this weekend.
Never miss the latest news from TexAgs!
Join our free email list