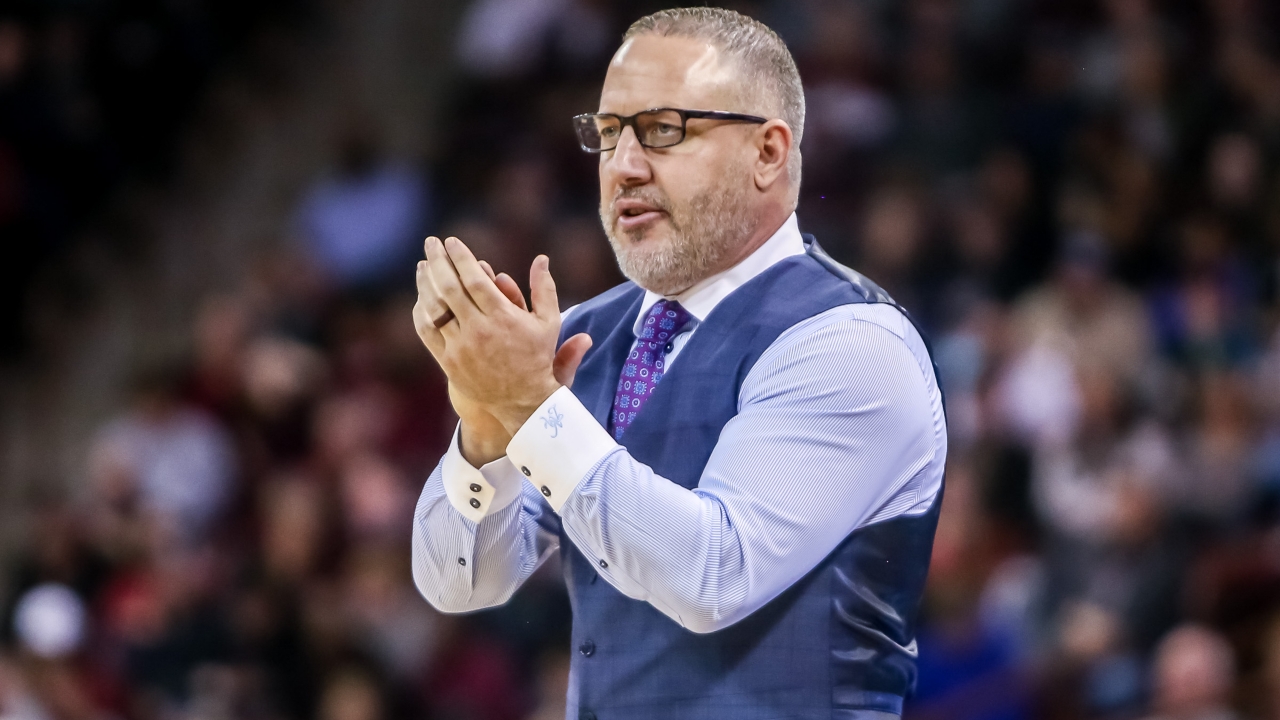 Photo by Jeff Blake-USA TODAY Sports
Texas A&M Basketball
Buzz: We'll have to be at our best against a talented Florida team
---
Key notes from Buzz Williams interview
We did better in someways defensively in comparison to the last time we played South Carolina. We can't turn the ball over at the rate that we did. Twenty turnovers is not good. Our defense is not good enough to defend in transition.

We try to shoot in that 4-8 foot area. We want to shoot about 14 balls from there. We shot two. That caused a lot of turnovers.

I rotated our guys on Saturday because our first group was doing nothing. We started 9-0 and finished the first half on a 41-14 South Carolina run. I started the same guys in the second half, and they continued to go on that run. I said that was enough. We struggle when we are all not playing at our best. Our roster cannot absorb multiple guys not playing good. We can hide maybe one or two. In that second half, sticking with the same guys was kind of pointless in my mind.

I think the next layer is that we don't know when our problems are coming. Josh Nebo had a bad week last week and then was the best player on either team against Missouri. We didn't know what to anticipate from him on Saturday. What gets us in a bind – when he's not playing well – is that we cannot just try guys out. We end up giving away possessions if we try that, and we can't absorb it. It's not necessarily just Nebo or Savion Flagg, but it's collectively. I took Nebo out early. TV dictates our breaks, and I basically told them that they needed to wake up. Jonathan Aku is not at the point where he can pick up for those players when they aren't on.

We have to get a shot – not a great shot, but a shot – and get it on the rim so we can try and get the ball back. Defensively, we have to force them to shoot contested threes and then fight like crazy to get the rebound and only give them one shot. When all of those things line up, we have a chance. When they don't, we're in a bind. When our guys are not doing those things, we get into trouble fast.

It's never going to be one thing. It's always a collective of multiple things that dictate why you win and why you lose.

I think we're consistent at being inconsistent. We're up, and we're down. Maybe that's what happens to teams that are 5-5. We have to teach them how to be up and get them disciplined enough to be up every day. We're only disciplined every other day – sometimes every third day or every fourth day. We've got to get it to where it is every day.

I spent most of yesterday – our first weekend day off since Christmas – trying to close down South Carolina by watching it and studying the numbers. We had an early bird workout this morning to close down South Carolina. I know Florida comes with all of this acclaim and has an excellent roster, but I haven't started to study them. I'll do that this morning. We'll have our hands full. We'll have to be the best we've ever been to have a chance to win on Wednesday night.
Never miss the latest news from TexAgs!
Join our free email list